Arkansas Stand Up! Simply starting off young as one of her school's class clowns and acting silly with her family at home, becoming a comedic internet sensation all happened so quickly for Wynne Arkansas native, Shay Moore! Her first viral video on TikTok got nearly a million views after only about 5 hours of being posted! This happened only 2 months after creating her TikTok account. She now has 527K supporters and believes she has been able to gain those because her skits are relatable and authentic! The 21-year-old content creator creates most of her content from thinking back to her childhood experiences and imitating her family members. One specifically that she loves to imitate is her grandmother, she says her grandmother loves her videos and often times gives her great content ideas!
Some of her biggest motivations are her supporters of course, but also her close-knit family, she has a twin sister and three older brothers that push her to keep going and will be featured in some of her upcoming skits. She said the only challenge she could think of in being a content creator is having to make time to create content and keep ideas flowing, but her education and being a former basketball player has helped her develop discipline and to remember to always go hard in whatever she does in order to see the desired results. In addition to comedy and being a content creator many haven't discovered that Moore is a music artist. She previously released a freestyle in honor of Black Lives Matter honoring many lives such as Trayvon Martin, Breonna Taylor, Sandra Bland, George Floyd, Ahmaud Arbery and many more. She was rapping before the comedy skits took off, but says don't fret, bars are on the way that she will be releasing new music this year. Moore does such an outstanding job portraying Black experiences that keep us laughing and probably even sometimes have us wondering if she knows some of our family members personally! She plans on pursue acting to showcase more of those skills, so be on the lookout for that. A message Moore lives by and wants to leave with her supporters is 'If you believe that you can do it. Go do it. Don't listen to anyone when they tell you that you can't. If you don't try, you will never know. You already know it's in you to be great? Prove yourself right!' With her multi-faceted platform continuing to grow and entrepreneurship plans brewing, you'd definitely want to keep watching Shay Moore's journey, because it's PRIME TIME!
When did you realize that being a comedian and content creator was your passion?
I've really always been a jokester and can easily make someone laugh. It has always been very natural for me. I'm really enjoying creating the creative content and skits for now. I'm excited to see where it leads me! 
What made you want to revolve a lot of your comedy skits around Black Culture? 
I like to shine the light on my people in a positive way! I use my platforms as an opportunity to create relatable and fun content in a culture centered way that shows my love for all of my people.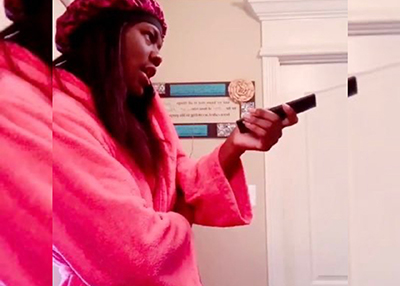 What was your first viral video about and how did you feel when it happened? 
My first viral video was about "When Black People Leave", basically saying how long it actually takes us to leave after we say we are leaving from somewhere. I was very in shock and overwhelmed when the video took off like it did. The views, likes, and my followers were growing by the second on TikTok when I posted it! Hours later it was also going viral on Twitter. Then it made it on TheShaderoom, Viola Davis, and Tina Lawson's accounts on Instagram as well. I was very in shock and couldn't believe how much success it had gotten in so little time. It is still being reposted today!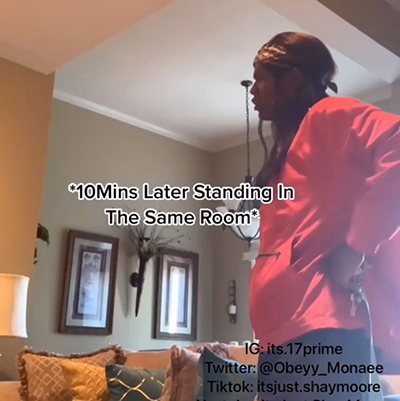 Some may not be aware that you are also a music artist, when did that start and do you have any music projects coming up? 
I actually have only been a music artist for close to two years now. Growing up I used to write songs here and there while I played my little kids guitar from Walmart. I even made my older cousin sing one of my songs while I terribly played my guitar. Most of the time I would be sitting in front of the desktop computer in our living room reciting Nicki Minaj lyrics and watching her interviews for hours. So yeah, I have been a Barb for some time now! I've always had a love for music and saw how much of a natural I was when I first started spitting and writing. Both content fans and music fans have been asking me to drop more music tracks. I took an unintended break from music once the skits became so big and I hate that I did, but this summer you will see my music just as much as my skits!
Who are some of your biggest influences whether it be in comedy or in life overall? 
My mother is a very strong woman who I admire and look up to! Nicki Minaj and Taraji P. Henson are also two amazing women whose work I have absolutely always loved and admired! They are three of my most favorite people!
What is your main goal or mission with your social media platforms? What message do you want to spread to your audience?
My goal is to make it! I want to become something even bigger than what I ever imagined. I'm from a small city and a small state, so I want to show people that they can do it too!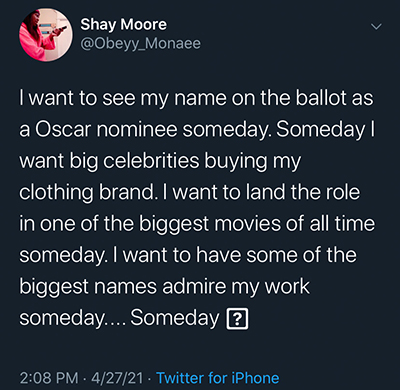 Social media has become the way so many people showcase their talents, what do you feel makes Shay Moore stand out? 
I try to keep everything natural, smooth, and me whenever I get in front of the camera. Rather its music or content, I like to be real with it all and give it 110% everytime!
If you had the chance to work with anybody in the world, who would it be? 
There are so many, but for starters, Martin Lawrence, Taraji P. Henson, Tyler Perry, Nicki Minaj, JAY-Z, and Mike Epps.
Lastly, what has been the most memorable moment of your social media influencer journey so far?
I would say the love from the countless numbers of celebrities that follow me, comment, repost, and that sends me encouraging messages. It's so unreal that they know of me and show me so much respect and support. It's dope! 
For more on Shay Moore, follow her on Instagram, Twitter, TikTok, & YouTube.
All images courtesy of Shay Moore