North Carolina native Shae Rogers doesn't settle for anything short of greatness. That's what inspired her to put her career in business aside in 2011 to self-publish her first book. Since then, she's published Allergic to Bull$#&! (2016), Nina (2019), Nina 2: Let the Games Continue (2020), and Black Gold: Trafficking in the Hood (2020). But she hasn't stopped there. In 2019, Shae made history when she launched SRC Publishing Co., the first black-owned publishing company with a magazine to promote black-owned businesses.
We sat down with Shae for an exclusive interview for Sheen Magazine to learn more about her career and her passion for writing. Let's take a closer look at how she uses failure to fuel her engine, how she defines success, and how she draws inspiration from her culture and company as a black author and publisher.
Who is Shae Rogers?  
I am a daughter, cousin, niece, and a writer. I am bold and passionate. I am a friend and auntie to so many beautiful souls. I enjoy being with my family and making memories that last forever. I am a black female who is forever growing into my own novel that can never be placed on a shelf. My mentality is forever evolving into a woman who I am super proud of. I am a soul who wants to fight for the freedom and equality for others who work hard each day to contribute to society. I am a self-made entrepreneur who is afraid of failure. Failure is the fuel of my engine. There is no room for failure, just room for growing pains. 
Why do you write? Why do you do what you do?
Writing releases my creativity and it challenges me mentally in every way possible. I often find myself doing research on different writing techniques to fully understand what kind of project I am working on. I have a little under thirty nieces and nephews and I want them to see a different social class. I want them to know that we do not have to be subjected to our environments. I also think of my mother who is no longer here to see me accomplish some of the things that I have. I hope she is proud of me for wanting more for myself and going after it. 
What are some characteristics and traits that you bring to your profession?
I would say that being an author makes me more of an introvert. I find myself having social anxiety because it is much easier to be a character in a book versus sparking up a conversation. The key is to challenge yourself to get out of your shell. I have also found that the internet is not my favorite thing, but I know that to ensure my company thrives, I have to adjust with the times.
What advice would you give to someone who would like to mirror your success and expertise?  
Chasing your dreams can come at a cost in more ways than one. Because of this, I would encourage people to know what they want to do and to never give up on that dream. Pay into your dreams as if you are paying into any large mainstream designer. You are worthy. Entering an industry that is forever growing can be intimidating. The challenge is to grow with the times. Never be afraid to change. In fact, change is good. If you find yourself becoming stagnant, encourage yourself to shake things up a little.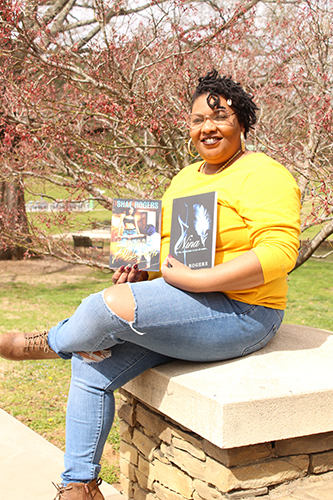 How do you define success?
Success is very personal and means different things for different people. To me, success is happiness and the ability to take care of myself and reach whatever goal and level I have set for myself. It is a state of mind where you are constantly growing and learning. Being able to be free and live out loud without any apologies. You feel fulfilled in every part of life. Success is how you define it and how you perceive it. Depending on who you are, it has nothing to do with jobs and money.
What sense of purpose have you drawn from your culture and community?
As an African American, I realize that I have no choice but to make something of myself. I feel like we are in a day and age where we must release our talents and attributes to the world. Right now, things seem different than what I have ever personally experienced in my generation. This lets me know that it is imperative that I focus on my craft so that people who look like me for generations to come know that they too can make it.
My community has also helped me understand where there is a need. I developed a magazine, Black Gold, to help people in our community market and advertise their products. This allows us to increase our connectivity to the people around us. It is time to break away the chains that limit our caps. It is time to allow the cup to overflow.
How can people see more of your work or get in contact with you?
Website: Srcpublishing.com
Email: sr.collection@yahoo.com
Facebook: SR Collection
Instagram: @SRCPUBLISHIN
Twitter: Srcpublishingco
All images by Domonique Chattman