WITH PERFORMANCES BY RAMY YOUSSEF & ILANA GLAZER
SPECIAL GUESTS INCLUDE BEN STILLER & JEREMY O. HARRIS
FRIDAY, NOVEMBER 17, 7-11PM
The Union Solidarity Coalition (TUSC) announced plans today for the New York Edition of Solidarity Night!, an emergency fundraiser for Film & TV crew in partnership with MPTF and Free The Work. The night will feature performances by Ramy Youssef and Ilana Glazer, alongside special guests Ben Stiller and Jeremy O. Harris, surprise guests, dancing, a celebrity raffle, food & beverages. The event will be held in Brooklyn at an exclusive location on Friday, November 17th.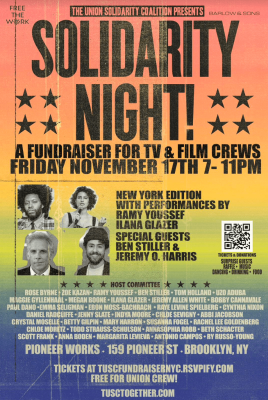 All proceeds from Solidarity Night! will go to MPTF, benefitting Film & TV crew members, support staff, and PAs who were affected during the strikes. A host committee including Rose Byrne, Tom Holland, Zoe Kazan, Maggie Gyllenhaal, Jeremy Allen White, Cynthia Nixon, Abbi Jacobson, Daniel Radcliffe, Jenny Slate and many more will welcome one and all at a mixer to underscore TUSC's mission of inter-union solidarity in the TV and film industry, creating a space for writers, directors, actors and crew to interact in a casual space where entertainment takes on a different meaning than just a Hollywood system in desperate need of reworking. Members of IATSE, LiUNA, and the Teamsters can attend the event free of charge. Tickets are first come, first serve.
TUSC hosted The Los Angeles edition back in July, which was hosted by Paul Scheer, Andrea Savage, Zoe Lister-Jones, Natasha Lyonne and Patton Oswalt, a live performance by cult band Fishbone, DJ sets, exclusive tees by artist Brendan Donnelly, and more. To date, TUSC has raised over $1 million dollars. Their focus is to raise emergency funds for affected TV and Film Crews.
TUSC was founded by a group of writer-directors who were moved to support TV and Film crews suddenly out of work while the WGA and SAG-AFTRA negotiated with the AMPTP for fair deals. Over 200 members decided to take action and begin using their voices and networks to create a model for unity in action. They established a dedicated emergency fund at the Motion Picture & Television Fund, where social workers stand by to help crew who are facing economic hardships and mental health challenges. Free The Work is TUSC's fiscal guardian, managing fundraising from events like SOLIDARITY NIGHT and celebrity auctions.
RSVP: tuscfundraisernyc.rsvpify.com
WEBSITE: tusctogether.com
INSTAGRAM: instagram.com/tusctogether
PRESS CONTACT:
Tiffany Malloy | malloy@tiffical.com
THE UNION SOLIDARITY COALITION was founded by writer/directors who were moved to connect with crew affected by the 2023 WGA strike. An early group- comprised of Susanna Fogel, Rachel Lee Goldenberg, Lena Dunham, Crystal Moselle, Tara Miele, Alex Winter, Frankie Shaw, Amy Seimetz, Josh Locy, Justine Bateman, Antonio Campos, Malik Vitthal, Paul Scheer, Zoe Lister-Jones, Andrea Savage, Tony Phelan, Julie Plec and Sarah Adina Smith- were touched and inspired by watching people honor their picket lines, and it presented them with a model for unity in action. While the founding members all work in different genres and styles, they are on the same page when it comes to looking at the strike is the catalyst for creating TUSC, they feel this is just the beginning of a larger, urgent movement of solidarity between all of the industry unions, and also coworkers who aren't part of a union, as we face a national labor crisis. The goal is to think big.