It's not easy to define Cocoa Brown. Sure, on paper, she's an actress and comedian, sharing acting credits with everyone from Cuba Gooding Jr. to Seth MacFarlane. She's been part of Tyler Perry's "For Better Or Worse" and Shaquille O'Neal's Comedy All Stars.
But then she's also a mom. And an advocate for those battling lupus. And an entrepreneur. And an advocate for other business owners, women and all of the above (Black business women.)
Later this year expect to see an hour-long comedy special on TV, plus roles in other cable and network programs.
"I get called underrated a lot and it used to offend me, but now it gives me the opportunity to share my platform with others who need a platform. I can still go to the grocery store and the amusement park with my kid and not have to worry about needing security " said Cocoa Brown, a Newport News native. She admits her life has had some rough spots and she's learned some tough lessons getting to where she is today. But she's happy to own everything that got her to this place as a bright and bold performer, ready to make you laugh and feel good but also tell you the truth if you need it.
What gets you moving in the morning?
Phoenix, who is my son.
What did you do to keep your cool during COVID?
In the evening, I'd talk to strangers on Instagram Live, which turned into something quite entertaining. I also baked. I used recipes from my grandma and turned on the music we used to play in the kitchen. Playing Mahaila Jackson again made me feel like a little girl again.
You've kept on going after dealing with some tough stuff. What advice can you give to people who feel like quitting?
The first question I'd ask is if it's really quitting or redirecting their direction. We use 'quit' so much, but the truth is you don't have to continue doing what you no longer have a passion for or no longer love. So, if it gets bad, think about how you can switch gears and go a different way that's more in line with what you love. We're fine letting kids do this: they try all sorts of toys and activities until they find what they really love. But grown-ups are told what we're never supposed to change our dreams, and we're supposed to stay in our lanes. We should always have the freedom to keep finding or going back to our gifts.
Do you ever look back on everything you've been through?
It feels bittersweet. I had to sacrifice things to get where I am today. It hasn't been an easy road. But it's my path. I also know I have the freedom to change what I'm doing anytime or keep moving down this particular road. When I first started out, I didn't always feel like I had many choices but now I do.
What's next on your to-do list?
I'm planning to release "Famous Enough" which is my memoir.
Do you have a 5-year goal?
I'd like to be alive! I want to still do what I love. And I want to watch Phoenix grow up and see what he becomes.
How do you use your celebrity platform?
I push for change and I also make sure that people know that they're never too big to help others. I'm also an ambassador for Social Butterflies, which helps people with lupus and the Lupus Foundation.
What projects are in the works?
Soon you'll be able to see new seasons of P-Valley on Starz and Never Have I Ever on Netflix. I'm in BMF on Starz and "Single Drunk Female" on Freeform. I also have my comedy special in December.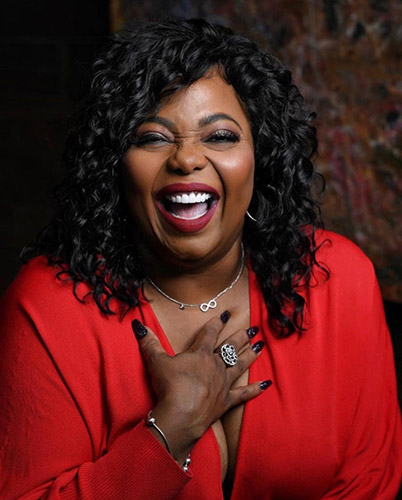 How can people keep up with you?
I'm @cocoabrownfunnymomma on Instagram. One Funny mama on Snapchat, THE Cocoa Brown on TiikTok and @cocoabrown22 on Twitter. Search for "Cocoa Brown Comedian" on Facebook. People can check out my website.
All images by Antoine Duane Jones