Meet Cora Miller the founder of plant based and natural hair care line carefully curated for young multicultural boys. Young King Hair is the perfect combination of organic products, Cora comments on the brand as 'our goal is to redefine male grooming and self-care for boys'. Not many brands cater for young boys of color so the brand is changing the narrative behind haircare for young black boys. Cora's passion for natural products and to also make a positive difference has created a distinguished brand that is starting to be recognized in the natural hair industry. This is an exciting time for the brand with the brand only starting in December 2019. In light of the current situation with what is happening in regards to racial injustice, the brand reinforces positive representation of young black boys. We discuss filling the gap in the market place and balancing motherhood with a growing business.
First things first, can you tell us a little bit about the brand's beginnings. What's the Young King Hair Care story so far?
As a first-time mom to my beautiful brown baby boy named Kade with natural, curly kinky texture, I searched for products and resources to help better care for it and found that most natural hair products were female scented.
In early 2018 my husband and I began researching, developing and testing products that were made for boys with textured hair. We officially launched Young King Hair Care at the end of 2019. We launched with three initial styling products: a leave-in conditioner, an essential oils blend, and a curling cream, all which will help moisturize, strengthen and enhance natural curls.  All three products are crafted with natural ingredients and are plant-based and vegan, with no sulfates, parabens, mineral oil or other harmful ingredients.
Since launching, we've received so much love from those that have purchased our products, especially from moms who are so happy that there's finally products that they can use for their boys. Plus, we've already received interest from major retailers looking to partner with us in the coming year… and that's just within 5 months of us launching!
Can you tell us about your career background and how has it helped you to create the brand?
My husband and I's respective corporate responsibilities, experiences and educational backgrounds serve us well with Young King Hair Care.
I have nearly 10 years of experience in corporate social responsibility, strategic grant-making, program development and communications. As the Vice President of External Affairs for UnitedHealth Group, I develop innovative approaches and oversee the planning and implementation of her company's social responsibility initiatives, including the management of strategic partnerships, evaluation of charitable investment outcomes and other programmatic analysis to deliver impact within the communities served.
My husband Stefan is a marketing professional with 10+ years of experience across the CPG industry. He has launched innovations across multiple brands and categories at Johnson & Johnson, General Mills, Coca-Cola and currently Red Bull. Throughout his career, he has brought new innovations to market, which provided him the opportunity to understand consumer needs and craft meaningful solutions. Now, he's able to channel his passion for innovation coupled with his marketing expertise to help grow Young King Hair Care from an initial concept to reality.
Stefan's unique experiences coupled with my vision, validates our belief that we can succeed in building our own business and brand.
What inspired you to create a brand catered for young boys?
I was inspired by my son Kade, now three-years-old, to create products intentionally made and uniquely designed for black and brown boys, and provide them the confidence they need to grow into their crowns. 
To fill a void in the beauty and hair care industry, each of our products were created with boys in mind – from the ingredients, to the scent and overall packaging design – with the goal of redefining male grooming and self-care. Our mission is to inspire parents and encourage boys with textured hair to celebrate and love their crowns.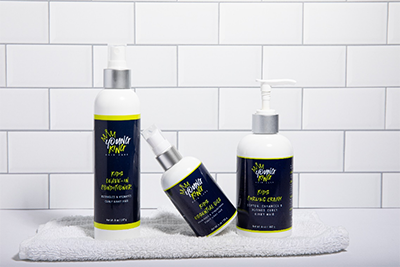 How do you source the ingredients and do you have a particular favourite?
We partner with a black-owned manufacturing company, led by a black woman chemist, to develop our initial product offerings. It took nearly a year of reviewing and testing various samples to finally come up with a formula for each product that we felt comfortable with and achieve the functionality and quality we desired. 
Our manufacturing partner sources our plant-based and vegan ingredients from across the globe. If I had to choose, one of my favourite ingredients that we utilize in both our curling cream and leave-in conditioner is grapeseed oil, which is a natural oil to help nourish the scalp and promotes hair growth. Plus, it's super lightweight, so it moisturizes and conditions without weighing the hair down. Grapeseed oil is not commonly utilized in kids' hair products, so I was excited that our product formulas included this incredible ingredient!
Have you always had an entrepreneurial mindset?
I've always had a sense of setting a goal and working my behind off until I achieved it so yes, I suppose I've always had an entrepreneurial mindset. And this mindset has been sharpened over time, especially after launching and navigating through the many bumps in the road to get from the initial idea of Young King to making it a reality. 
We invested a lot of our personal savings into this business because my husband and I were so passionate about the mission and vision of Young King Hair Care, but there were times I doubted if this would become a reality. We had setbacks with sourcing, with finding the right partner to manufacture the products, with actually developing the products, with brand design elements, and the list goes on and on. Oh, and of course the impact of #Rona2020 has had on the market – specifically for us, all of our in-person and pop-up sale events were cancelled.  
But our sense of hustle and being laser-focused on our goals for Young King have allowed us to navigate through these challenges and pivot accordingly. So much so that now we are thriving and so excited to see our Young King fam continue to grow!
So far, what have you learned about leadership and entrepreneurship?
The biggest surprises and learnings I've experienced throughout this entrepreneurial journey is the realization that you'll have many more setbacks than successes during the start-up phase. It's a long journey to get from an idea to executing it – which takes months, if not years to develop and validate your concept with others, find the right people to partner with and trust that they will help execute your vision, and diligently save to invest money into the business without getting into debt.  
There are not that many haircare products catered for young boys, what distinguishes your brand from other natural hair products currently on the market?
Young King Hair Care fills the gap in the marketplace because we are a premium, plant-based hair product line whose foundation is built on providing a unique offering specifically for young males. There are currently no national retail brands in the market that offer products intentionally created for multicultural boys. Our current and future product offerings are specifically crafted to promote healthy hair and hair growth for black and brown boys. 
Tell us about your products and what would you recommend to mothers who want to start their natural hair journey for their sons?
Our current products offerings include three hair styling products: a leave-in conditioner, an essential oils blend and a curling cream, all which help to moisturize, strengthen and enhance natural curls. 
For any moms that want to start educating their sons on what it means to take care of their hair, we recommend you utilize our Royal Treatment, which includes all three products, to establish a simple, easy-to-follow daily hair care regimen. This regimen adheres to the L.O.C. method, or the Liquid Oil Cream Method which is a proven technique of layering products to moisturize textured hair. All three products are crafted with natural ingredients and are plant-based and vegan, free from sulfates, parabens, mineral oil or other harmful ingredients.
We are currently working on a shampoo and after shampoo conditioner to help cleanse the hair on a weekly basis, so be on the lookout for that coming soon!
How do you balance motherhood with a growing business?
Navigating the balance between my full-time job, being a wife, mother and friend and still finding time to take care of myself (i.e. working out and having "me" time), while launching and growing a business has certainly been challenging. I still haven't quite mastered it all, however I've been blessed with the most amazing support system. I appreciate my husband supporting and trusting my vision for Young King Hair Care, and working long days and nights with me to build our business and brand. Plus, our family and friends have been our biggest cheerleaders! 
I of course have experienced "mom guilt" plenty of times over the past couple of months but to balance moments between work and Kade, I try to include him as much as possible in the business building process. From helping me "type" responses to customer inquiries to assisting with packing orders, I want my son to feel included and feel that he's a contributing member to the business he inspired us to create.
What does a typical day look like for you?
After wrapping up my 9 to 5, I pick up my son Kade from school, we prepare dinner, and my husband and I switch off between playtime with Kade and focusing on Young King Hair Care. After putting Kade to bed, we spend the rest of our evening on the business – that's everything from business planning and strategy, to processing and packing orders, to responding to and interacting with customers, to preparing for key business meetings, to reviewing financials and planning for the weeks ahead… among a number of other things. We usually don't end our days until well after midnight. Then, we turn around and do it all again the next day. It's exhausting to say the least, but so worth it! I know what we are building is something special and I'm willing to put in the long days and hours to continue growing Young King into the international brand that I'm claiming it will be!
All images courtesy of Cora Miller