Given the current times, it is rare that we are seeing any Good News; but we had the chance to come across such an amazing community campaign by a Mobile Ads company, running out of Philadelphia and the Tristate area. The work they are doing shows that there is still a reason to feel joy right now.
KG3 Mobile Advertising has taken immediate action to the ever-changing needs our communities have been facing in the past months, in conjunction with the worldwide Pandemic of Covid-19. Outside of providing innovative marketing strategies for businesses in need of marketing relief, KG3 Mobile Ads is raising awareness for the need for genuine support and "togetherness" during a time of distancing.
Through their current Celebration Campaign, KG3 Mobile Ads have taken this time to give back and restore hope within the communities, by offering a way for families to celebrate their graduates safely, and memorably. In addition to creating the Class of 2020 Celebration Campaign, KG3 Mobile Ads has also donated three Ad placements on their Mobile Billboard truck, to honor Student Athletes at their hometown high school, Academy Park in Sharon Hill, Pa. The Students were nominated by the Coach at Academy Park.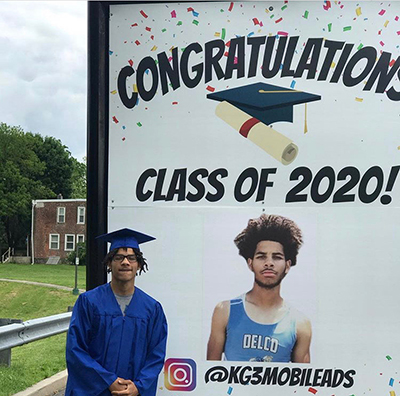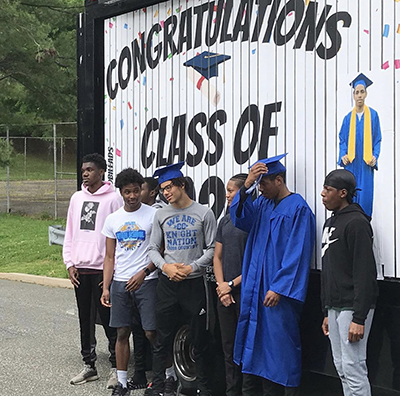 Among those honorees are Ian Francis, Alex Jaje, and Aasiyah Bey, who was a senior at Academy Park High School, who passed away at the beginning of the school year. She was a 2x cancer survivor and 3x cancer warrior, as she lost her long fight with cancer. She was an academic powerhouse, as she maintained the role of an honor role student that was also amazing at tennis and softball.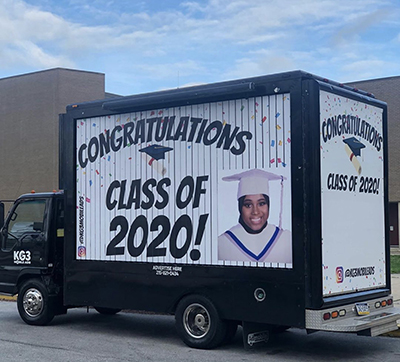 Academy Park had plans to honor her at their graduation ceremony which had to be canceled due to Covid-19.
KG3 Mobile Advertising heard her story and wanted to honor her and surprise her Mother Diamond El, with a live billboard of their daughter's picture, as an honoree through their celebration campaign.
They will advertise and celebrate in the delco area and the Billboard will be stationary during the night
in the shopping center on Chester Pike in Sharon Hill, Pa, as a memorial for Aasiyah Bey.
KG3 Mobile Advertising hopes that this Celebration Campaign serves as not only an inspiration for businesses and brands to rely on innovation and "out of the box" strategies to cope with this pandemic, but also to encourage individuals to never lose sight of those fighting battles within the battle.
All images by KG3 Mobile Advertising