TikTok and Instagram Influencer, artist, casting, and creative director Shawn "Shawn Foxx" Williams announced his comeback into the music industry. His 2020 single "In the Middle" reached over 280K streams and now Shawn is gearing up for the release of his sophomore record "Shycho."
Can you tell everyone, who is Shawn Foxx?
I am a Singer, Songwriter, Casting Director, Entertainer who loves Creating Music, Content & not only Entertaining people but helping others get exposure doing what they love as well.
When did you know you wanted to have your career within the entertainment industry?
I knew since I was a kid that I was born to entertain. I was the life of the party at all the schools I went to.
Can you tell us about your experience as a model, co-director, and co-brand marketer for Chris Brown's clothing line "Black Pyramid" alongside the Vice President brand creator and marketer Peter Paul Scott and how did this come about?
My experience working with Chris Browns Clothing Line was amazing. I learned a lot from not only Peter Paul the Head Brand Marketer but also from the models. Learned to be more confident & to learn your angles & face expressions that best fit you.
It came about when I reached out to him being a fan of his work & told him I wanted to show him what I can do to help build the brand.
Your focus within the industry has yet to slow down, as the owner of a casting agency, DV Casting Agency. Can you tell us more about the agency?
I'm co-owner of DV Casting. Model Close friend & Business Parter Desiree Vanessa is the one who actually brought the idea to the table. Then with me and her networking skills, we happen to gain lots of clientele faster than expected. Then when she brought along her friend Maria Derenzin who is also a Well Model in the music industry. They together started making us one of the most known independent agencies in NY!
You started your career in the singing group "Exit 21", which gained over 200k followers in a year, which is amazing deciding to go solo. Can you tell us about that experience and that major performance-based adjustment?
Being in Exit21 was a great experience! From meeting tons of supporting celebrities that I looked up to, to networking with a few, Sold out shows. The big stage, the ups, and downs in the industry field. You learn a lot & just take it all in to help build yourself as an entertainer to make better decisions for the next quarter & future projects.
Being a songwriter is yet another major achievement that you have reach. When did you begin writing and what lead you to want to start?
I started writing music when I was 21. Watching battle rap actually got me into some writing. I just loved coming up with creative metaphors & seeing people's reactions when they catch it last minute. From there I have seen you can make passive income with it & that got me to take it more seriously.
In 2020, you released your single "In the Middle," reaching over 280k streams and you're now in preparation to complete your sophomore single, "Shycho". Can you let everyone know what they can expect?
They can expect creative content to help sell the record. Music is opinionated. Some people love it genuinely others you have to make them love it. So my goal is to make my music relatable & trendy to people's real-life situations and hope that it gets them to send it to their friends & share it across the world.
When can fans expect the official album release?
Well, I'm self-funded. I don't have a manager or investor so honestly, it all depends on how I want to spend my money (laughs). Let's just hope all this content & music streams pay off! (Laughs).
Do you have any appearances or performances currently scheduled, that you are able to discuss?
Working on going overseas with International Affairs. That's in the works. It all depends on this covid situation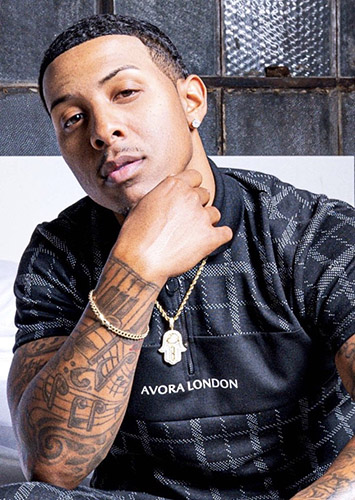 Let's talk a little about becoming an IG and TikTok influencer. How did that come about and as an influencer, how do you intend to use your platform?
I just make funny creative relatable videos & hope it grabs people's attention. And it just happens to do that & I appreciate all my Foxxie Supporters & everyone who repost, remakes & likes my videos. More to come, keep the love coming.
How do you balance your home life and your multiple careers as an influencer, singer, songwriter, fashion model, actor, and creative/casting director?
I balance my lifestyle with tunnel vision, organizing & getting my loved ones involved. Everyone puts time into who & what they love. I love what I do & love the people I do it with, so it fits perfectly with my time & lifestyle.
How can people connect with you and everything you have going on?
Follow me on IG @Shawnfoxxtv & Tiktok Shawnfoxx / Foxxanddye to see all my Entertaining Content & to get to know more about me. And go on all music platforms & type in "Shawn Foxx – Shycho" to hear my new single!
What would you like the viewers to gain from this interview?
I want the viewers to know that if you put the time into mastering your craft & actually loving what you do. The success is already happening as you're doing it. Cause you're doing what you love & become great at it which will gravitate towards everyone watching you.
All images by Shawn Foxx