From Chaka Khan to Syleena Johnson, Chicago has always had a fan favorite female recording artist. If you ask anyone from 95th Street to Central Ave, from Western to Halsted, Tink is a favorite for many.
"The girls we just relate to each other. It's almost like a sisterhood. They go so hard, I love my fans." Tink says.
The latest single by Chicago's IT girl is "Cater"  featuring 2Chainz was released last month and she's making sure the ladies know she's not too proud to take care of a man when he's earned it.
"I'ma kiss your neck
and I'm at my best
when I got you standing right here
Cook, you a meal and I washеd your clothes
just to show you I care"
Fans of Destiny's child will notice that the song pays homage to their 2004 track " Cater To You" with an updated twist.
"I've been in love with that record since I was a kid. When it dropped it was everyone's favorite, even the BET AWARDS performance. Anything Destiny's Child, anything Beyonce is Gold." Tink said.
Additionally, Tink and I discussed the concept surrounding the video. " The video is directed by, Daniel CZ, who is a really great director.  I sent him the song, and he came up with the concept of me being a waitress so I could serve my "love interest" you know. The vibe is all about catering, we wanted to make sure that me and my girls (in the video) were living up to the song. "
Tink, produced by HitMaka, has decided to show a supportive and more vulnerable side to her music and personality.  Here's what she said about working with the award-winning producer, and her more intimate creative energy.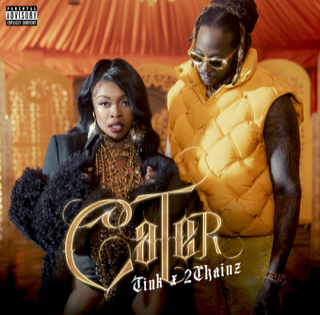 "It's very important to have great chemistry with a producer. The record is the artist, and the producer but production matters. It's always been organic working with HitMaka, he's from Chicago, and I'm from Chicago. He understands my vision. It's really easy to click in the studio. "
Tink is also working on her next album. She notes that it's coming out very soon. "The album is very close (to being finished). You can expect a different side of me, in my previous albums I express a lot of heartbreak. This album shows a more vulnerable softer side of myself. It's a different vibe. "