Female rappers have been dominating the music industry for the past three years now and Tokyo Jetz is a part of the reason why! The Jacksonville, Florida native is the standard when it comes to staying authentic in an industry that consistently pits women against each other. Jetz's highly anticipated album, Cancel Culture, is almost here and fans can't wait. Tokyo is the first lady of Grand Hustle, T.I's record label, and has been dropping anthems since she first started rapping. Her album has features from T.I, Toosii, Kevin Gates, Jackboy and Tokyo Vanity. I got the opportunity to ask Tokyo a few questions about her album, mental health and who she believes is her biggest mentor.
Your highly anticipated album, 'Cancel Culture' is set to be released on the 19th. Why that name? How imperative was it for you to release this body of work after having your son?
I've noticed how over the past few years; we live in this new culture where we "cancel" people for their mistakes and try to take everything they've worked hard for away instead of using it as a teachable moment. Celebrities are under a microscope so everything we do is judged in the public eye. But the people who do the most judging make mistakes as well, we just can't see them. Once I realized the only person who can cancel me is myself it gave me the motivation to go back in the studio and record my truth for myself and for my family.
You've collaborated with a plethora of talented artists. If you could get a feature from an artist that inspires you, who would it be? Would you ever consider participating in a joint project?
I've had the opportunity to work with a lot of artists on my past projects and on my new album Cancel Culture. Right now, I'm really feeling Meg Thee Stallion. I think that collab would be dope. Her delivery and confidence matched with mine; we would make some timeless music.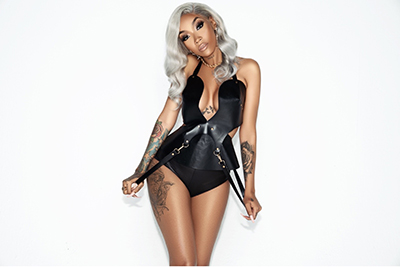 Tell us about your book 'Mind Over Matter'. As an artist, do you feel like it's a responsibility of people in the industry to educate fans on the subject of mental health?
A lot of women, especially black women, don't speak on the effect's pregnancy can have on your emotional and mental state, especially postpartum depression. After having my son, my anxiety resurfaced, and it was difficult to make the transition into motherhood and balance my career. So, during that time I decided to write my book to share my experience and hope that it touched my fans and other moms-to-be and help bring awareness to mental health.
Since it's Women's History Month who would you consider a female mentor? Why?
To be honest, I consider myself to be my biggest role model and mentor. Throughout the many different stages of life, I've been through as a woman in this industry, also as a mother, sister, daughter and friend, I've learned so much and I've had more grace with myself. That's allowed me to accept all my flaws and mistakes as life lessons which have gotten me to this point. My old self always motivates me to reach new levels.
Watch the video for Tokyo's Single "SODD' featuring Tokyo Vanity here:
All images by Shot by Sed