There are thousands of community programs and nonprofit organizations around the world. Each one has its own standards of services to the community it serves. In the DMV, It Takes Two, Inc is making diverse connections, one youth at a time. Given numerous barriers to education, It Takes Two Inc takes a unique approach to enriching the lives of young people while also increasing their opportunities.
Founder, Jaemellah Kemp, is making it her mission to enhance the educational experiences for young people from single parent households by awarding scholarships to reduce back to school costs. Promoting the significance of education, building self-awareness, and encouraging youth are just some of their organizational goals to maintain this mission. The organization offers the Tools for Success Scholarship. This scholarship supports students in grades 4 through college (age 26) with school supplies, books, uniforms and even registration fees for academic or sports related matters. With community support, these awards have totaled over $6,800 and the 9th scholarship season began on April 1, 2020.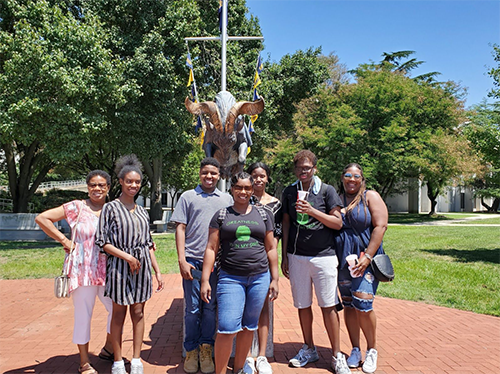 Years ago as a single parent to one son, Jaemellah, experienced firsthand the numerous financial hardships for a parent. Such hardships included registration fees, school supplies and more. Jaemellah knew that she needed to assist in combating this community need. She decided that she needed to provide a hand up to those in need. After meeting with a legal friend, her vision was born and incorporated in February 2012. It Takes Two, Inc also offers the Positioned for Greatness Youth Program and the Supply Drive 365.
Students in grades 4 through college (age 26) who reside in a single parent household are eligible for the Tools for Success Scholarship. ​Families can apply by downloading an application at ​www.ittakestwoinc.org/scholarship​. Jaemellah Kemp also offers nonprofit consulting services. To connect with Jaemellah, please follow her on Facebook at @Jaemellah Kemp, @Jaemellah Kemp Consulting or @IT TAKES TWO, INC. Follow her on Instagram: @jaemellahkempconsulting; and @ittakestwoinc.
Writer, C. Scott, is a mother of one; author, social worker, early literacy interventionist and entrepreneur.
All images courtesy of Jaemellah Kemp