Recording artist, Travis Greene has just released a new album and it deserves a whole conversation of its own! The new album includes chart-topping artists such as Kirk Franklin, John P. Kee, and many more artists. We had the opportunity to sit down with Greene before the release of his highly anticipated project to discuss all the details and I promise you, you won't want to miss our exclusive interview!
Tell us about your album, Oil + Water, that will be releasing this month!
Oil + Water is the new project. It has ten songs, it's jam-packed with energy, passion, and soul. I have features on every single song on the album. Anthony Hamilton, Todd Dulaney, Kirk Franklin, John P. Kee, Le'Andria Johnson, Madison Binion, D'Nar Young, Tasha Cobbs Leonard, Kierra Sheard, Darrel Walls, and Mali Music. These artists are phenomenal and they killed every song that we did. We had a great time recording it and I am excited for the world to hear it.
Do you have a favorite song from the album that you can tell us about?
Ouch! That's a hard one. It depends on what day of the week it is. One of my favorites is probably a song called "Wonder" which features Le'Andria Johnson. It's so soulful. I'm a big fan of The Temptations and that Motown movement. This song has a lot of soul and feel. It gives you old time, while it has a little bump to it. It makes you want to ride to it. That's probably one of my favorites.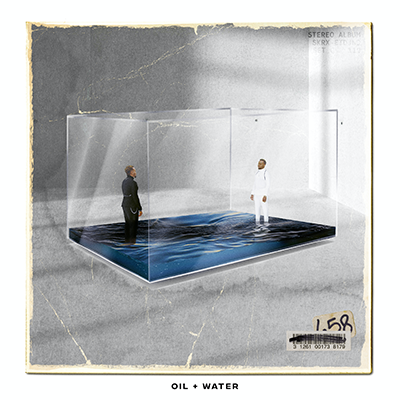 What inspired the visuals for your project, "Hold On Me"? What was it like working with Kirk Franklin and John P. Kee for this project?
Well, man they are my favorites. I often say that Kirk Franklin and John P. Kee are my Michael Jackson and Prince. To me, it doesn't get any bigger or better than those two. They have had such an influence on me in music. I often say that if it had not been for them, I wouldn't be who I am. On and off stage, they have been great to me. I'd always wanted to do a song with them so, I wrote this song, hit them up, and they were both down to do it. The rest is history.
How has it been being an artist during this time of COVID-19 to you?
You know, I often say that the pandemic did one of two things. It made you get creative or made you crazy (laughs). For me, it was a little of both. I was determined to make the best out of my time and do something that would really define the season that I was in. I sat down in the studio and got to work. This is what came out of it. Oil + Water is really what came out of the pandemic. I had a great time doing the project, it's probably one of my favorites so far. The first studio record that I've done since I've been signed to RCA, so I'm really pumped about it.
What are you currently working on and what can we expect to see from you in the rest of 2021?
Ah man, I'm currently working on the live album release concert, which we're going to record and make a live experience out of. We've been putting a lot of work and effort into it. Later this year, hopefully we'll be able to release that. I hope people can enjoy the release concert. We're super excited!
For more on Travis Greene, click here.
Follow him on Facebook, Instagram, Twitter, and YouTube.
All images by Micah Frazier and D'Nar Young