Shamara "Star" Cox is a TV Producer and innovative Content Creator who also uses her platform to teach on how to hear God's voice clearly + confidently.  She is the CEO of KarmelRose Production Incorporated, a fully operated production company supplying all your video needs from reality, scripted to short form branded content. Her creativity dominates the social media space with viral reels and other video content that both informs and inspires. Under her production company she also has a blog, and a ministry Whisper: Hearing God, where she shares personal stories and practical tip/techniques to grow one's faith and live a better life.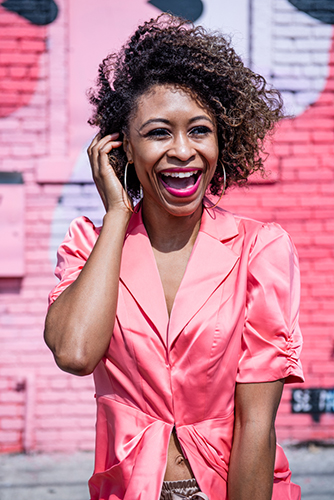 Share a bit about your journey into becoming a Digital Creator.
My journey really began in 2020, when God told me to quit my job. I was petrified to step out into the unknown. What if it didn't work out? Everything inside of me told me not to do it, but I also recognized that everything I desired in life was on the other side of fear. So, I took the leap of faith. God then directed me to create content full time. I battled thoughts of unworthiness, I thought I wasn't good enough, mind you I have a Masters in Directing short films, so literally this is what I do (laughs). So, I put out my first video and it took off. I put out a couple more and it kept taking off. My videos were going viral, and I didn't even know it. I kept asking people how do you know when you went viral? I had over 400k views on one of my videos, 1.4m on another and yet I still didn't know. Soon people were asking me how to do what I do, so I started putting out tutorial videos. All the while, the videos I was creating kept hitting. But 4 months into creating content, I was exhausted, burnt out, and suffering from comparison – trying to compete with bigger influencers who were doing this much longer than me. That's when God told me to take 2 months off social media. I know it sounds bizarre, who takes times off at the height of their career? During the two months, I spent it in the presence of God, growing, healing, resting and learning. Then God released me to create again. I launched my campaign #30ReelDays where I launched a reel a day for the month of June. Again, my content took off again and my followers were calling me the Reel Queen. It's really funny, but here's what I noticed. Each time I took a Bold Faith step God directed me to take another. His voice has been crucial to my walk and success.
What number one tip would you share with creatives who feel overwhelmed at this stage of their journey? 
Breathe. Take it one day at a time and PRACTICE. Sometimes we think that we're just going to get it on the first try. I have many videos that have died in edit because I shot it horribly or the transition was off. I just get up and do it again, and with practice I'm able to perfect my craft. Don't feel like you have to compete with anyone or feel like you're going to miss out on something. Focus on you, hone your skill, and keep going.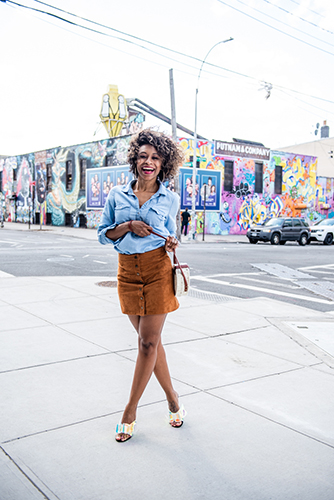 Tell us about your upcoming Monologues project and how readers can be a part of the casting process.
So, this is a project that I began to write back in 2012 and have slowly taken baby steps to produce. I let fear stop me from putting it out, but this year I stopped playing small and here we are. eVe Monologues is an interactive play about 10 diverse women living in an apartment building in NYC. All have one thing in common and it's up to the audience to figure it out. Think Rose' mansion meets Broadway. The audience will travel from apartment to apartment to immerse in the character's lives. Unbeknownst to the audience, the deeper they go, the more they uncover the mystery about each woman. What starts as an innocent Open House turns into an eerie house visit. The play will take place in The Bronx, NYC in July 2022. I'm urging actresses, singers, and dancers to come and audition. You can shoot me an email at shamara@bookofstar.com if you're interested or you can share the information with your friends and family. And most importantly follow me to get updates about the show. We'll need all the support to sell out the show. It's not your traditional theater and that's what makes it unique and fun.
How has your faith inspired you to step outside the box as a Creator? 
My faith plays a huge role in my everyday life INCLUDING creating. At the start of this year, I knew I wanted to create a lot of content and in order to do that I needed to be innovative. So, every day, I asked the Master Creator for His creativity. Why? Because God dreamt up this entire universe. Earth is His canvas. He painted the leaves, gave light to the stars, and fashioned humans out of dirt. Now that takes creativity to do all of that and I wanted my creativity to come directly from the source. And guess what, He answers prayers because I will come up with some crazy ideas, execute it and people would say, "Wow that's really creative." And I'd just respond, "Thanks I got it from my dad." (Laughs).
What is next for you in 2021 and how can readers follow you on social media? 
So, I am really in the process of putting together courses to teach people how to create videos like a pro. I remember when I worked as a Production Coordinator at a PR firm back in 2015, there was a statistic that said videos will replace the way we do marketing in about 10 years and here we are 6 years later, and videos has completely taken over. Videos are in such a high demand, but you don't have to be intimidated by it. I got you. When my courses drop be sure to sign up. Feel free to subscribe to my blog where I'll be sharing more content on how to create viral videos, and follow me on Instagram and TikTok.
All images by Christopher Hall of Thomas Claude Photography