Who says you can't win 2 Emmys  after college?  Well, Mariana Gomez, a prominent actress and producer, recently learned that two of her short films, "Quisiera Respirar Bajo el Agua" and "Saving the Caretakers," earned Emmy awards.
The first film, "Quisiera Respirar Bajo el Agua" took home the "Art and Entertainment, Short Content" award from the Southeast Emmys. The second received an Emmy from the same organization in the "Documentary, Topical" category.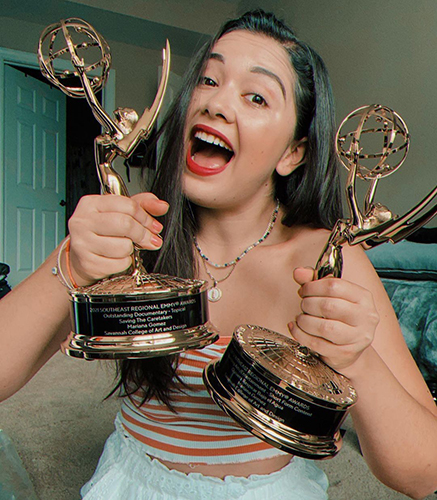 "Quisiera," which translates to "I Wish I Could Breathe Underwater," was directed by Fernando Flores. It shows the powerful ups and downs of falling in love and begins with two people dealing with the pieces of a recently-ended romantic relationship. Through flashbacks, we see how wonderful the experience once was but then turned into something negative and toxic. Though both parties are better off, the emotional pain and heartbreak remain.
It features Mariana Gomez and Andres Garcia in lead roles. She also served as writer and producer, in conjunction with Nahua Films and Dopic Studios. The film was shot in just one day, followed by three weeks of post-production.
Mariana Gomez grew up in Queretaro, Mexico, and has been interested in creating film and television projects for years. At age 12, she studied at the New York Film Academy's Los Angeles Universal Studios location and also at Harvard.
Since then, she has acted in more than 40 productions and has been involved in 50 other productions in different roles.  She's also the author of "This is Not a Love Story."
After completing high school, she relocated to Atlanta to focus on her film career while attending Savannah College of Art and Design.
Her films and her acting have received plenty of recognition from critics, film festival judges, and the public. Her role in "Quisiera Respirar Bajo el Agua" also received a Silver Award for Best Actress from this year's New York Award for Best Actors, and the film was selected for the Cinema of the World International Film Festival.
"Saving the Caretakers," a short documentary, began as one of her student projects, showing her home life in Mexico including the emotional and physical challenges facing her family during the COVID pandemic.
Other recognition for "Caretakers" included being selected as part of the lineup of the 12th annual BronzeLens Film Festival, which celebrates independent film, filmmakers and industry professionals of color. The festival runs Aug. 17-22 as a virtual experience. Visitors can spend six days watching the selected films and interacting with the various filmmakers. "Saving the Caretakers" will be shown Aug. 16.
The film was also part of the Oakville Film Festival.
Mariana Gomez continues to look for ways to give voices to those who have been marginalized or silenced, whether it's doing so in front of or behind the camera or in other ways. One way is as a contributor to the Women's Entrepreneurial Opportunities Project, an Atlanta-based non-profit organization that pushes for inclusion and empowerment.
To learn more about Mariana, follow her on Instagram.
All images courtesy of Mariana Gomez