Germaine Bolds-Leftridge, the trailblazing visionary behind IKNOW Skincare Treatment Solutions, recently shines as a true BOSS on The Tamron Hall Show, sharing her inspiring journey of creating a skincare line with a singular focus: empowering women over the age of fifty. This appearance illuminated her extraordinary path to redefining beauty, instilling self-confidence, and celebrating the beauty that comes with age.
Germaine's story is one of strength, courage, and determination. For years, she harbored a dream of launching a skincare brand designed exclusively for mature women. However, apprehensions held her back. It wasn't until almost three years ago when she tragically lost her mother to cancer that Germaine realized the importance of embracing life and pursuing her passions without hesitation.
Speaking on The Tamron Hall Show, Germaine stated, "You cannot understand that level of loss until you're in it. I tried to take that pain and make it my power. I wanted to make sure that she would live forever through this brand called IKNOW."
IKNOW Skincare Treatment Solutions is a testament to Germaine Bolds-Leftridge's commitment to honoring her mother's legacy and helping women become the best version of themselves. The brand's mission revolves around encouraging individuals to embrace their #RealAge and fostering a community that celebrates self-acceptance and the natural process of aging.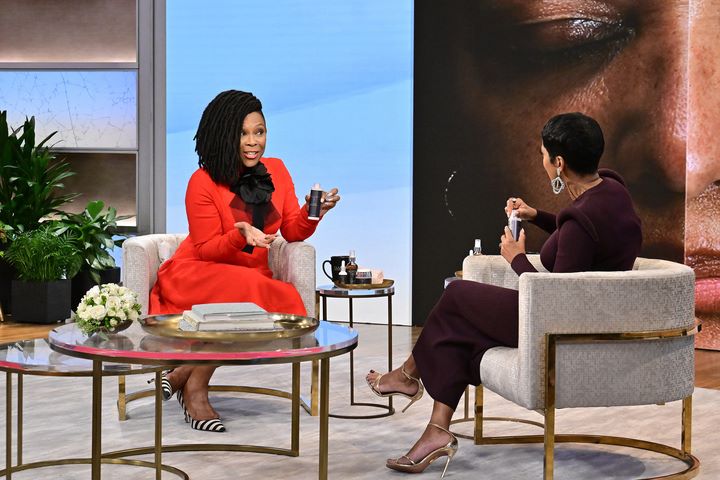 IKNOW Skincare offers a collection of 8 revitalizing products, including "Me First," a plum enzyme powder cleanser, "Immerse," an aromatic pore-shrinking toner, and "Cellular Retreat," a skin-revitalizing serum. These products are meticulously designed with a botanical blend of ingredients that work synergistically to rejuvenate and treat maturing skin, helping individuals achieve a radiant #RealAge glow.
One standout product in the IKNOW Skincare lineup is "Very Necessary," a moisturizer with SPF 40 that Germaine emphasizes as a must-have for everyone, regardless of age or gender. This emollient sunscreen has garnered attention for its effectiveness in protecting the skin from harmful UV rays while providing essential hydration.
In celebration of the recent two-year anniversary of IKNOW Skincare, Germaine Bolds-Leftridge shared her joy with the audience on The Tamron Hall Show, treating them to delicious Magnolia cupcakes and giving away her favorite IKNOW Skincare products, "Cellular Retreat" and "Very Necessary."
For viewers at home, a special offer is available. By using the code "TAMRON," customers can enjoy a 20 percent discount on a unique bundle of IKNOW Skincare products.
To explore the innovative product line of IKNOW Skincare and learn more about Germaine's journey, visit www.iknowskincare.com.
For those interested in connecting with Germaine Bolds-Leftridge and gaining an intimate glimpse into her entrepreneurial journey and dedication to empowering others, follow her on Instagram @detroitgermaine.
For media inquiries and interview requests, please contact:
Pamela Broussard
BNM Publicity Group
Email: bnmotionpr@gmail.com
Photo Credits: Courtesy of Tamron Hall Show