After admiring Katrina's impeccable work ethic from a far, I was curious to know more about the phenomenal woman behind these beautiful intimate experiences, who was also a woman of color marking moves in the spirits industry.
It was definitely rare for me to see a woman of color performing at such a high level and naturally I began rooting for her via IG post, since we technically didn't know each other in person. Thankfully for me, I am able to give people their flowers in person by highlighting them at my   Erica's Table of 20, so I decided what better way to honor Katrina than recognizing her at my LA, Table of 20.  Blown away by her journey, Katrina is definitely someone who has really put in the work. Being 1 of 2 women performing on Team Hennessy nation-wide, Katrina is a true force to be reckoned with. Not only is she making moves with Hennessy, but she also has a dope podcast called FEDWORK
and now has moved into additional arenas helping others create a successful pitch deck. I had to give our Sheen readers an exclusive, so check out the interview below…..
Katrina, what is your career background, and how did you come to working in the spirits industry?
I am first and foremost a dancer. I started at the age of three and grew up at a ballet academy which then led me into the professional world as a dancer and onto pro dance teams in the NFL and NBA. From my years of experience as a professional dancer, I started my first company   in 2010 GlamGirlsLA which predominately consists of Alumni NFL and NBA dancers. This propelled me into the Events and Entertainment Marketing World and I started working with and working for major brands such as Hennessy Black, Reebok, Grand Marnier, Moët Hennessy. I also started my own podcast called FEDWORK and I also sit on a Los Angeles Board – SIPA, Search to Involve Pilipino Americans, where I'm able to focus on community outreach. 
My first step into the spirits industry was when I got the job with Hennessy Black in Los Angeles back in 2010. I learned so much during this program. I was educated on the history of the brand, I learned a lot about myself, public speaking, hosting, event production, admin work, product photoshoots, managing budgets and more. I absolutely loved it!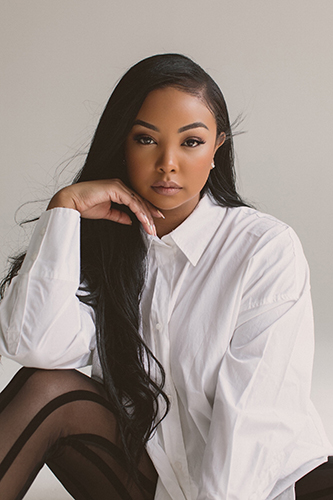 What is the gender balance like in the spirits industry, particularly in your sector? 
I work in a male dominated industry and I am 1 of 2 women on Team Hennessy nationwide. It truly is an honor to represent for the females on this team and I'm grateful to be here. With my years of experience in the Spirits Industry, it has been refreshing to see women – especially women of color – rise to the top of numerous brands in the Spirits Industry.
Has your gender brought up any real advantages or disadvantages in your work in the spirits industry
With working in the Spirts Industry, when I first started I used to feel like I had to work twice as hard to gain the respect of my peers because I was a woman. However, with the times of the world now and with my growth within the industry – I am more confident than ever in my role. I love being a woman in this industry. I love what I do and I love creating experiences for people. It's exciting to break through stereotypes and barriers and having my work speak for itself. I'm grateful for the opportunity to show what women have to offer in this industry and how we can always do it all… and some… with class and grace.
How has the spirits industry changed during Covid and where do you see it headed 
In COVID, some elements were the same and some were very different. In the beginning of COVID when everything was completely shut down, we moved events to the digital space. We hosted virtual Happy Hours, Toasts for honorees and even a virtual Friendsgiving celebration. It was very different but it felt good to still be able to interact and celebrate with friends and family during these those time. 
Since things have slowly opened back up again, we've scaled back on larger scale events and focused on more intimate moments and we're still gifting influencers and celebrities where they're able to accept these packages from the comfort and safety of their own home. 
What has been the best advice that you have been given while working in this industry 
The best advice that I've been given while working in this industry is "the devil in the details". This has applied to so much throughout my career. I've grown to be very detailed oriented down to the font on graphics, timing in the run of show for events, to floral design, and formatting in my recaps. It really does make a huge difference in the quality of your work. 
You recently launched a new platform to help people secure funding for their businesses and create the proper pitch deck … Tell our readers more about your new platform 
I recently launched a new platform to teach people "How To Create A Successful Pitch Deck". Through my years of working with major brands, I've probably reviewed thousands of pitch decks and I would always get so sad or disappointed when someone I knew or someone I didn't know who had an amazing idea, or event, or cause to support get denied monetary support just because their pitch deck wasn't sent in on time, wasn't done right, or didn't include enough of the key information for a brand to partner with. I sat back and thought: "Is there really nothing out there to teach people this?" Or "I wonder how many of my peers really know how to create a successful pitch deck?"
I want to see my people WIN and I want to help entrepreneurs of color secure funding for themselves and their businesses. I truly feel this is a way for me to use the knowledge I've gained over my 11+ years in the industry to help others take their brand and ideas to the next level.
What advice would you give other women who want to join this industry? 
Advice that I would give other women who want to join this industry is – build your relationships. Relationships are everything! I truly believe your network is your net worth and if you build relationships and your community… no one can ever take away from you. 
Also, work life balance is extremely important. Unfortunately, I had to learn this the hard way and waited until I was burnt out. You don't want to do that! Remember, you and your health come first. If you're nothing healthy and you're not able to work at the best of your ability – nothing else around you will. Take care of you and find a balance that works for you and your job responsibilities. 
What's next for Katrina Jo Balbuena? 
I have some amazing things coming out with my podcast FEDWORK, GlamGirlsLA will be making a reappearance very soon and I plan to continue helping others in the community through my new platform. Outside of that, you guys will just have to wait and see.
For more on Katrina Jo, click here.
All images by Jordan Knight