Entrepreneurs, Ian Grant II and Mike James teamed up to create an app that helps women avoid the trip to the beauty supply store and skip the wait for delivery from online retailers. Customers in the beauty supply market can use their new app, WaySlay, to order all of their favorite beauty supply products and have them delivered in as little as 20 minutes! With the recent launch of the app, we wanted to catch up with co-founder, Ian Grant II, to discuss the inspiration behind creating WaySlay, what all the app includes, and much more.
What inspired the creation of WaySlay?
WaySlay originally came about so that my co-founder's fiancé could get the beauty supplies she needed without taking more time out of her schedule or going out of her way to get them. From there, we set out to build a platform that not only his fiancé would love, but all women who want to avoid the trip to the beauty supply store. Ultimately, WaySlay was built so that you can look your best without the hassle of leaving your home or waiting for a package to arrive.
What all does WaySlay offer?
You can get all your beauty supply products including hair, makeup, nails, styling products, and more delivered through the app in as little as 20 minutes. We deliver all the products that you know and love from your local beauty supply store, including local and salon brands. This makes the WaySlay app great for hairstylists as well. 
Can you tell us how it works?
The beauty of WaySlay is its simplicity:
Choose the beauty supply store closest to you and select the products you need  
Once you're ready to checkout, you can pay through the app
The delivery driver picks up your order from the beauty supply store and delivers your items in as little as 20 minutes
Setup is just as effortless for our beauty supply partners and with WaySlay, every beauty supply store can offer the convenience of delivery and not have to worry about the cost and stress of managing a delivery service.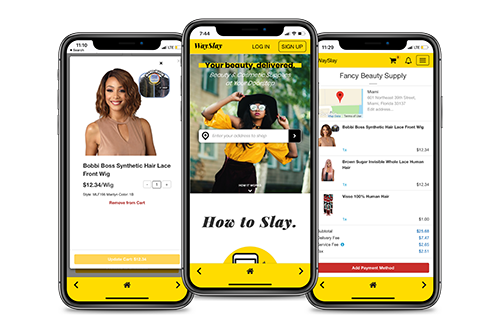 How has this app helped others, especially during our global pandemic?
Providing delivery for beauty supplies has been particularly important during these tough times. Given that most beauty supply stores are often mom and pop businesses in low-income areas, it has been imperative that they have a way to help ensure the survival of their business. During the high point of COVID, beauty supply stores were forced to close their doors. This affected their ability to pay rent. Our partners have been able to alleviate this burden by using WaySlay to safely offer delivery and ensure that their doors stay open.
Where is WaySlay available? Do you all have plans to expand?
WaySlay is currently available throughout Miami, Fort Lauderdale, Pembroke Pines, Miami Gardens, South Beach, and we're expanding to new areas across south Florida such as Kendall, Homestead, West Palm, and Pompano Beach as well. Ultimately, our plan is to expand beauty supply delivery to larger areas such as Atlanta, New York, Chicago, and Los Angeles in 2021. The goal of going nationwide will be in full force next year.
For more on beauty supply delivery with WaySlay, click here!
You can also download the beauty supply delivery app on Android or iOS.
Sign-up and use code "WaySlay10" for FREE DELIVERY credits.
Stay connected by following them on Instagram & Facebook now.
All images courtesy of WaySlay