Before you go spending your Income Tax money ten times over before you even get it, please take into consideration the power of determination, dedication, focus and faith; like that of Childcare Startup Coach and CEO, Jodi Shoemake!
We can't help but notice that many iconic figures started out with humble beginnings, and pushed their way through to success and the achievement of their dreams and goals! Ms. Jodi Shoemake is no different; beginning her business ventures with just $500 cash, followed by strategically flipping her Income Tax check, as a single mother with needs to both work and care for her young child. "I put God first, and I prayed and I fasted," Jodi reveals. "I did what I had to do, and I had a lot of faith in my mission." Born next, was her very own learning center.
Raised by her Dad and Grandmother, Jodi expressed missing out on motherly love and care, due to her mother's struggles with substance abuse. She explained the significance of her upbringing attributed to her business in the sense that she was able to use the discipline instilled from her Dad, coupled with her roots in faith instilled from her Grandmother, to keep her mindset and focus forward along her journey. "My Dad and My Grandmother gave me what I needed by always supporting me and pushing me to believe in myself." Jodi was also able to pull value from her mother's absence, and pour it into the name of her childcare & learning center, A Mother's Love.
Jodi's success with A Mother's Love has opened the doors to many opportunities for her in the business of helping others with Childcare Startup! She coaches emerging and established business owners on how to open and operate their childcare center. She has released and published two E-Books, and is preparing soon to launch an all-new Nanny Service!
We also had the chance to catch up with Jodi regarding her appearances on Season 10 of Love and HipHop Atlanta, and she said she enjoyed the experience. She spoke on the way it strengthened her friendship with her BFF Sierra Gates, more than the viewers may know. "It was tough at times because you know, you don't get to see or choose what they decide to show on TV, but we always kept our friendship intact and that's something I cherish."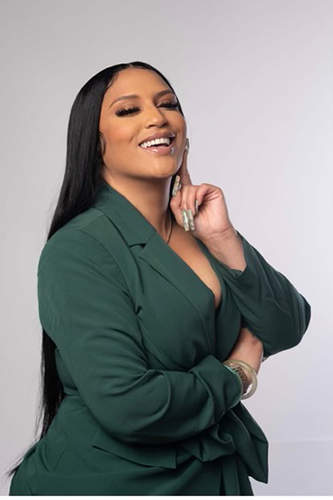 Speaking on their life-long best-friendship since the fourth grade, Jodi explained different strategies she and Sierra would practice during production in order to keep each other focused on what's real and what's right; and one of those methods was to always leave together after filming, keeping their bond and loyalty at the forefront.
She spoke about all the years they have been solid support systems for each other; showing up for one another and being a motivational force to each other's dreams and aspirations. Jodi even reflected back to laughable memories of "sleeping on floors back in the day, only to level up in penthouses."
"We have always had a reciprocal friendship," Jodi says. "We really just motivate each other with no hidden agendas. We always understand each other. I mean all friends have disagreements and ups and downs, but we always stay solid. She's my sister!"
It is imperative that we have great examples of Black women friendships and relationships that showcase loyalty and longevity. We appreciate Jodi and Sierra's energy, as they inspire and encourage the culture with their realness and transparency!
During the interview, Jodi Shoemake shared some amazing tips for women in business and those looking to make a huge positive turnaround in their Childcare careers:
Stay consistent with running your business!
Don't get discouraged with slow progress in the beginning, things will pick up!
Be confident! Do not be Fearful – Embrace the challenge and learn from the process!
Use what you have rather than focus on what you don't have. Build on it!
Keep your why at the center of your movement, stay focused on the mission at hand!
Keep Up with Jodi Shoemake by clicking here.
Follow A Mother's Love Daycare on Instagram today.
Click here for more on Child Care Start Up.
All images by A Mother's Love Daycare