Karen "KJ" Johnson is a Master Brand Coach, Chief Education Officer, and award-winning facilitator, trainer, and author. While she wears many hats and steps into the role as the business owner of KJ Strategy Design Studio and The Brand I Academy, at the heart of KJ's work is how she defines herself—as a warrior, overcomer, masterpiece, anointed and Nubian queen—W.O.M.A.N. This is what fuels her passion, which has led to widespread success as one of the recently named woman to the "2020 List of Influential African American Businesswomen on LinkedIn." It was a special treat to sit down with KJ for this Sheen Magazineexclusive to discuss her role as a brand expert, leader, and change agent.
Who is Karen "KJ" Johnson?
I wear many hats and roles but, at my core, I am a Warrior. I wear the armor of God and am equipped with everything I need to fulfill my divine purpose. I am stronger and more powerful than I realize. I am an Overcomer. No matter what life throws at me, no matter how difficult, I stand firm and conquer. 
I am a Masterpiece. God spoke everything into existence; however, He created me in His image and likeness. I am the crown to man's head. I am Anointed. I've been appointed and positioned to make huge contributions to the world. My love, support, and wisdom put everything in alignment. Everything connected to me prospers.
I am a Nubian queen. I am of a royal priesthood. I am a giver of life. I build nations. I am highly intelligent and, when man looks upon me, he's stricken with my beauty. When you put it all together—Warrior, Overcomer, Masterpiece, Anointed, Nubian queen—I am W.O.M.A.N.
Of my many hats and roles, I am the owner of KJ Strategy Design Studio, a personal brand diversity consultancy, and The Brand I Academy, a professional and personal learning center. I am proudest of my roles as a mother and grandmother.
What is the art of branding?
Branding is the act of creating a powerful brand. It's the process of uncovering your brand identity, i.e. determining what you want to be known for. It's the process of establishing your messaging, designing an image that reflects your identity, and devising strategies to reach your goals. The complexity, variations, and uniqueness of branding is an art because there are no two identical pathways to building a powerful brand. It's a uniquely diverse masterpiece crafted by the artist—YOU!
What inspires you the most about being a leader?
Leadership is another artform that relies heavily upon knowing the essence of who you are. The leader is responsible for creating an intellectual imprint (an environment that inspires creativity), utilizing the strengths of team members, and authentically lead from their core to influence the team to move forward in achieving and exceeding goals. Leadership inspires me to imagine more and dream often. Your greatest visions can be accomplished through the art of leadership, which is what inspired me to develop the Brand I Leadership Model ™ (Inspiration, Influence, Inclusiveness, Intellectual Imprint, and Image).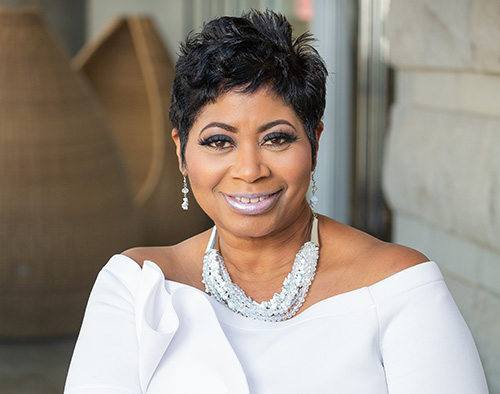 Tell us about a few of your greatest accomplishments.
During the current pandemic, I was named to the "2020 List of Influential African American Businesswomen on LinkedIn." This led me to partner with the One Million Woman Link Up initiative as a Founding Partner. To be in company with such amazing and powerful women is a prestigious honor that I'm in awe of and truly grateful for because it shows that my work is making a positive impact in how we live, work, and play. Last year, I was honored as one of six Dallas female entrepreneurs in "Making History in Heels" and was named as one of the "Purpose-Driven Women to Watch in 2019" by Today's Purpose Women magazine.
What's the inspiration behind the name of your companies?
KJ Strategy Design Studio is the product of my passions and the result I provide to my clients. I initially helped clients create and design their overall business structure and branding. The business has since evolved into a personal brand consultancy, but the name remains relevant.
The Brand I Academy was an easy name to create because it's the result of utilizing the core of what I do—teaching and branding—along with the foundational principles of the courses we offer (Inspire, Impact, Influence, and Imprint).
What advice would you give someone who would like to mirror your success?
Before embarking upon any field, it's important to understand three things: who you are, who you will serve, and why you want to serve. Now as it relates to my area of expertise, equip and immerse yourself with the knowledge of branding and marketing. Read, take courses, network, find a mentor and hire a coach. Branding and marketing are often used interchangeably but they are very different. It's important to know the difference, be well versed, and establish yourself as a thought leader. 
Why is it important to have momentum in your business?
There are many moving parts and obstacles to navigate. This often requires that you run the race as a marathon, not a sprint. Running a business is not for the faint of heart, but for those who will stand the test of time. Momentum significantly contributes to the trajectory of moving the business toward its goals. It helps you stay focused, committed, and dedicated.
What sense of purpose do you draw from your culture and community?
My culture and community inspire the essence and foundation of what I do. The richness of our heritage, our cultural differences, and our inner artistic impression are the key components that awaken us to who we truly are and allow us to fulfill our divine purpose.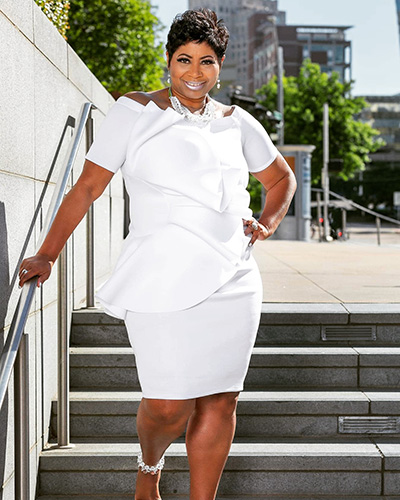 What are the quality traits of a businessowner?
The top six quality traits of a businessowner are brand identity, vision, confidence, passion, commitment, and risk-taking.
You must know who you are and the goal you want to achieve. You must have confidence in your ability to get it done and a love, desire, and passion to see it through because you'll face challenges. Any vision worth achieving requires you to move beyond your comfort zone, which means calculated risks are critical to the success of the business.
How can we learn more about your work?
Website: https://www.kjsdstudio.com
LinkedIn: https://www.linkedin.com/in/karen-kj-johnson  
LinkedIn: https://www.linkedin.com/company/thebrandiacademy
Facebook: https://www.facebook.com/kjsdstudio
Facebook: https://www.facebook.com/brandiacademy
Instagram: https://www.instagram.com/kj_strategy_design_studio
Instagram: https://www.instagram.com/thebrandiacademy
All images by Carlos Moreno of Create Imagine Design