23-year-old, Georgia-native Tekoa Savage, turned her favorite pastime into a game-changing business. Kaeess Nail Polish, pronounced "K-S", is a brand to watch as its handcrafted and radiant colors are not only eye-candy, but they're made with your health in mind. Tekoa gives us the scoop on why she no longer paints with toxic polishes, how she broke into the beauty industry, and what nail trends you should be rocking this year!
What inspired you to create your own nail line in spite of the saturated market?
Painting my nails has always been something that I loved to do as a part of my self-care routine. One day, I was painting my nails and I realized that I would get really sleepy and my nose would run after inhaling the smell of nail polish. After doing some research, I discovered that the polishes of my favorite brands contained many toxic chemicals in them that cause cancer, respiratory issues, damages to the reproductive system, and the list goes on. It was difficult finding brands that sold non-toxic nail polishes, so I decided to take advantage of the opportunity and make my own, harmless nail polishes. I started, mixing and launched Kaeess Nail Polish in August of 2019, and it's been a great 5 months! 
Tell us about your polishes and what makes Kaeess unique.
Kaeess Nail Polish is home to 10-free nail polish meaning my polishes are non-toxic and free from chemicals that contain harmful agents that can be very damaging to your health. My polishes don't have a strong smell, they dry fast, chip-free, and Kaeess is affordable. My goal has always been for my polishes to be healthy and inexpensive. And the colors are, of course, beautiful!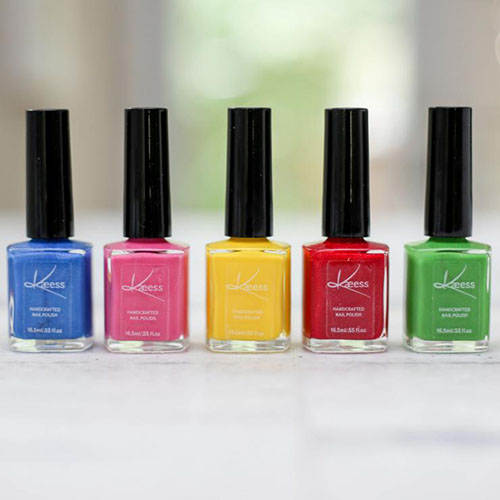 What is the go-to color from your brand?
I love bold and bright colors. One of my favorites is my "Breakfast at Tiffany's" polish. It's a really nice blue color. Currently, my top seller is my "Can You Love Me Naked?" nude polish. Everyone loves this polish, and it's a color that I made specifically for my customers! I try to provide a variety of polishes for every woman with different tastes.
Any advice for aspiring beauty entrepreneurs?
Find out who your target audience is and figure out what they like. I rely heavily on the support of my customers. All of the names of my polishes are picked by them! While I make polishes, I like to post on my Instagram story to take surveys on what people are looking for in polishes and other things like that. Allowing my customers to be a part of the process gets them excited about the growth of the brand. Ultimately, they are the ones that grow the brand and that's the most important thing. My brand is nothing without my supporters and customers!
What nail trends are you looking forward to in 2020?
Neon yellows, the slanted painted tips, and magnetic polishes are becoming super popular!
What's next?
I have a new glitter collection coming soon, stay tuned!
Visit the official Kaeess Nail Polish website for more information on Kaeess Nail Polish!
Follow Kaeess Nail Polish on Instagram & Facebook.
All images courtesy of Kaeess Nail Polish