There are shoes for every occasion from work shoes, tennis shoes, everyday shoes, to evening shoes. However your personal style can become your signature while making a statement. This includes the ever-changing styles for the new decade seen on fashion runways. A decade ago it was fashionable for your shoes to match your outfit. Nowadays it's fashionable to have a pop of color; or a nude shoe. Women don't have to be matchy matchy anymore with shoes complementing their outfit.
The most popular boots for 2020 are ankle boots which look great with pants and jeans. The knee boots are classic so they're never out of style. There are knee boots with heels and without. The flat sole knee boot looks great with casual wear like jeans, leggings, and casual sweater dresses.
The knee boot with heels can be dressed up or down. They look nice worn with a suit and matching skirt, dresses, and dress pants. One of the hottest styles trending is the chain detail anklet on boots.
Spring is right around the corner and the fashion runways showcased Spring/2020 shoe trends giving a variety of fun and colorful strappy heels, pumps, and platforms. The most popular detailed style shown is chain accented pumps. These gold chain embellishments are seen on the upper foot area or the base of the shoe sides from front to back.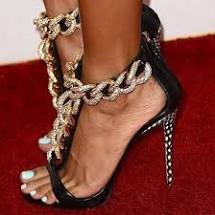 A shoe called the penny loafer which originated in the 1930's has made a comeback and updated as a loafer which is an enclosed flat heel shoe in a variety of colors including patent leather and leather. This shoe has been modernized into sling backs, and mules with chunky heels in leather and patent leather. In the 1950's men and women wore the classic shoe penny loafer a slip-on shoe. What was unique about the penny loafer is it had a half moon cut compartment on the top of the shoe where someone started a trend of placing a brand new shiny copper penny in this cut out slot and it transcended for decades. This was considered a statement shoe.
The tennis shoe has upgraded to a wedge high top sneaker which can be seen in a variety of colors, patent leather, studded, and shoelaced, or buckles. The sneaker shoe goes way back to 1892 when their sole purpose was for playing sports and later integrated into fashion. The high top sneaker was originally utilized for basketball players decades ago and then became mainstream around the early 70's and Pro Keds had a variety of colors which children to adults wore as a fashion statement; or support and comfort for children walking to school. Even back then we added swagga to the shoe with different color laces and matching outfits for recreational events. The high heel tennis shoe was more popular in the 90's however there are a few sights selling them therefore someone is still rocking them. Well it's all about personal style.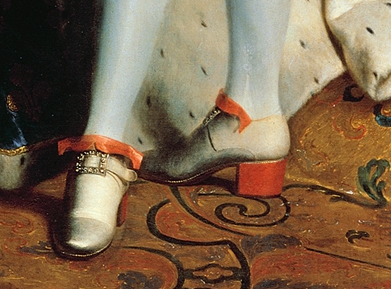 I would like to share a little history regarding the red bottom shoe. Christian Loubouitton designer of the red-bottom shoe filed a trademark infringement on January 4, 2013 alleging Yves Saint Laurent had breached its copyright by creating red-sole shoes. This was so interesting when I discovered this information because I'm very aware as a fashion designer you can only trademark the hardware created for a shoe. Yves Saint Laurent created a mono-chromatic red shoe with red soles for his Spring/Summer 2013 Collection and felt no one should be able to monopolize on any color and counter-sued Christian Loubouitton on the trademark he did have on red soles. You see although Christian had a trademark on the red soles his plea was that if he didn't receive retribution it would leave the door open for anyone to create knock offs. I understand his plea all too well. However the New York court appeals decided Loubouitton's red-sole trademarked shoes should receive protection except for when the shoe is entirely red; including a single color can never have a trademark in the fashion industry. This permitted YSL to sell red-bottom shoes only when the shoes were entirely red. So Christian Loubuitton didn't receive the 2 million he was seeking in what he considered damages. However what drew me to research this situation was when Christian Loubouitton claimed "No one has ever used a colored sole to distinguish a brands identity," because I knew this was far from the truth. When Louis XIV reigned aristocrats had rights to wear shoes with red-soles and heels only. This was strictly reserved for the court at first. During this 17th century red heels signified that the wearers were always ready to crush their enemies at the state of their feet". Eventually women began wearing red-sole heels; however it was believed this represented women attempting to seduce men so it was banned. Well it seems men wore heels before women.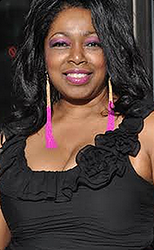 Let's stay connected on Instagram!
Source obtained from The Fashion Law