Navigating on the highway is one thing but when drivers come to a fork in the road with their business finances, they reach out to Trucking Expert MySherri Rhodes for sound advice to help leverage their business acumen. 
Introduce yourself to our reading audience.
I'm Mysherri Rhodes, known as The Trucker's Accountant. I help Trucking Companies to pay the least amount of money in taxes, increase their cash flow, and grow their fleet all while staying in compliance with federal and state tax regulations. I'm originally from Chicago but am currently residing in Atlanta. I'm a loving wife and a mother to 3 beautiful girls.
What made you want to go into business?
I have to give credit to my husband. He has always had a very entrepreneurial spirit and, if I'm being honest, it used to scare me to death. He would encourage me all the time to go into business, citing the things he saw in me that I couldn't see myself. A mentor of mines once said, "Sometimes you have lean on the belief of others until you believe it for yourself". Initially, I started doing trucking companies taxes when my husband asked me to help a couple of his trucking buddies. Not too long after, I had truckers reaching out left and right. After a while, people started referring to me as "The Trucker's Accountant" and now here I am!
Why are you so passionate about empowering women? 
Being a woman and mother to 3 daughters, it's extremely important to me to be the best example I can be. I want my girls to grow up knowing that they can achieve anything they set out to do because the work ethic and attitude modeled by the successful and enterprising women around them has given them the confidence to go after their dreams. While my role is important, the more examples they have around them only serves to reaffirm their belief system. Therefore if I can serve as a resource to help other women I'm repaid with another example of success I can point to!
What's something most of the subscribers don't know about you – something fun, witty, and out of the box?
I love dancing, particularly to 90s R&B/Hip Hop. I know almost zero modern-day lyrics…but will still dance my heart away!
Share five things our readers can do with your money.
Invest in your financial education – book, seminars, and mentorship.
Invest in the stock market -leverage that newly acquired financial literacy to help navigate the waters. It's one way to put your money to work for you! A good starting place is to look at the things you use/do/eat every day. Also, I love a good dividend stock!
If you have an entrepreneurial spirit, start a business (if for nothing else, for the tax benefits!)
Secure a life insurance policy, in addition to the one from your job if applicable. (your passing may be a tragedy, but it should also be a benefit to your family)
Treat yourself, but responsibly! Set a budget and stick to it. Delay that instant gratification bug and save up over time for bigger expenses. You work hard, you've earned it! Give yourself a reward from time to time.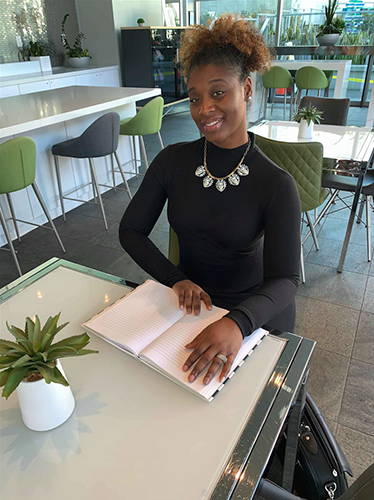 What quote/motto do you live by? 
Fail Forward!!! – John C. Maxwell
How can people connect with you?
Connect with me on social: Facebook | YouTube | Instagram | Twitter
What is next for you in 2020?
I look forward to expanding The Trucker's Accountant brand, adding several satellite locations around the US, and adding to the services we currently offer.  Additionally, I will be rolling out programs that will add value to both truckers and other accounting or aspiring accounting professionals. Follow me to stay updated!
Contributing Writer – Dr. Cozette M. White, Advisory Accountant and Tax Expert.  Learn more about Dr. Cozette M. White at www.cozettemwhite.com. 
Follow Dr. White – LinkedIn | Instagram | Facebook | YouTube TODAY!
All images courtesy of MySherri Rhodes