New York born Mariel Mejia of Dominican heritage is a successful beauty entrepreneur who owns natural hair care brand Pink Root Products, her products is targeted to nurture all textures and hair types from wavy to curly to kinks and coils. The brand has achieved success in such a short space of time due to its healthy organic hair care range. Recently they collaborated with beauty subscription service IPSY and featured on Spanish TV channel Univison. We speak with Mariel to find out how her Afro-Latino roots has played a pivotal role in her business and how she overcame the 'Pelo Malo' mindset growing up.
Since the journey of starting Pink Root products, what have you learnt as a beauty entrepreneur? 
Since the start of my journey, I've learnt that this isn't for the weak and I mean that in the nicest way possible! In this path of entrepreneurship, you will experience a lot of lows before you get to the highs. There will be a lot of no's and that's just something you have to get comfortable with. With so many people creating new products, ideas, and ventures it's easy for others to feel overwhelmed with so many options and your company can seem like just another one in a sea of a million so staying consistent is key and that takes time and effort. You have to hang in there and grow tough skin.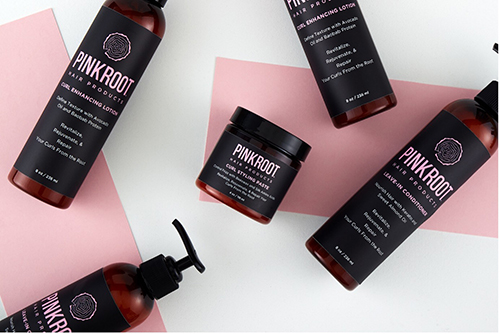 Why is PRP the perfect addition to your hair care routine? 
Pink Root is the perfect addition to your hair care routine because it allows your hair styles to last a lot longer. With so many organic elements incorporated into our formulas, your hair will stay moisturized even on day 4 which is usually around the time that most styling products lose their "umph" but at Pink Root, our formulas are designed to withstand anything.
Over the past year, what has the brand been up to and what has been your biggest achievement so far? 
Over the past year the brand has continued to emphasize their presence as an emerging indie beauty brand. We started the year off by being featured in IPSY's February and March 'Offers' program which is exclusive to their subscribers. We managed to sell out of our kits within a week of going live which is major for such a small brand like us. We also got the opportunity to showcase our products on live TV via Latinx major prime time channel Univision which was also a major hit. We sold out of our inventory within 15 minutes of going live and we were the only brand who hit that peak during that segment. Such a proud moment for us!
As a woman of Afro-Latina heritage, how did you overcome the 'Pelo Malo' mindset growing up? 
Growing up all I knew was the salon and altering my hair to fit a eurocentric standard. It was basically tradition to get your hair relaxed and to avoid wearing your natural texture at all costs if you didn't have "good" hair. The only way I was able to get over this was by finally coming to terms with the fact that what I was doing was unhealthy. While there is absolutely nothing wrong with relaxing or straightening your hair and it makes some women's lives easier, for me it was starting to chip away at my self-confidence. I hated that I felt like I couldn't even enter a swimming pool because I was worried about what my hair would look like after. I decided to finally put a stop to all of that and never looked back. It was time to repair the relationship that I had with my hair and ultimately, myself. 
Growing up we all heard about the 'Dominican Blowout' and its popularity, do you think there is less hype about it now as individuals are embracing their natural textures more?
I definitely think that there is less hype about the Dominican Blowout but don't get me wrong, I thoroughly enjoy getting one every now and then to flex my new growth. I really think it comes down to your personal style and what you like to see in the mirror. I know plenty of women who still regularly visit salons and are happy with their decision. I think that as long as you have a good hair routine with quality products and regularly scheduled treatments, you should wear your hair however you'd like whether that's natural or straight. 
There has been a rise of Afro-Latinx brands in the past few years, what are your thoughts on this? 
I think the rise of Afro-Latinx brands is so great because not only are we representing the Latinx community contrary to what the media stereotypes the Latinx image to be but, we're also incorporating our African roots into the mix of our brand identities. A lot of the formulas we use we've learned from our mothers, grandmothers, aunts, etc. and we're finding ways to share that with our audiences. 
What would you love for PRP to be remembered for? 
I would love for Pink Root to be remembered for being a brand that cares about your hair and not just making another dollar. We've spent years developing our formulas before going full throttle with our brand presence efforts and there's a reason for that. We want you to feel like your hair is truly thriving when you use our formulas and it's not just another bandwagon to jump on. Quality is everything to us. 
In the beauty industry, who is your biggest inspiration and why? 
I would say that my biggest inspiration in the beauty industry right now is hands down Rihanna. I feel like she really started a trend to not only take up space within the beauty and wellness industry but to also expand beyond that; to build an empire. She's doing everything from lingerie to skin care and there's rumors about her doing hair care soon too. I think that a lot of WOC were obviously already starting successful brands before FENTY came on the scene, but you've never really seen a dominant WOC owned brand that has its hands on what seems like everything. It's amazing to see the growth and I hope that more female founded brands slowly become empires as well. 
Does PRP work for all curl types or a specific curl type? 
Pink Root works for all curl types! Technique is what makes it work for you. The way you use a product will determine how your final result will look but the formula is for every kink, coil, curl, and wave out there. 
How has your heritage played a part in starting your business?
I think growing up and watching my mom constantly make her own hair treatments out of avocado, ginger, different oils, bananas, eggs, etc. really played a huge role in my comfort level of getting in the kitchen and formulating my own products. I was exposed to that at such a young age that I always valued what mother nature could really do for your hair and that's what led me to create Pink Root. I wanted to make products that were not watered down but that were truly effective at maintaining a healthy mane.
You can find the brand here.
All images provided by Mariel Mejia