You've never seen a Nigerian World-Renowned Chef pack a room full of government officials, celebrity musicians, fashion influencers, executives and leaders during New York Fashion Week like this. The 4-course meal paired with African wines served 50 personally invited members of the industry and peers of the Chef. Amongst the dominating fashion week, Chef pulled off a secret dinner where guest entered through the side, into the kitchen and then into a magical ballroom surrounded by LED projectors exemplifying the four forms of oxygen: earth, fire, water and air. The meals, also representing each element of oxygen, were created by none other than Chef Eros and his 10-man kitchen team. Each course was presented next to a story told by Eros, ending with desserts paired with Shinju Whiskey. The dinner was held at the famous LAVAN541, which hosted shows during fashion week such as Samantha Teofair's FDLA showcase.
The dinner was powered by Oxygen Inc., curated by Afro Media Group. Citing's including, noted celebrity photographer Oluwaseye Olusa, Model and Lifestyle blogger Sofiyat Ibrahim, Nigerian Influencer and Host Speesh, Nigerian Music artist Wurld, and Celebrity Hairstylist and Influencer Johnny Wright, and more!
Date: Sunday, September 12th, 2021
Time: 9:00 pm – 2:00 am
Location: LAVAN541
Chef Eros is a renowned chef who's cooked for many celebrities such as Grammy Award Winning actress and singer Lauryn Hill, Producer and Best-Selling Author Luvvie, and Dynasty actor Sam Adeqoke and many more. Named "The Man Who Knows What Billionaires Eat" by Forbes, Chef Eros has created a global empire with over 5 different brands. These brands include, Eros & Gourmet, Cookie Jar; as seen on CNN, Ile Eros Fresh Prep by Eros, and now the brand that introduces him to the US market, "The Billionaire Chef". Since landing in the US from Lagos, Africa, Chef Eros, has had well over 100 attendees, from celebrities, leaders, and executives taking them on a journey of pure satisfaction fusing West African flavors with international influences. The past Sunday dinner was the finale of his "This is Lagos" Tour where he touched Los Angeles, Atlanta, Houston, and New York. The journey has just begun. The industry is buzzing about this Nigerian chef that's taking over the US hospitality field in his own way!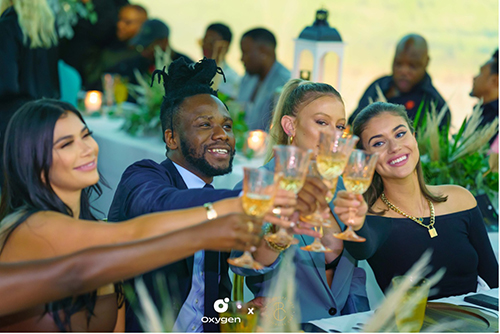 Learn more about The Billionaire Chef Eros and Oxygen Inc today.
This feature was submitted by Nia Rice
Tanzania "Nia " Rice was born in the Washington D.C. area and currently resides in Los Angeles California. For the past 8 years, she's told stories for musicians, cultural leaders, entrepreneurs, and more. She's confirmed her love by becoming a 2x author of "Eventproof", list in Huffington Post as the Nation's top 25 Rising Publicist and stepping on red carpets for box office films. She's curating the life she wants, to assure your story is told flawlessly.