Haven't been to MuseZeum yet? No worries! You have one more chance – TODAY, Thursday September 28th until Saturday September 30th. The series closes with a celebration of the 10 year anniversary of Mack Wilds' New York: A Love Story.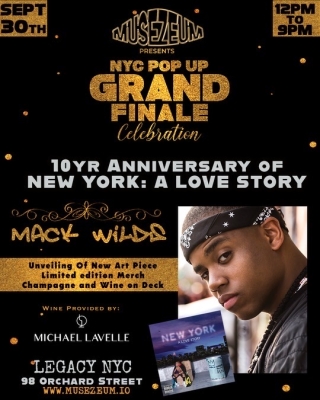 Attendees will experience physical exhibits featuring a musical art collection curated by Remi himself with a special unveiling celebrating Wilds. The complete collection includes several of his own pieces that are being shown for the first time. The collection includes Art That Has Creative Approval and Financial Participation by Bob Marley, Nas, Marvin Gaye, Slick Rick, Fab 5 Freddy, Amy Winehouse, Celia Cruz, Dennis Brown, Rakim, Betty Wright, and more. 
Guests of MuseZeuM(NYC) will be able to experience one of a kind art from some of the greatest and most influential artists of all time. They will be able to purchase unique authenticated merchandise.
Past guests have included Nas, Q-Tip, Busta Rhymes, Black Thought, Large Professor, M1 of Dead Prez, Joell Ortiz, Rsonist, Roxanne Shante, DJ Cool Vee, DJ Teddy Ted, Fab 5 Freddy, Ro James, Sway, Ralph McDaniels, Angie Martinez, Kim Osorio, Ralph McDaniels, Ivy Rivera, and more! You never know who will stop by.