Surprise! I became a mixologist over night. Hear me out, a skin mixologist. This cool product from Drunk Elephant is one of Sephora's best-selling products and for all of the right reasons. I had to see what the hype was about. It requires you to mix it before the first use so that you are maximizing the potency of the ingredients formulated into the product. How cool right? Today's SHEEN Review is dedicated to Drunk Elephant's C-Firma Fresh Day Serum.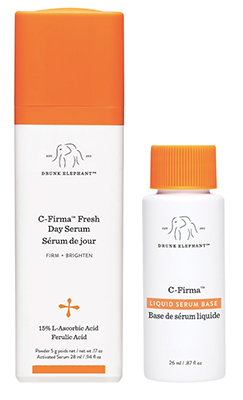 Drunk Elephant C-Firma Fresh Day Serum, $78
Ugh! I have nothing but amazing things to say about this serum. It is so fresh and light on the face. I find that it does a great job of plumping the skin for a radiant look. It's more of an oil-serum but it's not oily whatsoever. It literally soaks into my skin and leaves is moisturized without feeling sticky. My skin texture has changed a good bit since I began using it. It's definetly minimized the pores on my face, which I love. Have you tried this product from Drunk Elephant? Let me know in the comments below.
For more on Drunk Elephant, click here.