Derrick Hayes is influencing you to chase levels, not the money. The hyphenated Restauranteur, CEO, Investor, and Philanthropist is covering every base. Which is accompanied with a positive mind, focused vision, powerful family, solid team, and pure, Taurus bullishness. Ranked number 7 in the world in not just cheesesteaks, but all sandwiches, Big Dave's Cheesesteaks has made big moves, from satisfying sandwich lovers at the Shell Gas station, in his food truck, and at Derrick's first brick-and-motor in Downtown Atlanta and expanding to Doraville, securing prime real estate with a total of three locations at the Mercedes Benz Stadium in Atlanta, Georgia. This came shortly after repeatedly selling out at the at the first location and being offered two more. The latest Big Dave's Cheesesteaks restaurants will be in Gwinnett County and the Southside of Atlanta and are set to open doors in the first quarter of 2023. Derrick also integrated into veganism by partnering with CEO of Slutty Vegan, Pinky Cole to form Dinkies, a portmanteau of the couple's names and the plant-based extension of Big Dave's Cheesesteaks and social hotspot, Bar Vegan inside Ponce City Market.
Balance is a major component of the Big Dave's Cheesesteaks owner way of life and there are no days off when you have manifested and created everything you have prayed for, "The ball is hot and I'm going to slam dunk it." He provides an interesting perspective on taking breaks, by asking, "What do you really need a break from? Do you need a break from yourself, could it be the people around you? Or are you doing your work backwards? Protect your peace and your space." Mr. Hayes says his self-care is living his best life and fulfilling his mission, building his empire, teaching, nourishing, and loving his family.
Derrick branded his company in honor of his father, Dave who succumb to cancer. His number one selling sandwich at Big Dave's Cheesesteaks is The Dave's Way. He wanted his father's marathon to continue. Much like most of Mr. Hayes experience, divinity shows up to confirm his path. For example, he had his first date with his best friend, business partner, and fiancé, Pinky Cole on the 8th day of June and they both share the number 8 as their birthday number. He says their first conversations were on a different frequency and they felt like he was talking to a reflection of himself. They connected from having a shared interest in taking calculated risks, putting in work, giving back to the community, and building an influential legacy. Not only are the restauranteurs feeding the world, but they're also feeding off of each other.
He still hasn't awakened from the dream of having the heir to their throne, Derrick Hayes Jr., being born on the day that his father, Big Dave, passed away on July 6th. That day transcended from being the worst day of his life to the best day of his life, "Watching my father shut his eyes and seeing my son open his eyes," he reflects. After an extended moment of astonishment, Derrick has finally settled into the realization that he and Pinky created a son, that share the same gray-green eyes as his patriarch's that preceded him, another divine confirmation of Derrick being in full alignment with his path. The emergence of Derrick Hayes Jr., baby brother of Dallas, Denver, and D Ella Hayes, has added even more joy and magic to the family. As a father, he is excited about spreading his generational wealth, especially by teaching his tribe financial literacy and leadership. Derrick promises the mission will continue to pass through his children.
His top three executive ethos is diligence, priceless self-confidence, and self-loyalty. The mogul explains that self-loyalty is important because you must be real with yourself before you can expect realness from others. Lack of success stems from procrastination and your own mind. Derrick refused to allow traumatic situations and the environment in which he came from, to create limitations in his mind for where he was going and block his blessings. His vision is so crystal clear, that the only option was healing, moving forward, and making gains.
In areas of philanthropy and community, the restaurant power couple have their foot on real estate's neck, collecting a total of 21 properties. Some of which they are planning to use, to extend affordable housing to the community. Pinky and Derrick partnered with Clark Atlanta University to sponsor $600,000 worth of scholarships for students as well as life insurance and they are still in the midst of their nationwide life insurance initiative for 25,000 Black men to be insured by 2023 with their Prudential Partners. If you are a resident of Atlanta and were wondering where some of the water boys of Atlanta migrated too, well Derrick Hayes saw his reflection in them, took them under his wings and provided them with jobs. The next initiative he is developing, will be a partnership with Pepsi providing $15,000 worth of technology for computer labs in select Atlanta schools.
Derrick Hayes and the Big Dave's Cheesesteaks Brand is coming in hot in 2023! Big Dave's All Purpose Cheesesteak Spice will be available in select stores and if you can't wait, you can get yours now by visiting any Big Dave's location in Georgia or shop online at BigDavesCheesesteaks.net. The scale is scaling, as Big Dave's Cheesesteaks will be opening four more locations and Derrick reveals that Bar Vegan will have their own house tequila, soon come! He is adding author to his growing list of titles and will be releasing his first book, with the intention of spreading the message about staying on track. No matter what obstacles may arise in this dynamic journey of life, being flexible, and staying in the receptive mode of opportunities outside of the scope of what you may have put in your plan, is essential. And that is just to name a few of the ideas that Mr. Hayes is bringing into fruition. With such a bustling lifestyle, his solid team that includes, but is not limited to, his PR and Manager Danika and General Managers John, and Luke, forecasting and learning how to say no, have been significant components to maintaining an organized calendar.
"At this point in the game, what do you do when you have the ball?" Derrick asks. Instead of tightening a rigid grip on his success and wealth, he is leaving some room to share space to impact more lives. You can catch him on Access Hollywood in November, demonstrating how he is making the world salivate over Big Dave's Cheesesteaks.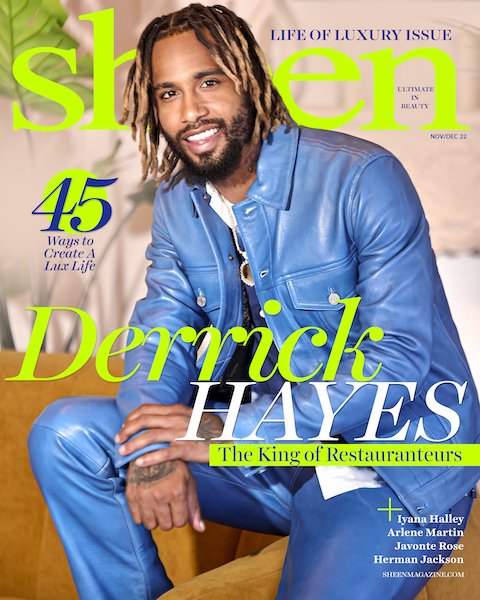 For more information Derrick Hayes:
Instagram – @officialdhayes/@bigdavescheesesteaks
Website – bigdavescheesesteaks.net