Arial Robinson is a 19-year-old sophomore in college in Charlotte, NC. In addition to being a student, she is a content creator that has taken advantage of her social media platforms in order to spread awareness on the hard-hitting subjects circulating our world. In spite of quarantine, Robinson was determined to stay busy and created a 26-part photo series called The Black ABC's (inspired by the original Black ABC's of 1970, created by The Visual Society of Education in Chicago, Illinois). The project was noticed by many across the nation, including us so naturally, we had to obtain all the details behind this exciting project from Arial herself!
First off, tell us how you have been able to deal with quarantine as a student?
It has had its challenges but overall I have been very blessed. I did not have to worry about being displaced from school because I was already spending my spring semester in my Charlotte home while working at my internship, which is also in Charlotte. I just started classes again for summer and it has had its stressful moments, but I have been around my family and best friend so they are here to support me when things begin to pile up. I do recognize that I have been privileged in this whole situation. My mother still has her job and my whole family is healthy. I have the necessary tools to succeed at home and I am very thankful and praying for those who are affected negatively by this pandemic.
What inspired the creation of The Black ABCs?
Last year in February I came across a tweet that highlighted the original Black ABC's created by The Society of Visual Education in 1970 in Chicago, Illinois and I thought It was so amazing so I saved the tweet. Fast forward one year later, I had just finished my first quarantine project and I was looking for inspiration for my next one, to keep me occupied since I knew I'd be at home for a few more months. I went through my Twitter bookmarks and found it again and knew I wanted to recreate it in my own way. So for the next 14 consecutive days I shot the photos and posted them one after the other.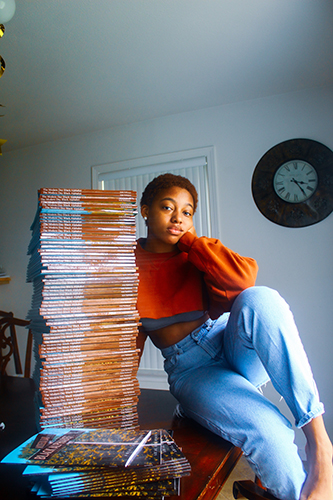 How did the idea come about to take your creation and create it into a book?
I never intended for it to be a book. I just love creating content for my followers through photo series. I posted the photo series on my twitter and everyone kept commenting that if I turned it into a book they would purchase. In that moment it dawned on me that this could be something that can live on for generations. It's something that people want to have in their homes and it would be selfish of me not to share. Also social media is so fast and one dimensional so I'm glad that it will live beyond our fast pace telephones.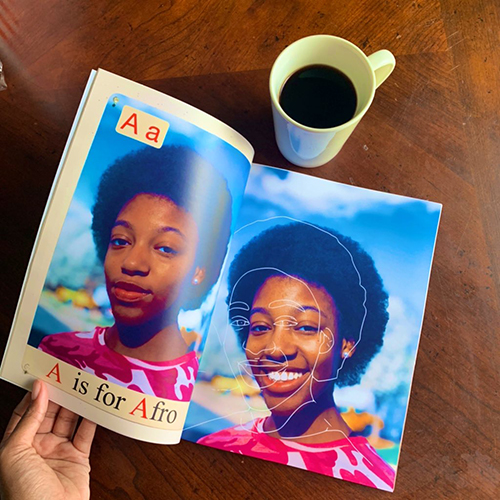 Why do you believe it is so important for black children to see themselves in a light that does not involve violence and sexuality?
It is important for black children to see themselves in a positive light because it helps them to understand who they are in this world and it makes their experiences real. Growing up I saw black people in the media portrayed in violent manners. I saw black women oversexualized and it made me see myself in an unpleasant manner. My everyday experiences felt far fetched and I felt like I was the only going through normal things that come with growing up. For example I never saw black women with 4C hair that were proud of it, so I equated that to me being ugly and unwanted. It wasn't until I got older and was active on social media that  realized I was not alone. No one should go almost 20 years of their life not seeing that they are loved and beautiful and that they can be successful.
What do you hope to accomplish in the years to come?
In the years to come I hope to continue to create content that creates conversation around the black experience. I hope to use my knowledge, wealth and success to give back to those who are in underprivileged communities. I hope to continue to shift the culture and make way for the generation of creators after me. I hope that my book can serve as a bridge to creating virtual and physical safe spaces for black kids to grow and find comfort in whatever career they choose to pursue.
All images courtesy of Arial Robinson