When many of us think about what it is to be in the music industry, we think of a glamorous life filled with sold-out shows, red carpet events, and expensive cars with tinted windows driving us from one high profile interview to the next. We see lavish homes, high-end labels, and all the glitz that comes along with this lifestyle. That's the music industry in a nutshell. Right? Well, not quite. While being a successful entertainer definitely has its rewards, there is much more to the business side of that life and that is what the new book,​ Music Money​ by author and music executive, Chlon Rogers talks about.
Rogers has more than earned her reputation as an expert on the business side of the music industry. She has an impressive background and education in business management and accounting and has worked with a long list of high profile clients and even some independent labels. As the Founder and CEO of Checkmate Business Management, she provides accounting and business management services with a full team of music business professionals. She serves as COO of Atlanta based independent record label,​ "Think It's A Game Records"​, which is the driving force behind artists like YFN Lucci, Rich Homie Quan, and Trinidad James.
Rogers took some time out to talk with Sheen Magazine about her evolution as a businesswoman and her very first book, ​Music Money​, and why she felt this project was so necessary.
Who is Chlon Rogers today versus the Chlon Rogers that we first met back in 2016 when you put out "Ballin' On A Budget"?
The Chlon Rogers today versus who I was back in 2016 has had a lot of experiences that have taught me so much about the industry and about business aspects of being in not only the music industry but the entertainment industry. Back then I worked with a lot of clients and I was on the road so much. My main focus was getting as may clients as I could. Now, I want to focus more on educating artists on things they should know in order to understand their paperwork and to make sure they know what it takes to maintain the lifestyle they create. What is important now is having quality clients versus just having a lot of them and really focusing on those select clients.
Who is the book "Music Money" for and what inspired it?
​Music Money really is for anybody in the music or entertainment industry and that doesn't necessarily have to be just the artist. Even if you are the pr for an artist or if you are a CEO or even if you are an independent label, music money is about educating not only on the different streams of revenue that can come from your music career as well as making sure that you have all of your paperwork and business affairs in order. for example, coming into the industry many people focus on advances and show money but they don't really think about the other money that a lot of people consider to be slow money but sometimes that's the money that's going to take care of you and help you to keep the lifestyle that you set up with the money you get from shows. It's so much more to it than going into the studio and making a hot song.
What, do you feel, made this book necessary right now?
We see so many stories about people that are doing great for three or four years and then all of a sudden the money dries up. A lot of times that's because they didn't have the bits inside of things in order. We have seen stories about people that have gotten into contracts that didn't necessarily serve them well and the ones that we see and hear about are just a small percentage. If artists know more about this side of the business before they obligate themselves to an agreement, then not only can it save them from a situation that might not be in their best interest but it can also help them to build more financially in the long run.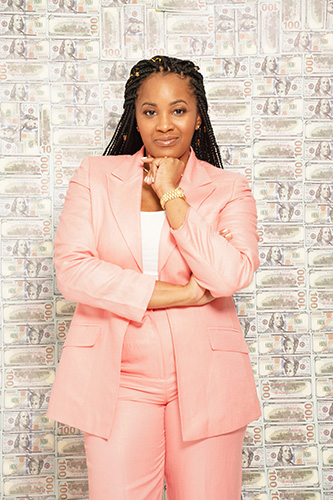 Give us one tip for artists that are already in the industry and for artists looking to get into the industry.
​I would say a big one is to understand your contract. Make sure that you know what you're getting into when you sign. Make sure you understand your advances and know that this is not free money. Also, make sure you know the different ways that your music can make money for you and how to set yourself up properly to receive that income.
Rogers, who has years of experience working with Billboard charting artists and who has acquired 8 RIAA certified plaques says that although this is her first book, this is just the beginning. Music Money is the first of a three-part series that focuses on teaching everyone from artists to executives and everyone in between about the business side of the music industry.
Music Money is available now here.
For more on Chlon Rogers, follow her on Instagram today!
All images courtesy of Chlon Rogers