The true definition of a woman who wears many hats! She does it ALL! Hailing all the way from Little Rock by way of El Dorado, Arkansas, Ejspeaks has been creating content for over a decade! With no background or experience other than a high school drama class Ejspeaks creates content that keeps thousands laughing worldwide from her real life experiences! She has reached 250K supporters on Instagram and 155K on YouTube after one of her videos, 'Black Mamas Be Like' went viral! The attention was a bit new to her, but her having a big sense of humor within her family was the norm! She says her motivation comes from her family and her mental peace. She explained that if she could not create, she would probably go crazy because it's honestly how she expresses herself. In addition to being a content creator and comedian, Ejspeaks is a poet. In reality, poetry was here for her before the comedy ever started! In 2017, she released her debut collection of poetry book entitled, 'Pieces' featuring poems 'Broken Hero' and 'Singing in the Shower'. Just as in her skits, with her poetry, one of her main objectives is to be relatable. It's literally something for everybody!  She says she would love to write for TV shows and she definitely feels that acting is in her near future. Could Ejspeaks be coming to a big screen near you soon, who knows, you'll just have to stay tuned!
How and when did you discover your passion for comedy and content creation?
I have ALWAYS wanted to entertain! There was always a part of me that felt like I needed to tell a story. I needed the floor. I needed to speak!
Do you normally observe or experience real life situations and create comedy from that or are they mostly fiction scenarios?
That is my real life recipe for creating content. You can't mimic or recreate what you haven't lived. You can't tell me what chitlins taste like, if you've never tasted them. I find that the more human I am, instead of perfect, my audience relates and appreciates what I create, just that much more.
What was your first viral video? How were you feeling when everything was happening?
My first viral video was "Black Mamas Be Like". Rickey Smiley shared it on Facebook, nearly a year after I had uploaded it, and it took off from there. I really didn't know what to think or feel. I loved that people were enjoying it and that somebody famous had shared it, but I honestly was not ready for the attention. I never created videos to go viral. Creating videos was just my way of expressing myself, so once all of the friend requests and spam messages started kicking in, I was like "wait, go back!!! I'M NOT READYYY!!" I also remember being called a lot of peoples' cousins around that time.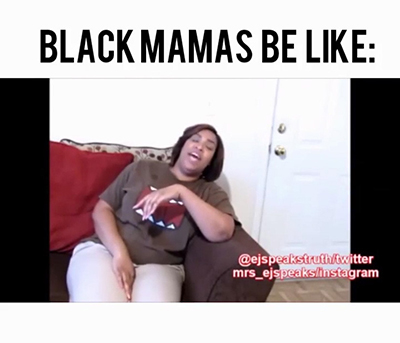 With social media there are many growing comedians and content creators that produce different, yet similar content, what would you say makes EJspeaks unique? 
I can't really say. I just do me; that's what I'm good at. However, I will say that many people follow me because I'm 'clean' (in their opinion), and because I am super relatable. Again, another thing that has boxed me in. People look at my content and think "Oh she's a clean comedian, I love her", because of my content. To that I say: CHECK MY TEXT MESSAGES, MA'AM.
Comedy on social media is a bit different because the content success is often measured by likes and comments, but when performing live what happens if the crowd isn't laughing at your jokes? 
Doing both stand up and online content, at one point was crippling. Online, you can edit, perfect, crop this out, add this in, and YOU DECIDE what the viewers see. On stage, there's no editing or cropping, only humor and delivery, and if you don't have those two, the audience will give you the loudest silence ever!! I have bombed a few shows. Detroit was bad. Austin was bad. Like so bad, I wanted to return the deposit, lol! But for the most part, I have been blessed online and on the stage. You live, you learn, you grow.
Have any of your comedic skits ever been criticized or taken offensively? If so, how did you deal with that?
All the time. Again, it comes with it. You won't ever make EVERYONE happy, and that's okay. That's healthy-annoying, but healthy. I make a video about whooping kids-kids that you never even see in the video, and people are ready to Child Protective Services to come and rescue some imaginary children- a waste of all the taxpayers' money!!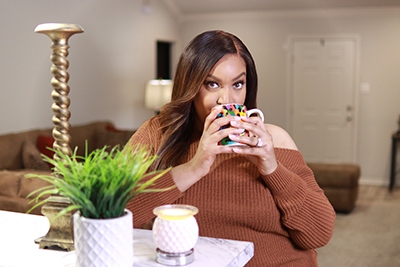 We know that you may have several, but who would you say are your top three favorite comedians?
DL HUGHLEY. That's the one. I admire and respect sooooo many others, like Erin Jackson, Dave Chappelle, and Tony T Roberts. I have just been such a student of these people. Their style, their punchlines, their energy.
You are also an author of poetry book 'Pieces', tell us a little more about the book and when you began writing poetry? 
I began writing poetry, way before I knew I was funny. I hoarded notebooks and scratch pieces of paper like they were gold. I got older, found my way on the comedy side, but then reached back to poetry, once I lost my job (one of many that I would lose). The book is still sometimes weird to promote or even talk about because I feel like I boxed myself in with comedy. However, the book contains the deepest and truest stories that I myself, or someone close to me has experienced. It is one of the things I'm most proud of, though I don't know that I would write another book of poetry.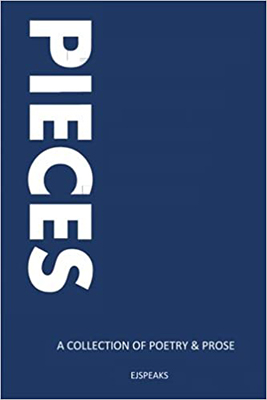 Previously, you and your husband Mr. Fred (FJ) did 'We Just Want to Talk' and many other videos, how does having the support of your husband and children impact your career?
No way could I even do it without him. He's a push that I can't even verbalize. I couldn't imagine not having his support, but I won't ever tell another woman she can't do it without a man. "YES YOU CAN SIS!"
Lastly, were you always cracking jokes at home with family as a child? Did your parents/family see the comedic side of you early on? 
I always cracked jokes and giggled. I was always down for a kekeke. But of course, growing up, it wasn't called comedy, it was called "do you want a whoopin?" My family has definitely embraced Ejspeaks for this comical being, and that feels good.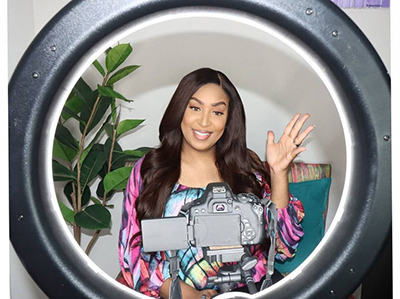 Follow EjSpeaks on Instagram, Twitter, & YouTube.
All images courtesy of EjSpeaks