I started at the early age of 6 in the kitchen being inquisitive; I reached for the stove without knowing and burnt my hand quite severely; I joke about it still until this day. From then on, I loved the heat and excitement of the love in the kitchen. My Mom and Grandmother's significantly influenced my life today with "Infused Cuisine" (I'll explain what that entails later). When I was in acting school as a "Starving Actor," I found that being involved in the food industry had a significant benefit, No more being hungry. Friends that came over for social parties I threw kept saying go into the food business. I replied, " I'm not that good." But they kept encouraging me that I was "that good." So, I listened, and my career changed. I opened a Four-Star restaurant, catering and cooking classes, and an online Virtual Gourmet Product Line.
My Background is Continental Cuisine-foods from all over the world that are indigenous. Going through the healing of "Lyme Disease," I resorted to alternative methods of permeating cuisine with pure essential oils above organic, food-grade, and digestible. I now have the opportunity to help, improve and support people's dietary needs through "Infused Cuisine."I've cooked for Celebrities from Jackie Onassis to Mick Jagger to Mariah Carey to Carey Grant to Salvadore Dali to The New York Giants and many more. So, in turn, I've been tagged "Celebrity Chef Craig Chasky" or "C4". I have a gourmet product line; I am a nutritional consultant and a troubleshooter for restaurants. Dietary Consultations (see contact information below) I've had the honor of being on ABC/CBS/NBC-TV, The Food Network, Lifestyles of the rich and famous- NPR radio.I am working on three cookbooks with The Umbrella Syndicate / Ken Rochon- Publisher/Professional Coach and Mentor.
Creig please tell our Sheen readers what is the art of cooking ?
 The Art of cooking is defined on my part as Food/cuisine that is authentic.  Not adulterated, cultural, and can be permeated (enhanced with added extra flavor of essential oils that are food grade and digestible. That is 50 to 70 times the strength of herbs. The Certified Pure Tested Essential oils that I procure from indigenous countries can produce optimal concentrations of distilled oils that are Optimal Immunity Boosting for daily healthy choices.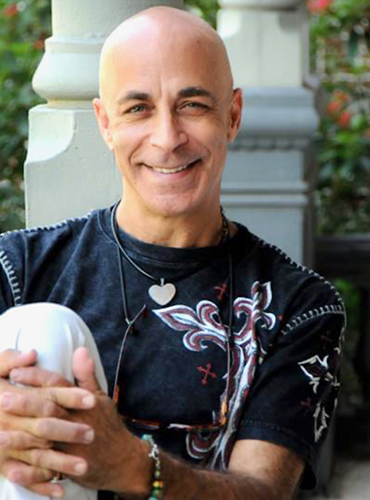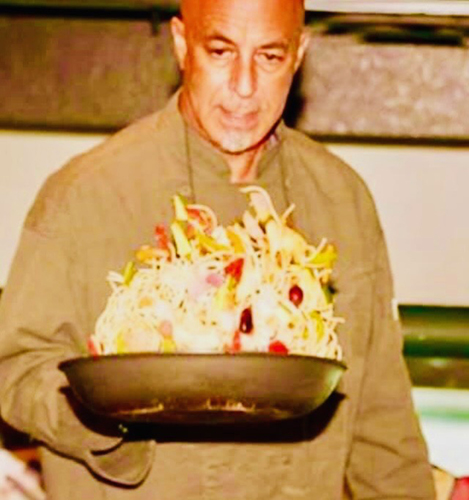 How the pandemic impacted my career ?
When I sensed the Pandemic was nearing, I immediately pulled out of three very successful Public Farmer's Markets. I had a Virtual Market of a Gourmet Product Line in place, positioning long before many "shut-downs" took place. In addition, I was already cooking privately for families with dietary needs, and the demand quadrupled. I was sanctioned as a first responder/ front line provider to deliver healthy-"Infused Cuisine" meals statewide.
What I have learned about myself from the pandemic?
I learned that I am not invincible. I'm only as vulnerable as my diet and lifestyle allow me to be. I was already "Fortifying myself "with optimal choices of "immunity-boosting supplements and "Infused Cuisine," so in turn, I could "Fortify Others" -kind of like putting the oxygen mask on yourself first so, in turn, you can help others. Health is Truly wealth, and many of my clients would trade all their wealth for their health back! I love what I do. Nothing is more rewarding than receiving a testimonial from someone that you helped improve their health. My books can be purchased through the Q Reader that goes to my website.
What would you like to leave The Sheen Readers?
Just a suggestion. Eat 80/20 Eighty percent alkalinity -only 20% acid in your balanced meals (Cancer can't exist in an alkaline diet)
Do everything in Moderation. Cook with Monounsaturated Fats and Polyunsaturated /fats. Drink 9.5 pH purified water at least 6-8 glasses daily. Do everything in your life with "LOVE & Passion." Give Thanks daily! Do 3 acts of kindness weekly. If you genuinely want optimal health – contact me below, and you will receive a "FREE Gift."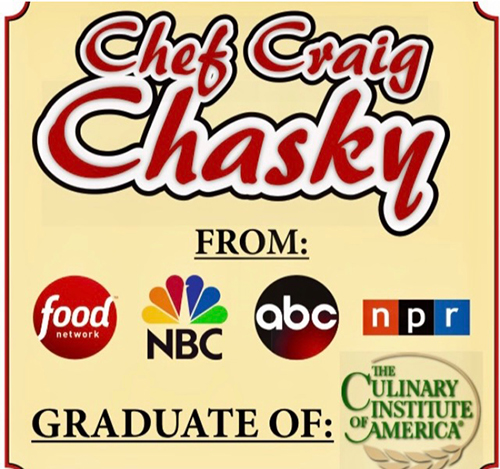 Where can our sheen readers find you?
I'm on Facebook, LinkedIn, and Instagram. Visit my website today. My e-mail is: ChefCChasky@hotmail.com
All images provided by Chef Craig Chasky