New York native, Nick Creegan is best known for his role in the television drama David Makes Man back in 2019 and since then, we have not been able to quit swooning over this multi-talented star. With a true passion in the world of entertainment, Creegan has not only locked down roles including Law & Order: Organized Crime and A Balcony in Brooklyn. In addition, Creegan is preparing to launch a production company with his partners, Broken Whip Media! We caught up with him recently to discuss all the details of his experiences working on these new projects and much more!
Tell us about your start in entertainment.
My start in entertainment happened on the other end of the mic and camera. I was a sports and entertainment journalist interviewing athletes, actors and other entertainers at outlets such as ESPN, FOX Sports and VICE Media. I remember wanting to know what it was like being interviewed as an entertainer and well… here we are.
Can you tell us about your experience working on Law & Order: Organized Crime?
Working on Law and Order Organized Crime has been nothing short of an amazing experience. The fact that I'm able to be part of Stabler's comeback is a great feeling to have as an artist. Also working alongside veterans like Dylan McDermott and great directors like Fred Berner is a Masterclass in itself. I've been learning a lot and can't wait for people to keep getting to know 'RICHIE' every Thursday night.
You co-created "A Balcony in Brooklyn during quarantine, did you find it hard to be a creative during this "down time"?
A Balcony in Brooklyn came to fruition through frustration. It was the frustration of not being able to have a normal life, the frustration of being Black in America while there was so much racial tension during a pandemic and also the frustration of not being able to be on set due to COVID. So, we did what artists do and put that frustration into art relating to everything that was happening in our world. That proved that even when it's difficult, creatives never have to stop creating.
Can you tell us about the production company you will soon be launching?
Broken Whip Media which is being co-created by Chef Kwame Onwuachi, NY Times Best-Selling Author Nana Kwame Adjei- Brenyah and myself is being created because we were tired of waiting for opportunities in the entertainment landscape. We decided it's time to create our own and have mega studios and production companies want to work with ideas we already created from scratch. We plan on creating IP ourselves, but also being able to give creatives that don't necessarily have the connections to studios or production companies the chance to have their projects be seen and potentially created by us bringing them to the table. That's what Broken Whip is about.
What are you currently working on and what can we expect to see from you in the future?
Aside from filming Organized Crime, you can look out for projects coming from my production company later this year, and two films I'm currently in development with which I will be acting in as well. The best part about this is that young kids who come from humble beginnings, and maybe even some adults, will be able to see you don't necessarily need an acting degree from a prestigious university to be taken seriously and to do great work. You just have to know you're capable and have a few people believe in you. You should be seeing more of me on screens as we keep moving forward.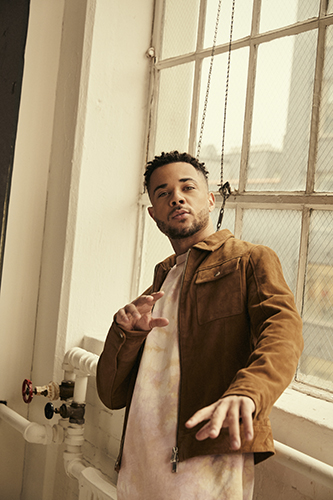 For more on Nick Creegan, follow him on Instagram today!
All images by Nathan Johnson