Vaughn Hebron is a fan-favorite on the BET hit series, The Oval. Throughout the series we see Hebron portray Barry, a young man whose daughter has been kidnapped by his ex-girlfriend. In addition to that, Hebron will be seen in the upcoming Thanksgiving film starring Will Smith titled King Richard. We caught up with Vaughn to discuss his mark in entertainment, his experience working on The Oval, and more!
What's it like being the oldest of nine siblings?
Well, basically you just learn to grow up in a mad house. A lot of chaos and everyone having their own schedule with a bunch of craziness. It just becomes normal to you. There is a lot of responsibility because my brother is three years younger than me. At three years old, I was looking out for him, helping change his diapers, and was an instrumental part of his growing up. He watched everything I did, if he got in trouble, I got in trouble. I had a microscope on me. As more siblings started popping out (laughs), you realize you always have eyes on you. You're looked at as the leader or example. I always look out for them. Growing up, it was a task having that responsibility. Now that I am older and everyone is doing their own thing, it's fun because you can just see the influence you had on them. I helped raised my siblings and now they're adults. It was a chaotic but a fulfilling experience.
You graduated from college with a degree in Economics and Business with a minor in Africana Studies. How did you transition to entertainment?
Econ and business are such general degrees (laughs). All I was thinking about in college was the degree that would make me the most money. Everyone was saying those degrees can be applied to business or money-making jobs. When I graduated, I started working for Morgan Stanley as a Junior Banker. I got into pharmaceutical sales right after for about three years. I was using my degree but after two and a half years, I became complacent with it. I didn't really enjoy what I was doing every day. I didn't enjoy going to work. I just started going through the motions of the job. What I was doing was not something I was passionate about. When I got into that funk, I began looking at the different things in my life that I did enjoy and made me happy. I started taking acting classes when I was in pharmaceutical sales. My company had a big lay off. Though I was laid off, they offered me a job the next day. I had taken so many classes by then that I decided to take a chance and see what the acting thing was about. I never turned back.
What made you want to make the move to Los Angeles to pursue this passion?
When I got into acting, I moved to Atlanta first because my family was there, and I felt like it wasn't such a big jump and commitment to move to Los Angeles. I was familiar with Atlanta and I felt like I could get my feet wet in the industry by taking more classes and really see if this was something I wanted to truly pursue before making the big move to Los Angeles. I moved to Atlanta for about eight months and then I decided this was for me. I knew I wanted to commit all the way. Even though Atlanta felt like a good starting spot, it wasn't pushing me enough to get out and give myself the full opportunity to explore it. I really wanted to be in the mecca of the entertainment industry.
Tell us how your experience being on The Oval has been.
The first season was really just figuring out (laughs) how to work with Tyler Perry and how to bring as much life into this character as much as possible. Tyler has such an individualistic way of shooting. His process is very different from a lot of people. I felt like my first season was really just about getting used to this. When it came to giving my character justice, really having a character that people can relate to/get attached to, I believe I did the best to my ability. We had a great season so now that we're finished with season two, it's been a more grounding experience of figuring out ways to give more character depth.
What can we expect to see from you in the future?
I shot a movie with Will Smith called, King Richard. That is set to be in theaters Thanksgiving 2021. That's all I can speak on right now because everything else is under wraps.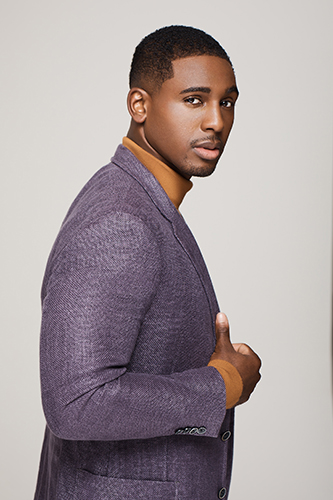 For more on Vaughn Hebron, click here.