Cleveland, Ohio native, Warren Egypt Franklin just recefntly appeared in the second national tour of Hamiliton and since then, the world of entertainment cannot quit raving over the young talent. Also having appeared in Pride and Prejudice, Mamma Mia!, and more this actor is quickly on his way to the top, with no plans of slowing down anytime soon. In our exclusive interview, Franklin opened up to us about creating art during a global pandemic, his experience working on Grown-ish, and much more!
How did you get into the world of acting?
I've been acting since I was a kid, doing school plays and community theater. So, naturally I wanted to do this professionally, and always dreamt of doing exactly the things I'm doing now in my career. 
Can you tell us about your experience working on Grown-ish?
Working on that show was such an amazing experience. I honestly couldn't have asked for a better intro to TV. Working on the Disney lot was a dream, and literally everyday driving to work felt like I was being punk'd because it all went so smooth! I'm really grateful to my cast and the crew for welcoming me with open arms. I'm really excited for the show to continue in 2022 and for everyone to get to see more of my character Des. 
How would you describe being an actor during this time of COVID-19?
You know 2020 was really a rough one for our community and I for sure had my own thoughts of self doubt and worry about the future. But it also gave me time to figure out who I was as a person and love on myself and figure out a few things. I'm really glad I got some of that time because I think it truly influences me as an actor now.
What are you working on now and what can we expect to see from you in 2022?
In 2022, you can expect an amazing new season of "Grown-Ish" that I'm so excited for everyone to see, you can expect me to be performing around the country more with "Hamilton," you can expect some music from me that I've been working so hard on. And maybe even a really cool new project that I'm not quite allowed to talk about yet, but is going to be so exciting!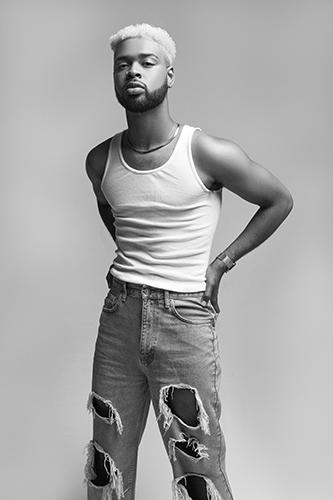 For more on Warren Egypt Franklin, click here.
All images by Sophie Chan Andreassend