Sistas star, Ebony Obsidian and the cast of the hit dramedy are back and better than ever! Ready to dive right back into where they left off, we're expecting this season to include plenty drama. Ebony, who portrays 'Karen Mott' is ready for viewers to see a different side to her character and she's here to dish about it with us in this exclusive interview. We caught up with her to discuss what we can expect to see in season two, quarantine life, and much more.
 How was your overall experience on BET's hit show, Sistas?
The first season was definitely different compared to the second, but I think overall, we've had many challenges in front of us. I was so excited to take on this role because it was new and something I'd never done before. I wanted to know if I could do this. I think it was such a staple in my experience with it. I loved seeing how it was received the first season and how excited viewers are for the second season. It's given us a lot of ammunition and fuel for continuing and furthering the stories of each of these characters. I'm so excited for everyone to see the second season.
What can we expect to see in the second season?
We're going to pick up right where we left off. You will not have any missing holes in the stories, you'll see exactly how each of us kind of finagle out of the situations we were left in the first season. This season, you can expect a lot more growth from each character, especially Karen. At this point, she's kind of making decisions more surely. I think regardless of whatever the circumstances and consequences may be down the line, she's kind of sitting firm in her decisions this go around, even more so than the first season. I think you can expect a lot of growth from her, a lot of laughter, tears, and very different circumstances in season two.
How has quarantine life been for you?
Quarantine life, man. When is it ending? (Laughs). I want to know! We've been in quarantine for six or so months. The little break that I got to Atlanta to shoot the second season was wonderful, but we were also in quarantine there (laughs). We had the same experience just with a bunch of people if that makes sense. Quarantine life has been fairly good in the sense of having time to decide what I am going to do with my time versus the structure of everything. Before, everything was pretty set and routine. I think every day is kind of a new routine. Every day is a new experience. It seems very fresh each time. Sometimes I'm very productive, other times I am absolutely not, and I am okay with that.
What are you currently working on and what can we expect to see from you in the future?
I'm someone who really appreciates a good surprise. I love surprises. I won't go too in detail with what you can expect to see. What I will say is that you can expect a lot more personal work coming out soon. I think now, especially, this year is a great year because we've all had times to ourselves to kind of dive deeper into the things that we love or explore the things we didn't know we loved. You can expect more personal forms of expression and a lot of stuff I'm really excited to share.
Tyler Perry's Sistas season two premiere will take place with
back-to-back episodes on Wednesday, October 14 (9/8c) on BET.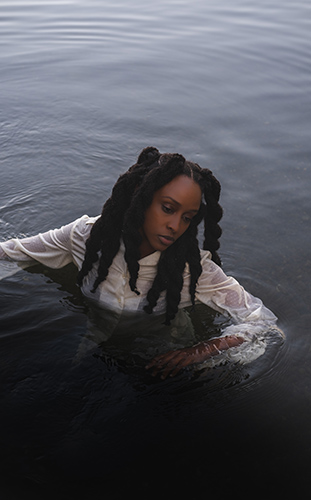 For more on Ebony Obsidian, follow her onFacebook, Instagram, & Twitter. 
All images by Frank Theodore