The resilient bonafide superstar shares her beautiful brilliance and plays of power.
FOR IMMEDIATE RELEASE
2020 was quite the year! SHEEN Magazine is celebrating our beauty, strength, and resilience with our illustrious Power issue. We've aligned our tribe of outspoken beauties to help kick off 2021. These people protect, speak out, and share their journeys. We're also taking back our Black creations and celebrating those impacting our society every single day! The Ultimate in Beauty pays homage to accessories overload in the most fierce and unconventional way!
To kick off this issue is the embodiment of natural beauty, strength, and resilience…none other than actress, Folake Olowofoyeku, the star of CBS sitcom, Bob Hearts Abishola. The Nigerian actress shares her powerful story and how it's impacted the power plays in her professional and personal life. We had a chance to catch up with the natural beauty to discuss everything from her culture, her power moves, and what's next.
"It's important for people who are part of a particular culture to be part of the story because it's powerful." On her personal story, "I think it's powerful because it's mine. It's my culture. It's part of me and I get to share it with the world." —Folake
Our digital cover features actress, KJ Smith, who's energy introduces her long before her words do. Most of us met her as she portrayed guest roles on shows such as Queen Sugar, Being Mary Jane, and Black-ish. KJ has unapologetically made the decision to create the life that she's always wanted. Whether that means starring in a hit show, such as Sistas on BET or showing up for herself as she continues to embark on a 10-year health journey to improve her quality of life – KJ continues to power through it all.
"I am a Black woman in America who is fighting for her people, and I have a voice in my personal life that people can listen to. And in my work life, I'm making history with an icon in this industry." —KJ Smith
LaToya Tondeo mixes up her powerful skincare cocktail for us in an intimate Beauty Spotlight, while eyebrow guru, Damone Roberts discusses creating his own lane and shaping the eyebrow industry, literally. Celebrated makeup artist, Ktura Kay dishes on the beauty secrets that will ensure your 2021 is a groundbreaking year for the Foundation. Celebrity barber Zion Illiwood tells us what it means to be in-demand and the moisture locking products he uses, and let's not forget to ring in the New Year right by enhancing your beauty rituals in Sheen's Beauty Tour.
Our featured Stylist Spotlight, Celebrity Stylist, Amy J. reveals how faith helped keep her strong, while on a mission to dominate the world of fashion, and Designer, London Couture revolutionizes the fashion industry with his head-turning pieces. We are bringing in 2021 forcefully with these fashion trends that will help interpret just how powerful you'll be in the New Year.
Sculptor Stephen Phillips creates magic with his very hands. Find out how his artistry truly comes from within in our Artist Spotlight, as dancer and choreographer, Dancin' Desi details how combining strength and femininity ultimately led her in her success journey for On the Rise! Dope Girls Cook creator, Briana Riddock shares how creating meals from the heart and with power comes with a woman in the kitchen. Anything men can do; women can do it better! Female football player and entrepreneur, Santia Deck shares how she is making her own rules. We are ready to explore the true meaning behind being a powerful woman–the strength of women and how hardships percept who you become. And we've got you covered for traveling abroad–Consider all these tips before traveling abroad in the midst of a global pandemic.
SHEEN Magazine's January/February 2021 The Beauty issue hits stands on Today, December 29th.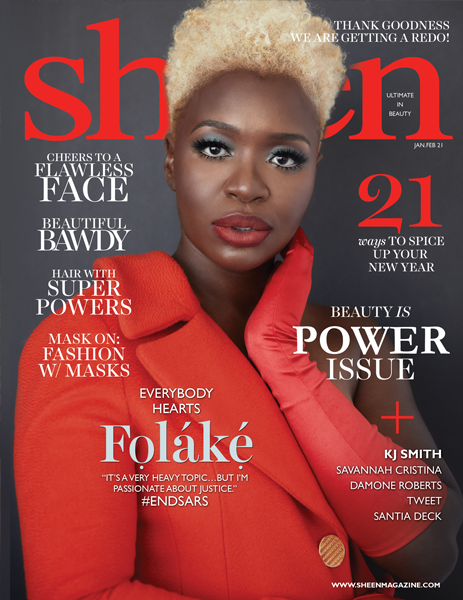 Photo by Samuel Paul
About SHEEN Magazine
Sheen Magazine is The Ultimate Beauty Guide for the modern day woman. The lifestyle and beauty publication is the preeminent voice on new trends, techniques, and products. Sheen Magazine is a national and international distributed publication. Published bi-monthly, Sheen Magazine maintains its influence by always remaining current on the trends of beauty, fashion, hair, and entertainment. The publication seeks to cultivate, educate, and motivate, encouraging the full potential of their readers. The Ultimate Beauty Guide and can be purchased nationally at Target, Walmart, Walgreens, Books-A-Million, and Barnes & Noble. Visit us online at SheenMagazine.com and follow us on Facebook, Twitter, and Instagram @sheenmagazine.