If as if the quarantine hasn't kept us all longing and wondering what's next – the holiday season came among us before we knew it! In an effort to spread holiday cheer this year amidst the global pandemic, actress Jennifer Freeman filmed not one, not two, but three holiday films! We caught up with the actress and author to discuss what it was like filming these projects during quarantine and much more!
You've got three holidays films coming out this month, Beaus of Holly, The Business of Christmas, and The Christmas Kiss. Can you tell us about them?
The Christmas Kiss premiered on BET + on December 10th. It stars me, Laila Odom, Taja V. Simpson, and Golden Brooks. That is about this corky assistant that gets a makeover by her friends. I portray one of her best friends. It's kind of like a twist on Cinderella. The assistant is looking good, in the elevator, and kisses this guy who happens to be her boss' boyfriend. She later finds out and so he of course, did not recognize her when she's all dressed up or the magical moment they shared. I don't want to give away too much of the story but its such a cute film. We had a lot of fun filming it. I love Golden, she is awesome and so fun to work out. Our girls went to pre-school together so that was cool!
The Business of Christmas is also on BET +; that came out a couple weeks ago. Daphne Reid played my mom, which was really awesome. I used to watch Fresh Prince of Bel-Air growing up, like everyone else. It was a cool experience. It is about a family that is losing their toy business and their children, [I play one of the children] come together and we save the family business. It's a movie about family coming together and what is really important for the holidays.
Beaus of Holly premiered on ION TV on December 12th. I play Holly – a type A personality, she has everything planned for the next five years, and she decides that it's time to get married. She proposes to her boyfriend and she plans this whole Christmas engagement trip – down to the minute. He ends up saying, 'No' (laughs). She still goes for her plans and goes on the trip that she planned. She ends up meeting the driver of the tour guide and she falls for him. He's the total opposite of her ex-boyfriend. He's adventurous and teaches her about what love really is.
Those are all the Christmas-holiday cheer that I'm bringing this month of December.
Did you film these projects during the quarantine? How was the overall experience?
Yes! I did film all three during quarantine. I have to say, all of the industry was shut down. We all wondered what we were going to do. As a creative and a people person, I noticed how much I love being around people and acting. This is what I've been doing my entire life. I really didn't know how I was going to be able to work again in a safe way. When I got the call to do Beaus of Holly, I had to actually fly to Colorado. I had to be there for a while. On top of being quarantined for months, I got on a plane and I was in a hotel room for the next month. It did make me really nervous, but they had so many precautions. Before you even get on the plane, you have to do a COVID test with the rest of the cast to ensure you don't have it. When you land, you do another COVID test to ensure you still don't have it. We got to set where the cast, crew, every single person that is on set does a COVID test, every other day. They'll wait until the following morning to make sure everyone is clear and then they'll go to work. If one person is not clear, they stop the production. It actually is kind of a safer situation than in real life. Everyone is getting tested frequently and wearing masks. My experience was really great because I feel blessed and fortunate to be able to be creative and to be able to just bring joy and light to these projects. Christmas is my favorite holiday and I think I was inspired that we were doing something that would make people happy during this time. I'm in California and we're under another stay-at-home order. We really can't do anything with the numbers going up here in Los Angeles. It's scary so, I'm thankful for these movies and I will be watching them in addition to other Christmas movies so we can keep the spirit up this year!
How are you remaining positive during this time of the global pandemic and the holidays?
Yes, I think that my faith has always been a big part of my life. This year, I have been thankful for my relationship with God. I've had more time for myself than I've ever had. I think that is how I'm able to not go into a depression and get overly anxious. Walking in wisdom allows us to not put ourselves in bad situations. I don't want to be fearful so that I'm not enjoying the moment and today. I'm grateful that I wake up, I'm healthy, and so are my loved ones. I think lots of prayer and trusting that we'll get through this has really helped me. It's hard because everything changes from day to day. Taking it day by day and knowing that there is always a higher plan for our life has assured me that there will be a solution to all of this soon. I keep the hope and faith alive because it's important. When you don't have that thing spiral out of control. You have to keep your mind strong as well as your heart and focus.
You are also an author. What made you want to step into that realm?
I am an author. I wrote a book called Journey to Loving Myself: A 21 Day Devotional. I went through a time here I self-reflected. I realized that I didn't love myself. It was tied to things that have happened to me over the years. I really wanted to dig in deep to heal. I read so many devotionals so when I did finally get to a good place, I wanted to pass it on. That's what really what made me want to write a devotional. Someone could relate to my story just like I related to so many others. If my journey can help someone else, then I'm happy. I feel like that's what we're meant to do. That was my motivation for writing the book.
What is next for you in the year 2021?
I have a podcast that I'll be launching in the beginning of the New Year. I'm also writing and producing a movie. I would love to do a comedy. I would love to do another television comedy. I just enjoy making people laugh and smile. Even in doing these movies, it inspired me to want to do that again. I also want to write another book next year. I have a lot of things that I'm trying to laugh (laughs). But it's going to be a good year.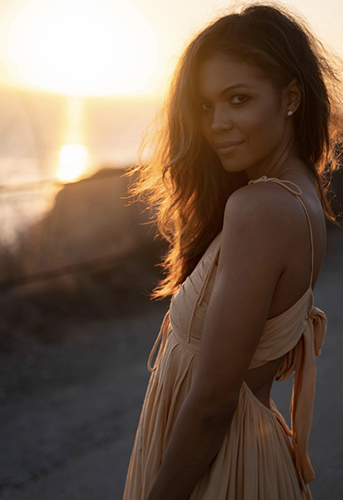 For more on Jennifer Freeman, be sure to follow her on Facebook, Instagram, & Twitter.