Whether it's comedy or drama, Kiana Madeira has proven time and time again that she means business! This year, Madeira reprised her role in the second and final season of Netflix's hit drama series, Trinkets. In the film aspect, she will be starring in the highly anticipated horror film trilogy, Fear Street. We caught up with her to discuss what we can expect to see in the final season of Trinkets, how quarantine life is treating her, and much more.
Tell us about your experience on Netflix's hit drama series, Trinkets.
I truly only have positive things to say about my experience on Trinkets. From the first day I landed in Portland, Oregon to meet Quintessa and Brianna, to our first table read with the whole cast, all the way through season two- it was a beautiful journey. The creative team behind the show really provided us with a safe playground to explore and bring our characters to life. There were countless moments while filming scenes that truly didn't feel like we were acting and that's always a dream come true. I feel blessed to have had the costars that I had; so talented, genuine and present. Not to mention how special it was to be filming in Portland in the fall- my favorite season.
What can we expect to see in the final season?
The friendship between Elodie, Moe, and Tabitha continues to be the heart of the show this season and you can expect to see the intricacies of how they remain loyal and have each other's backs. As for Moe specifically, you get to see more of her family dynamic; her life is really tilted on its axis when her older brother returns home. The soundtrack will not disappoint in season two, even with the expectations being so high after an incredible soundtrack in season one. And we get to see a lot more of Moah! (Moe and Noah)
Can you tell us about your role in the horror film, Fear Street?
I can't give away much about my role in Fear Street YET, but I can tell you there are three films that are based on the universe that R.L. Stine created in his "Fear Street" book series. The films cover three different time periods, including the 1600s. The team behind these films are incredibly creative, innovative and talented. I lead the cast in this trilogy and it was the most fulfilling and challenging role of my career thus far.
How has quarantine life been for you?
It's been interesting, to say the least. It's been a journey. My fiancé and I were in Brooklyn when the lockdown was first initiated and we stayed in our apartment for months straight. I think it was something like 94 days in a row that we didn't even leave our building! In that time, I took up guitar, we played a lot of video games, we laughed, cried, did puzzles, and started a weekly show on Instagram Live called "We Couldn't Wait" where we would discuss anything related to acting. I had a really busy year last year and it all just came to a stop, which I can imagine many others experienced as well. There were so many emotions that came along with this change of pace and allowing myself the space and freedom to feel those emotions was so healing and empowering. Being in quarantine is such a reminder to be grateful for the little things in life like laying in the grass, making eye contact with strangers, hugging loved ones, and being able to be a working actor on set! I'll try to remember this when I'm waking up for 4 am call times again.
What can we expect to see from you in the future?
From a career standpoint, you can expect to see me starring in the Fear Street trilogy! The early plan is for them to be released on Netflix in the summer of 2021 in a themed event called "The Summer of Fear." In addition to my work on screen, I hope to continue to spread light and love in any way that I can.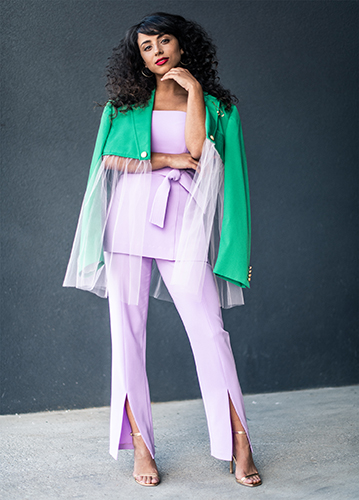 For more on Kiana Madeira, follow her on Instagram, & YouTube.
All images by Lane Dorsey