Emerging actress, Troy Johnson is in the media spotlight since she joined the cast of ABC's hit series, Big Sky. You know and love her from the hit Netflix series, On My Block but in this new role, we're all witnessing just what she brings to the table. We recently had the chance to sit down with Johnson to discuss her exciting role, working during the ongoing pandemic, the return of her character in On My Block, and much more.
Tell us about your role in ABC's Big Sky.
I play Harper – who is this new addition to season two of Big Sky. It's been so cool playing her. When the season starts off, she is just a normal girl focused on hanging out with her friends and going to school and work. One night when her and her friends are at a party, one of them convinces all of them to play a part in taking drugs and money from this crime scene they come across. That of course leads into a messy, bad situation. Their storyline is that the consequences that they will have to face begin to catch up to them. They are children, so they're having a hard time keeping up with all that they've gotten involved with. It's been fun to play (laughs).
What was it like working on this project during the ongoing pandemic?
It's interesting because I feel like the majority of the acting work that I have done, or the larger roles that I've gotten to do has happened post-COVID. I sort of feel like I feel more familiar with set life now, than before COVID. It's strange (laughs). I feel like the industry has figured out how to work, while staying safe – which is nice. We have to show proof of vaccination, we get tested every single day, we have to wear masks/shields, and social distance. It's nice feeling safe. I don't mind any of that. I feel like I've gotten used to it and I don't' feel like it's ever gotten in the way of work. It's nice staying safe.
Tell us why you are so passionate about The Lonely Whale Foundation and The Happy Hippie Foundation.
I just really admire that those organizations are so focused on helping people and environments that are really vulnerable. The Hippie Foundation focuses on helping young communities that tend to be marginalized, like young people transitioning out of foster care – who may experience homelessness or may identify themselves as part of marginalized communities such as the LGBT+ community. I think it's really important that everyone knows, especially young people who are at this point in their lives, where they're starting to understand their own identity and who they are outside of the adults in their lives. It's important for them to know that regardless of their background or situations, they hold values, and they deserve respect. This foundation works to provide them with opportunities and help them understand that. With The Lonely Whale Foundation, I just love how they try to educate people on our ocean's ecosystem, the issues it faces, and the part we as humans play in those issues. They try to educate people in a compassionate and easy to comprehend, kind of way. I think the oceans are incredible and beautiful, especially with where our planet is at right now, it's not fair for us to ignore those issues that we play a part in anymore.
Tell us about your other recent projects including Netflix's "On My Block" which you reprised your role in for the final season out now?
It's so crazy because I didn't think that I would go back to the show. I think we all assumed that after season three, that was it for the character. When they reached out for a scene in the last season, I was so stoked – I didn't think that would happen. Even before I got cast, I loved the show, and it meant a lot to me. It's so focused on showing love and respect to marginalized communities, specifically communities of color and young communities of color. They do it in such a complex and non-stereotypical way. They show the complexities of those communities and that means a lot. I think that being a young Black woman, I don't always feel super represented. I love the show, so when they asked me to come back – I felt so stoked and honored.
What are you working on now and what can we expect to see from you in 2022?
Right now, we're still doing the second season of Big Sky. I believe we'll be going on a bit of a break for the holidays so that will be nice to spend time with family. We're going back to shooting in 2022. That's what next. Finishing season two, which will be fun.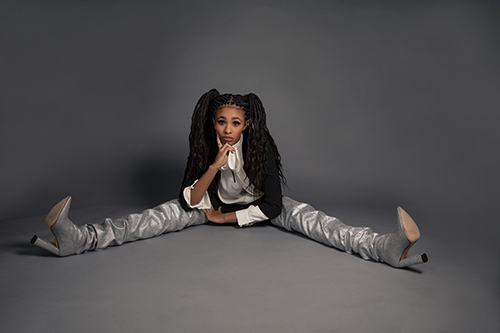 For more on Troy Johnson, follow her on Instagram & Twitter.
Photo credits:
Photographer: Shanna Fisher
Hair/Makeup: Aaron Barry 
Stylist: Luca Kingston
Hair/Makeup assistant: Jordan Darian