Last time fans checked in with AJDAGURU, his "Seen It All" video was hot off the press and proved to be quite successful. Following the video's release, the Texas crooner stepped away from the spotlight for a moment – but fans were unsure as to why. Was AJ dealing with personal issues, or was he locked away in the studio cooking up fresh material? Today, the speculation is finally over.
After a brief hiatus, Guru is back on the radar with visuals for "Love Yourself", his latest track that is sure to uplift anyone feeling down or discouraged. On the new track, he brings awareness to mental health and encourages listeners around the world to embrace self love and self care.
He sings, "You are not alone / Just keep on fighting, stay strong / I'm here to help you love yourself, help you love yourself / Be happy, not sad, you can be yourself / Don't you worry at all, you got lots of help." Aside from the uplifting lyrics, the video is sure to warm your heart as well.
What is the inspiration behind Love Yourself?
"The world is currently in a state where there is a lot more hate then love. I was in the studio one day thinking about everyone who has to deal with mental health issues everyday and decided I needed to create a song that would help others heal."
Shot by Kid Avid, the visuals for Love Yourself allowed Guru to take his positive vibes to an exotic ranch, where he spends time enjoying the sunlight with beautiful animals. Just the sight of zebras, goats, sheep, and camels paired with his powerful vocals is enough to make you cherish life a bit more.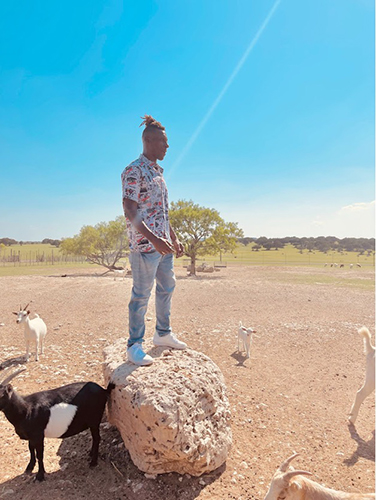 What genre would you consider yourself a part of?
"I have been asked this question a lot lately. My answer to that is – I belong in no genre. I am a musician creating music that feels right, whether it be singing or rapping. A Different Side of Me will most definitely display all of that."
AJDAGURU has continued to pave a way for himself in the industry. Most recently he received recognition following the arrival of a plaque, which highlighted Seen It All for surpassing one million Spotify streams.
But this is just the beginning for Guru, who is currently adding the finishing touches to his debut studio album, A Different Side of Me. Seen It All serves as the project's lead single, which is slated for a 2021 release. AJ previously stated that the album will be solely produced by himself, and will feature no guest appearances from any other artist.