DECEMBER 4, 2021, Sacred Space, Miami
Mark Levinson Vinyl Lounge, held at the Sacred Space in Miami, was the perfect event for the closing weekend of Art Basel 2021.  The lounge was replete with VIPs Adriana Lima, Kate Voegele, Tyler Cameron, of The Bachelor with performances by Julia Michaels. JP Saxe and Miami's own, DJ Irie, keeping the beats flowing between performances.  Mark Levinson audio equipment was also on display, allowing guests to hear why they're considered the best quality in sound systems.
Adriana Lima was a goddess in a beaded sheer jumpsuit and sleek ponytail.  The always gracious supermodel enjoyed the concert and took time to take photographs with fans.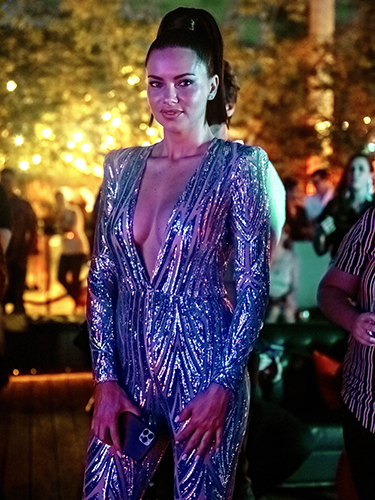 Shantell Martin, London bred, New York based visual artist who's collaborated with Kendrick Lamar, North Face, Nike and Puma created a live drawing.  She is known for her large scale, ink marker designs of words and lines on white canvas.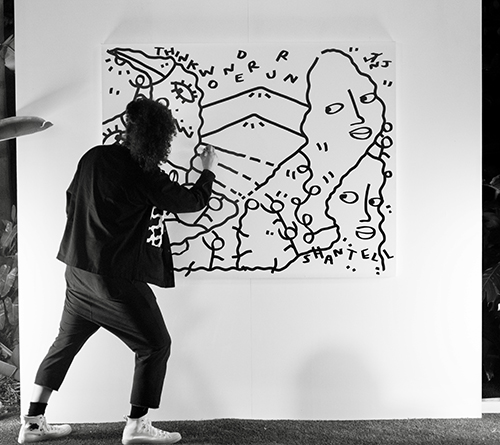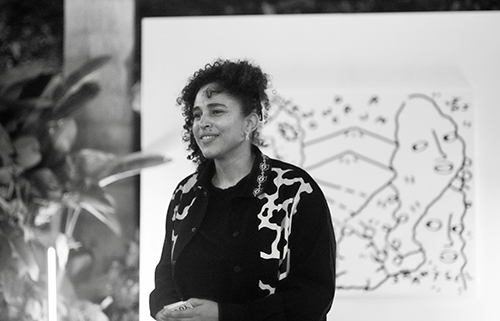 The stars of the music showcase were Grammy nominated, Julia Michaels, wearing Balmain, and JP Saxe, who are also romantically entwined.  Ms. Michaels explained they went on their first date the same night they first met and were officially a pair nine days later.  She was beaming as JP Saxe gazed into her eyes while singing their duet.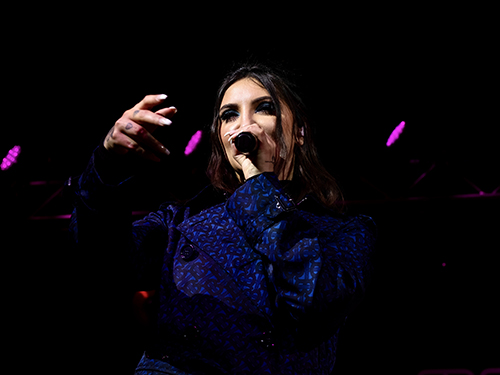 This was Julia Michaels first concert since 2019 due to the Covid pandemic but her voice was as strong as ever.  She started her set with "What a time" to describe how she felt at the moment and followed with "Anxiety".  "I Miss You", written in forty five minutes about an ex-boyfriend, "Inner Monologue" and the favorite "Issues" were beautifully performed.  They saved the piece de resistance for their final duet performance of "If the World was Ending".  J.P. Saxe and Julia Michaels mesmerized and pulled the audience into their duet with their genuine feelings for each other and amazing voices.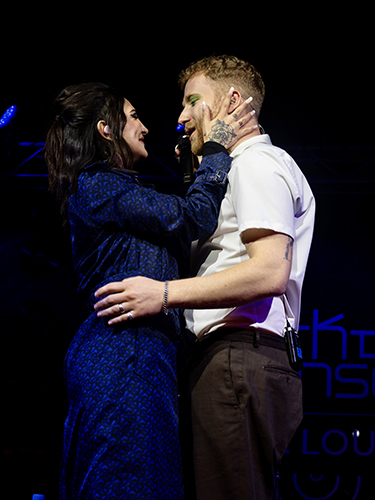 HARMAN International (harman.com), a wholly owned subsidiary of Samsung Electronics Co, LTD., designs and engineers connected products and solutions for automakers, consumers, and enterprises worldwide, including connected car systems, audio and visual products, enterprise automation solutions; and services supporting the Internet of Things.  With leading brands including AKG®, Harman Kardon®, Infinity®, JBL®, Lexicon®, Mark Levinson® and Revel®, HARMAN is admired by audiophiles, musicians and the entertainment venues where they perform around the world. More than 25 million automobiles on the road today are equipped with HARMAN audio and connected car systems. Our software services power billions of mobile devices and systems that are connected, integrated and secure across all platforms, from work and home to car and mobile. HARMAN has a workforce of approximately 30,000 people across the Americas, Europe, and Asia.
All images by Jovanna Reyes