Asha Dahya is a producer, TEDx Speaker, and author with nearly two decades of experience creating content for major broadcast and digital platforms, including FOX, ABC, MSN, and MTV. She is passionate about amplifying the voices of women, girls and femmes, especially marginalized women and women of color. As someone Indian by background, born in the UK, raised in Australia and living in Los Angeles, USA, she is keenly aware of immigrant stories' impact on modern culture.
In 2020 she released her first book titled Today's Wonder Women: Everyday Superheroes Who Are Changing The World, where she interviewed 50 women, girls and femmes from around the world. She is currently post-production on her first short documentary, which profiles four women who have had later abortions. In addition, she is developing a docu-series on international abortion laws with a British production company. She ispassionate about the intersections of female representation, reproductive justice, religious influence, racial justice, and building community. She is also a mom of two toddlers and wife to a photographer.
Tell us about your journey into building the Girl Talk HQ platform:
I started GirlTalkHQ in 2013 as I was going through a divorce. I was married the first time at age 24 to a man from my conservative Evangelical church. The marriage became abusive, and after five years together, I decided to leave him and the church for myriad reasons. One of the most prominent was that when I needed it most, the people I thought were my support system instead shunned me for my choices. I deeply craved a community of women who had been through "stuff" who could relate to me. I wanted to be part of a cohort of women who stood by each other instead of judging based on belief systems or rules.
So, utilizing my extensive media experience and channeling my private pain, I started a blog called GirlTalkHQ as a hobby, as a way to curate stories of real women in the world who had something to say. At first, I tried numerous focuses on topics, including celebrity stories (drawing on my background as an entertainment and pop culture TV host). Still, eventually, I found that my sweet spot was finding stories of everyday women doing heroic and inspiring things. So, today that is what GTHQ focuses on, and we give voice to underrepresented women, girls and femmes.  Starting this blog to find community was one of the best personal and professional decisions I have ever made. Every day, I remind myself how blessed I am to have so many women come to my platform wanting to share their work and story with the world.
Share the types of stories you have been most passionate about highlighting in this current season:
Right now, I am encouraged by how many stories I am being pitched that center women of color, especially in industries and areas that are either male-dominated or haven't been so welcoming of people of color traditionally. It is encouraging to see these women blazing new trails and making a way forward for so many others. They are revolutionaries, community builders, badasses, inspiring leaders, and more. Some recent highlights include: award-winning journalist and thought-leader May Lee who uses her podcast to amplify AAPI voices, Award-winning director Savita Singh who's short narrative film 'Shadow Bird' is a contender for the Best Short Film category in the 2022 Oscars, Collette Bowers Zinn, an educator with 15 years experience whose company Private School Axis is working to revolutionize the private school system to include more BIPOC families, Liz Ferro a survivor of childhood sexual abuse, and founder of the sports-based organization Girls With Sole which works to empower marginalized girls to know their worth and be empowered in life, Eden Robinson who is the founder of Fangirl Fitness, an organization that empowers queer women with their body image and pushback against gender binary stereotypes, 'Big Brother' houseguest Britain D'Angelo who has been an outspoken advocate for people with autism as she openly spoke about her own diagnosis and went viral on social media, and Sofia Ramirez, the Senior Advisor Brand Experience & Marketing at TEND finance, focusing on empowering Hispanic & Latin American Markets financially.
All of these featured women and more are doing impactful things to change their communities and the world around them. They are making space for more people to know their worth, step into their power and take up space in the world. That, to me, embodies everything GirlTalkHQ is about and what I set out to create in the beginning.
How would you describe the biggest accomplishment of your career so far?
This is tough to answer! I was recently writing in my journal to remind myself of the awesome things I managed to accomplish and achieve this year alone, and it was a great way to lift myself up. But if I had to pick a few highlights, I would say giving a TEDx Talk in 2018 about reproductive rights, signing a development deal with a production company in 2021 to make my docu-series about global abortion laws, and getting a book deal from GirlTalkHQ and releasing "Today's Wonder Women: Everyday Superheroes Who Are Changing The World" in March 2020.
What is next for you in 2022?
In 2022 I hope to finish my short documentary, begin filming my docu-series and sell it to a global network or streaming platform, do more interviews and keynote talks about 'Today's Wonder Women,' and continue to grow the reach of GirlTalkHQ while featuring more inspiring women, girls and femmes from around the world.  On a personal note, in 2022, my son will begin kindergarten, and my daughter will start preschool! It's crazy to think I am a mom of school-aged children when it feels like just yesterday I was pregnant with my first, wondering what life will hold for us as a family.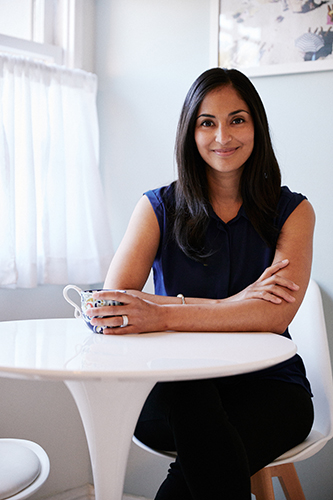 All things GirlTalkHQ, follow on Facebook, Instagram & Twitter.
Click here to visit the GirlTalkHQ official website.
Follow Asha Dahya on Instagram & Twitter.
Click here to visit her official website.
Click here for more information on Today's Wonder Women:
Everyday Superheroes Who Are Changing The World.
All images by Alana Fickes