In an effort to show young black girls and boys aren't the world that yes, they are worthy of ownership in our society, Ashley Hines and her family took action. Hines and her family own five business properties and they perfect example of what it means to put hard work into making a dream a reality. We caught up with Ashley to discuss ownership in real estate, her family's hope for the black community, and much more.
Tell us about your experience working with the youth and families.
I have been working closely with youth and families since 2014 when I graduated with my Masters in Marriage and Family Therapy. Aside from our small business, I'm the Operations Manager at a mental health facility for Children. We work to help children 12-17 recover from their mental health challenges and reunite with their families. For those that do not have stable families to return to, we help to get them paired with a foster family or an adoptive family. My Mother, my partner in Nostalgia Hollow, spent many years working in Child Protective Services. She also assisted with children in unstable situations and their family to reunite once their conditions improved. She too was plagued with the problems of the system and found that basic needs and resources caused issues for families that led them to her care. My Mother also used to run a non-profit youth group that helped minority girls prepare for college and life after high school. We plan to get it back up and running after COVID-19. My Father directs the children's choir and teaches bible school to children. My husband has also worked in a mental health facility and coached AAU basketball. My sister shoots photos for schools and has the opportunity to instill confidence with every frame. We all touch the lives of children and families in some way. 
What made you and your family want to own small historic retail strip?
When I approached my husband and parents with the idea, we initially started to look for retail space to rent. After doing the math, we thought ownership of a commercial building would be a better option. We wanted a black family to not only have business ownership but real estate ownership in a community that was built on Mill Labor that most of our family participated in. My Mom is a genius and actually found 5 connecting historic buildings dating back to 1935. Our inner Fixer Upper spirit was singing, and we knew we could bring them back to life. 
Why do you believe supporting small businesses and black-owned is so important, especially now during the global pandemic? 
Supporting small businesses is a direct link to your community. When you shop small, you are directly funding members of your communities' growth and often livelihood. These are the people who will sponsor little league teams in your community, who will donate to your schools, who will provide jobs and revitalize abandoned buildings. Black Owned buildings have the twice the hurdles to get our businesses funded and open. There is power in the black dollar and talent in the black community. Without support from each other, the hurdles to jump are higher. During this pandemic, major retailors benefited from the panic and rush to buy toilet paper. They don't miss one or two customers, but small businesses do. The customers who made it a priority to stop in for curbside coffee and pastries from us truly kept us going. The gift cards they purchased and their shares on social media are priceless. We love support however it comes. I also think it is essential to support black businesses because that is the only way we can make sure that the next generation sees the possibility in our faces. My hope is that kids who look like me see me and think "Wow, I can own a coffee shop one day."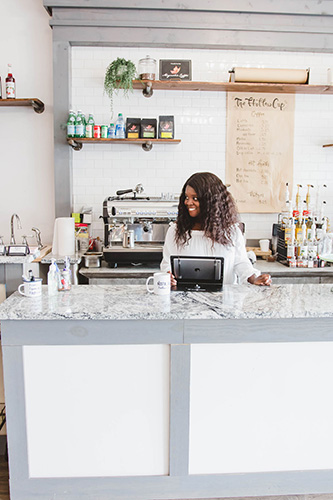 What do you and your family hope to accomplish in the years to come?
In the years to come, I hope we are done renovating the rest of our commercial buildings. We also have a new store opening in the heart of our hometown's downtown area. This means so much to us because now directly across the street from a minor league baseball stadium will be a black owned business in a small southern town. I hope that we are employing many and sending them off on their own entrepreneurial journeys. I hope that we have expanded to bigger cities and I would really love if we could acquire more commercial property. We hope those properties will give chances to the overlooked and disenfranchised to become their own bosses and to create generational wealth.
All images by Dee Her Photograph