Atlanta native and attorney, Durante Partridge is a man not only passionate about his community but strives everyday to be the voice for people in criminal defense and entertainment law. After attending Thurgood Marshall School of Law (Texas Southern University) to obtain his Juris Doctor, he moved his family back to his hometown, where he became Assistant District Attorney for Fulton County. We caught up with him to discuss how we can all exercise our First Amendment Rights, obtain his best advice during our nation's current state, and much more.
Why did you make the move back to Atlanta and become an Assistant District Attorney for Fulton County?
While I loved Houston, Atlanta is home. All of my family is in Atlanta. To be completely honest, my life did not like Houston very much. The saying goes, 'happy wife, happy life' (laughs), so we packed up and moved back to Atlanta.
Initially going into law school, I did not want to work in criminal law at all. Coming back to Atlanta, I got a better understanding and felt like I could make a difference being an Assistant DA. There are a lot of black and brown people that go through the Fulton County jail. I thought I could make a difference being on the inside so to speak with respects to impacting the community.
Can you tell us what inspired you to create Lion's Den Legal?
We practice not only criminal defense, but we also have entertainment clients. The reason for that was that I love criminal defense, protecting people, and making sure that they receive justice. Or if they're innocent, we want to make sure we protect their rights. On the other side with entertainment, I have some industry experience with that. It was more of an opportunity to do both and ironically, one of my first clients was one of the entertainers that got in trouble criminally. We were able to cross work as it relates to that when I represented him initially with the criminal piece. We've had a long-standing relationship so now we do entertainment and community support things together.
Can you tell us how our readers can properly exercise the First Amendment?
The First Amendment is freedom of speech. It is what the country was founded on. With that being said, as long as you're not inciting violence or causing harm to others; it is perfectly fine to voice your opinion. With what is going on today, from a social standpoint, a lot of people are out protesting and exercising their right in respect to the First Amendment. With my generation and generations below me, we have to make sure we voice our First Amendment rights with our local and nationwide elected officials. We have the opportunity to have that voice and speak to those people to help ensure that they serve as the way they should while they hear our concerns and needs. Those are the most important ways to exercise the First Amendment. A lot of times with social media, we tend to cater our words to what everyone else is saying. We have to be the voice and express that interest to say what we need to say.
What advice would you share to our readers during our current pandemic and all that is going on with social injustice in our nation?
The best thing that I can suggest without being a lawyer is self-care. Exercise self-care. There is so much that is going on and with being a lawyer, we have a lot of pressure just by nature of the job. You can only imagine other people who might have financial issues, or they may be a person of color. Now, we the issue socially and wanting change and apart of the protest. It's important that we take time to ourselves and make sure that we're fine. Whether it's through speaking with a counselor or taking a day to decompress and figure out where we are and who we are as people and individuals.
What can we expect to see from you in the future?
In the future, for sure we're going to continue to fight for the community and continue to expand the law firm. We have some other projects that we are working on as well from Lion's Den and outside of the legal world. We want to continue philanthropy work and give back to the community.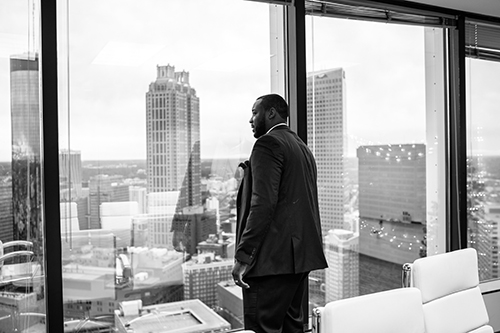 For more on Durante Partridge, click here.
All images by Marquis Garden