Atlanta native, Nakia Stephens has had over 20 of her screenplays produced on the big screen. With much success, Stephens launched her screenwriting label, Damn Write Originals in 2014. It's clear to see through her hard work that her love and passion for the industry. We caught up with her to discuss the inspiration to create her label, her experience working with Aspire TV, and more!
Tell us about the inspiration behind Damn Write Originals screenwriting Label.
I have always known that in order to stand out in this industry I would need to make my own lane. So for me, DWO was me creating that lane. Since 2014, Damn Write Originals has grown tremendously and our team has expanded far beyond just me — now the dream is bigger than me, now it's about creating opportunities for other movers and shakers who not only have ideas but who can execute those ideas.
What was it like partnering with Aspire TV last year to bring new faces and voices for the platform, Urban Indie Film Block?
Partnering with Aspire TV has been such a game-changer. We've been able to create and collaborate with so many different filmmakers on our journey to continuously bring something special to the Urban Indie Film Block. I remember during one our first conversations, Melissa, the GM of Aspire asked me, 'What do black independent filmmakers need to thrive? What's missing?"  I candidly told her "Funding, Resources, and a Platform'. After that conversation, DWO was presented with the opportunity to development content with Aspire TV which would provide us with all three of those missing elements. I was so impressed by Aspire's genuine pursuit to give emerging black filmmakers a platform to thrive. I'm grateful for this partnership, it's been wonderful!
You've had over 20 of your screenplays produced to screen. What do you believe this experience has taught you?
The experience of having so many of my screenplays produced to screen has taught me tenacity and consistency. Also, more than anything, I have learned the power of progression, (in the words of Andre 3000) "You're only as funky as your last cut, you focus on the past you're a** will be a has what" ; to translate, I basically always aim to improve with each project that I do. I'm constantly competing with myself, asking "How can I do better?" "How can I be more impactful?".
Is there anything you're currently working on that you can give us insight into?
We are in post-production for 'Endangered' a short film I wrote, and my team produced in partnership with Aspire TV. I'm excited for its release because I was able to work with some amazing Los Angeles filmmakers, including director Kiana Woodson, whom I've wanted to work with for the past few years. Also, I am working on a really fun and colorful TV Pilot that I'm extremely thrilled about. 
What can we expect to see from you in the years to come?
You can expect to see me with TV Writing credits for some of your favorite shows as well as Writing/Producing my own shows available to stream on Major platforms – HBO, Netflix, FX, Hulu, etc.  Damn Write Originals will continue to thrive and amplify the voices of emerging writers while partnering with platforms and networks that are aligned with the stories we want to tell.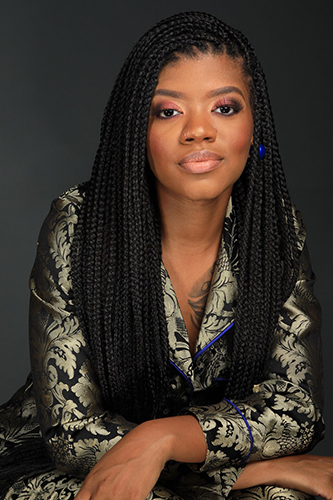 For more on Nakia Stephens, follow her on Facebook, Instagram, & Twitter.