WNBA player, TY Young from the court to CEO is making boss moves with latest clothing brand, TY1gear.
Many may know TY Young from shooting shots on the court but this wasn't all for this baller. Wilmington, North Carolina native Tamera Young had more to share with the world. Initially, fashion hasn't always been something Young thought that she would pursue but, she did have influences along the way that inspired the idea to pursue fashion. TY1gear represents embracing and being yourself while being on fleek at the same time. Ty Young shared her journey, what inspired Ty1 gear, what inspired the brand, and more.
Tell us about your fashion line TY1 gear? What do you hope customers feel when wearing your clothing?
I initially started my line for fans who always wanted to buy my jersey and couldn't. In order to keep items affordable, I had T-shirts with just my logo. My brand started off as t-shirts and just athletic wear. I'm slowly but surely making items for lifestyle wear as well, so stay tuned. I hope for customers to feel free to be themselves and be comfortable in my clothing.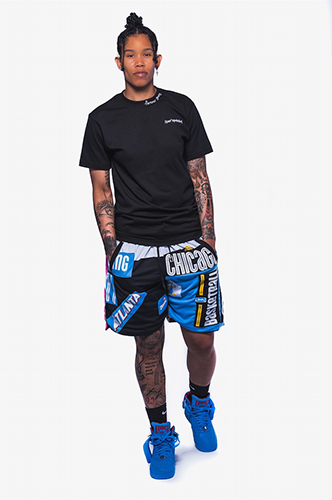 What inspires your clothing brand name TY1gear?
My clothing brand name was inspired by my initials TY and my basketball number 1. The gear was added because my line started off with a variety of items from clothes to headbands and bags.
When creating your fashion line, what was the creative process like? Was it easier or more difficult than you expected?
When creating my line, the ideas come easy. My brain is constantly thinking and creating. The hardest part is finding ways to bring my mental vision to reality, at a price point that's affordable for all, but still has great quality.
What's one of your pet peeves and why?
Pet peeves of mine are smacking, snoring, and laziness.
How would you describe your style?
I would describe my style as Swaggy. No matter what I'm wearing I'm going to add my TY swag to it: Tomboy, chic, or business.
Has fashion design been something that you always knew you wanted to pursue?
Fashion design wasn't something I always wanted to pursue. It's funny because I had a counselor in college who always complimented me on my style and said I should have my own clothing line. Shoutout to Ms. Casey. I guess just knowing what I like and also wanting to appease my fans and supporters motivated me to do it. Now, it's a passion and I love it.
Who inspires you in the industry of fashion?
There are a couple of people that inspire me in the industry of fashion, whom I've learned from over the years. Two inspirations that come to mind are my friend Zo, from Chicago, whose brand is Fashion Geek, and my cousin James, whose hat brand is Keith and James. These are two brands that are really blossoming and Black-owned.
Say in the future you put on a fashion show. What model would you like to open your show and why?
In the future, if I have a fashion show there are a few people I would like to have open it. Having to choose one, I would have to go with Teyana Taylor. She has style and swag. She can switch it up, and that's a vibe.
What encouraging words do you have for your fans during this time of the COVID-19 pandemic?
We are all going through changes and tough times during the COVID 19 pandemic. Stay safe, and stay encouraged. Tomorrow isn't promised, but still, be smart and take care of yourself. Mental, physical, and emotional care are all essential to great health.
Check out Ty1gear today by clicking here.
Follow Ty Young on Instagram now!
All images courtesy of TY1gear