When I think about how creative Black Women are I can't help but smile. I recently was introduced to a new MUST- HAVE beauty product called, the Beat Bib, new and innovative beauty brand that provides a simple, but necessary solution to a common, everyday problem. The Beat Bib is  a one-of-a-kind makeup accessory that shields your clothing from stains and messes while applying makeup. This is a multifunctional product that can be used on one's self or on another person while applying makeup.  It is the trendy, but practical way to get ready while affording you a carefree experience during the makeup application process.
Check out my exclusive interview below with the Founder & CEO; Oyinade Ademiluyi, a Clinical Pharmacist from Maryland about her entrepreneurial journey and more….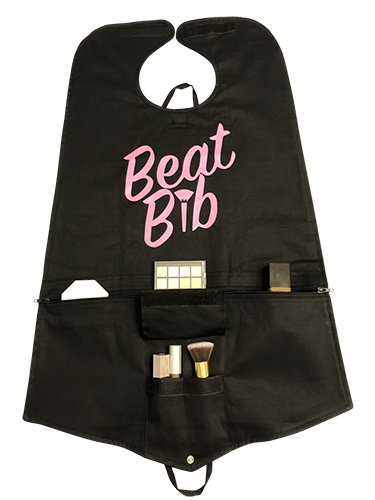 What's the backstory on how you started your brand? 
Long story short, I was getting ready for a job interview and got foundation on my blouse! I believe it was around august 2016 and I was getting ready for my first job interview post pharmacy school. I was wearing a white blouse and a navy blue suit that day. Because my blouse had to go over my head and it was white, I knew I had to get dressed first before doing my makeup to avoid getting makeup on it while pulling it over my head. So I got dressed and proceeded to do my makeup. I was doing a light/natural look so I didn't think too much of it. Despite this, I still managed to get foundation on my blouse while applying it to my face. Luckily, I was able to cover the stain with my suit jacket and keep moving. That stain bothered me all day, even more so how it happened. When I got home that day I searched for a solution online and couldn't find any product that suited my needs so I decided to create one myself. I got out a pencil and notepad and literally sketched out exactly what I wanted and needed. As I was sketching this product, the name came to me instantly, The Beat Bib. From there, I went on to find a manufacturer, designed my logo, and created my brand.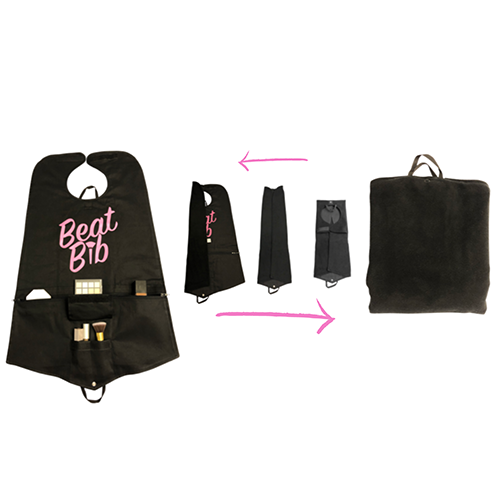 If you could only use one brush from your line, which one would you use to complete your look?
The flat top foundation brush! Foundation is the base of your entire look. I love how our brush applies foundation so well and evenly. It can also be used just as well for powder. You can then tilt it and use the edges to contour and apply blush. So there you go, a whole look!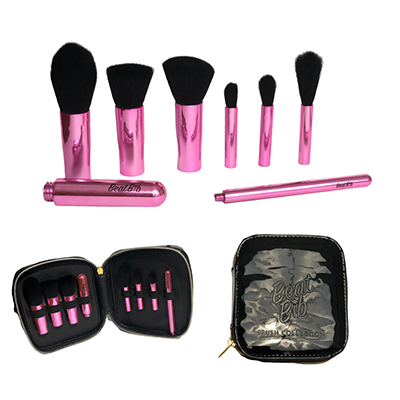 What are your favorite top 4 go-to beauty products?
My beat bib of course! If this counts as a "product" I simply can't do my makeup without it! 
Fenty gloss bomb universal lip luminizer in color Fenty Glow (this lip gloss is perfect on its own and on top of lipstick, I love It) 
Urban Skin Rx Super C brightening serum (this gives my skin such a flawless glow)
Mac powder blush in color raizin ( I use this as blush and eyeshadow and it gives me such a beautiful natural look) 
What has been your favorite "Quarantine makeup looks" ? 
Definitely good glowy skin, natural glam lashes, brows, and a glossy lip. This gives you that, no makeup, makeup look! 
Millions of people read Sheen Magazine and I strongly believe in the power of manifestation, so who is on your list of the top 3 people who need to be using the Beat Bib? 
Rihanna- I love and respect her as a business mogul and an entertainer. As an owner for a major cosmetic company, Fenty Beauty, she def needs the Beat Bib in her life! 
Jackie Aina -I know aunty has gotten makeup on her clothes before! Plus she is my Nigerian sister and I absolutely love and respect the impact she has had on the beauty industry.  
Pat McGrath- As the most influential makeup artist in the world, It would be absolutely amazing for Pat to show the versatility of the Beat Bib by using it on herself and on clients. 
What next for Oyinade? 
Build Build Build and continue to grow. 
I want to see the Beat Bib in the hands of every single person who wears makeup. 
I want to completely build out our brush line to include every brush you could possibly need 
For more on Beat Bib, click here.
Keep up with Beat Bib on Instagram today!
All images courtesy of Oyinade