Philadelphia-born, Bessie-Lee Cappell, inventor of the Brush Bib and owner of Baby Bottle Brush Bib Company, has been busy lately. Using the pandemic time to focus on building brand awareness, she has also been analyzing her audience in order to grow her business.
She is soon to be adding a merchandise line to the Bessie's Love and Care Company. Every product or merchandise created by this motivated inventor has been inspired by her being a frustrated Mom and an advocate for other frustrated parents who have the same struggles with finding the right products for quirky parenting woes. She has also said her fun moments as parent have been inspirations in the development of her inventions.
Her first invention was the Baby Brush Bib, which is a flat, protective, silicone barrier that goes around the bottle brushes to prevent splash back every parent faces when washing baby bottles. They are available in both neutral and light colors for moms and dads.
So, what exactly was the motivation behind this invention?
Parents who have multiple children know the more children you have the more hectic and out of balance your life becomes (and not just for moms but for dads, too). Having two school aged children, and a newborn who demanded too much of her time became hectic when you add breastfeeding, pumping, recovering from a C-Section and then returning to work. Most moms know just like every pregnancy is different, so is every baby. This was especially true for her children. She shared her youngest demanded much more attention because he was their first NICU baby. He became reliant on pacifiers and he also had difficulty latching onto her breast. Because he preferred pacifiers and bottles, cleaning/washing bottles early on became a new task for her that she was not used to but had to get used to (and quickly). What she did not know was this new task was going to come with much displeasure.
Bessie-Lee explained that while washing baby bottles, the water splashing back on her work clothing became an unwelcomed interruption since it meant she had to change clothes at times or wait for water stains to dry. She then began purchasing bottle brush cleaners that claimed to reduce splash back only to be more disappointed that the description for the products were not entirely accurate; yet the price was higher. As a matter of fact, she realized the higher the cost, the bigger the splash back! This is when she decided to take matters into her own hands.
While creating prototypes, which Bessie-Lee said she originally made them using a cheap $5.00 yoga mat, there was a lot of trails and errors. She estimated sizes based on the size of her hand pretending it was the shield from the splash back. She then began to make the size a bit bigger as the water still splash on her and eventually was able to discover a size that was perfect since she no longer got wet.
Bessie-Lee Cappell then expanded Baby Bottle Brush Bib Company's products to include a pacifier teether clip, which is FDA-approved, BPA-free, and eco-friendly. It also has a unique option to have interchangeable suspender clips that double as teethers.
And now, Bessie-Lee Cappell, is adding merchandise line called "Mommying, Daddying and Babying" that will feature t-shirts that will have different comical sayings on them. Feeling it is important to create other products that lend a view on other perspectives of parenting in a comical fashion is a way to shed some light that parenting can be an enjoyment, as much as a challenge.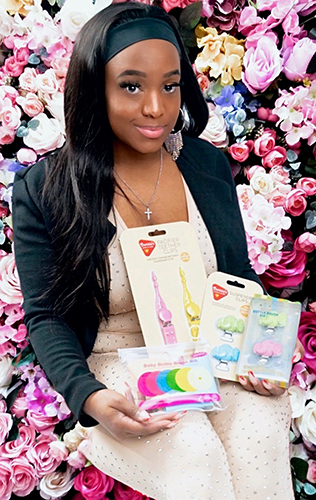 Currently, you can get Brush Bibs, Pacifier Teether and Elephant Clips, and other baby products on the company website. 
For more information on the Baby Bottle Brush Bib Company, click HERE or send an email to info@babybottlebrushbib.com.
Contributing Writer – Dr. Cozette M. White, Tax and Accounting Strategist for Million-Dollar Executives & CEO's.  Learn more about Dr. Cozette M. White at www.cozettemwhite.com. 
Follow Dr. White – LinkedIn | Instagram | Facebook | YouTube TODAY!
All images provided by Bessie-Lee Cappell