Beauty Expert and Brand Consultant, Melissa Hibbert is on a mission to make every one who sits in her chair feel glamorous and every brand she collaborates with see an impact. As one of the beauty industry's most dynamic artists and beauty entrepreneurs, her focus is to inspire through beauty – one person, one idea and one product at a time. She is rare – a college educated professional with an MBA, 14 year corporate marketing career, a leading beauty industry professional and mother to a beautiful three year old. Her brand is multifaceted as an artists & entrepreneur – collaborating with brands on product development & marketing, while also working daily on the faces of our favorite celebrities, she can do it all. Her work has been featured on television networks like FOX, OWN, WEtv & Bravo and more – in addition to covers of popular magazines & beauty product campaigns. We wanted to sit down with Melissa Hibbert to discuss the start of her beauty journey, the hit of the global pandemic and how she managed to turn all of the negatives into positives in her business and life.
First off, tell us how you first got into beauty.
I love to share this story because I truly believe beauty chose me. I was in my early teens headed to school and before I walked out the door to head to the bus, I grabbed my Moms tube of lipstick and put it into my backpack. On the bus ride, I opened it and it was a beautiful shade of red, I put it on, looked at the reflection from the bus window and I instantly felt joy – I felt bright and bold. Beauty also freed me from the traps of insecurity teenagers often develop, particularly a dark-skinned girl, who may seemingly feel invisible, Beauty allowed me to tap into a power bigger than me. And by focusing the thing that I was good at doing, it allowed me to develop confidence from the inside out – that feeling alone inspired me to want to share what I felt with others. I didn't know it then, but I know it now, how powerful and transformative the right color or shade can be for someone's mood or confidence. I noticed early in life that I had an affinity for fashion and creative hairstyles, but Makeup was essentially prohibited in my household until a certain age. By high school, I was fortunate enough to have friends who were also into fashion, hair and makeup and one day, a few of us decided to enroll in Beauty school – taking up classes on the weekends, while going to school during the week. We attended Benson Polytechnic High School and one of the great things about my high school there's an emphasis on technical skills. So, the school was very supportive of us attending Beauty school on the weekends in SE Portland. It was one of the greatest experiences for me at that time, I had balance, I had beauty in my life, we got to experiment looks on each other and we grew competently as teenagers with a passion for Beauty.
What has your journey in beauty been like?
My journey really began to take shape in college. I arrived on the campus of Fisk University, and after checking into my dorm, I decided to take a tour. Upon wandering the halls, I noticed a dark hallway with a room that was locked. I was curious so I pressed my face against the window, and I saw the corner of a porcelain sink peeking through the tarp that was covering all of the furniture. As a beauty maven, I knew right away it was clearly a shampoo bowl. And just to the right of the locked doors was a sign that said, "Beauty Parlor", my heart started racing and I knew I had to get inside. Once I was able to gain access, I turned on the lights, pulled up the tarp and saw the abandoned salon in shambles. My friends and I took a taxi to Wal-Mart, purchased cleaning products, did our best to make it functional and comfortable (on a college budget) and we began to do hair and makeup out of the beauty parlor on the 3rd floor of my dorm. It was magical! Of all the places and dorms that I could have ended up, I landed right where I belonged. In essence, I was a student by day, I also had two, someone three part-time off-campus jobs and I was a beauty professional on the weekends. Two weeks after graduating college in May 1999, I journeyed to the big city, New York, where I began my corporate career in brand marketing – 14 years later, having worked in various corporate marketing capacities for some of the biggest brands in the world, it was time to get back to what I love – Beauty. While working in corporate positions, none of them afforded me the opportunity to pivot to a beauty brand or company, so I was still doing makeup on special occasions for family – weddings, birthdays etc. I mostly kept that passion to myself as to not compromise my roles or risk not taken seriously in the board room. I tried countless times to apply for positions that would fit my interest in Beauty but the doors were just not opening up. While success continued to follow me as I grew into more executive level positions, I felt stuck and I needed to make a decision and make a move, I knew Beauty was my passion and the only way for me to fulfill my dream was to walk away from corporate America and pursue Beauty full-time – it is still today, one of the greatest decisions of my life. I was willing to bet on myself and take the risk of essentially "starting over" but truthfully, I knew as long as I continued to operate with excellence, just as I did in corporate America, I will be successful in the Beauty Industry and I can honestly say, it has been exceedingly rewarding.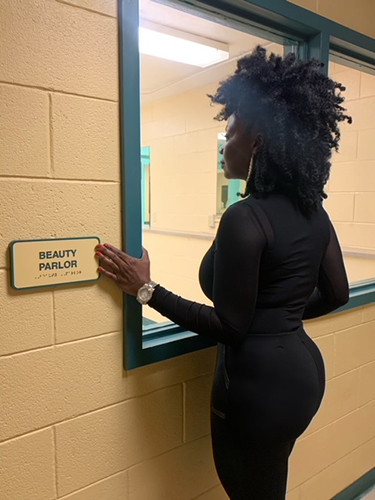 How have you been affected by the COVID-19 pandemic in terms of your personal and professional life?
The COVID-19 pandemic came out of nowhere for all of us and processing what was happening in the world and to our life took some time. I am emotionally affected like most of us who are empathetic about the number of lives lost and the number of people hospitalized, experiencing homelessness as a result of losing income and of course the young people and their parents navigating and adjusting to the virtual classroom. For me, at the start of 2020, my business was the busiest it's ever been – we were contracted on several television shows, along with booked for major red-carpet events and awards shows. When the time came in early March to halt everything, it was devastating but welcoming at the same time. As a mother to a young child – my daughter is now three years old, with such a busy schedule, it meant a lot of valuable time away from home. So, to be forced into "lockdown" meant I was present for her. It's sort of a bittersweet gift, but one that I completely embraced. Personally, motherhood is my priority, so not having to rush out the house on the early mornings and coming in late from filming or being disrupted on the weekends for productions allowed me to simply be Mom – and that time was priceless. From a business standpoint, I immediately stepped up to the opportunity to promote my Mom's business "We Adorn Boutique" – creating stylish and quality protective Masks for Men, Women and Children. The masks were a hit and thousands of families were able to feel comfort knowing the masks are designed to help people live safer. Professionally, my business as it were was 100% affected. When the studios closed and productions shut down from filming, so did my business. Thankfully I had already begun to pivot and expand my brand quietly, so it really gave me more time to work out the framework of the business of beauty, in a way that allowed me to work smarter, not harder. One major pivot that took place since the pandemic was moving beauty virtually. We hosted countless virtual makeup sessions, I personally embraced the virtual speaking & coaching opportunities and leveraged all of the digital platforms to lean into the new normal of virtual beauty experiences. The other major pivot allowed me to put my "corporate hat" back on as a consultant to prestige as well as nascent beauty brands, providing them with my industry expertise, creativity, insights and strategy which enabled them to serve consumers. Whether by helping an entrepreneur enter the beauty industry with a new product or collaborating with existing brands in the areas of marketing and product development.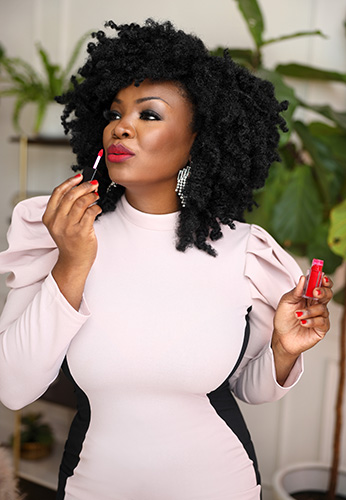 How have you been able to turn this negative into a positive?
I made the decision early on in the pandemic to stay positive, despite the pain and devastation in the world. In the midst of the pandemic we also lived through more racial injustice, police brutality and murders of black men and women. The grief, sadness and vicarious trauma was enough to make us all lose hope, but I knew I needed to hold my peace. I have a little girl who needs her Mom to be there for her and be present, wholly, fully and with good energy so she can thrive as she is developing. I did my best to keep that same energy on social media as well. I felt the need to just be a face of light and joy the best way I knew how – through Beauty. In addition to that, a part of staying positive was to have better wellness and spiritual habits. Prayer & meditation before I picked up my phone to check emails or social media. I became proficient in vitamins, essential oils and various ayurvedic remedies. My self-care routine increased exponentially as well – for me, that meant at-home facials, reading new books, morning walks/runs on the beach, long coastal drives, evening bubble baths and also painting in the yard with my daughter. Preserving our mental health is daily work for all of us during these times, I wanted to make sure I did the things that made me happy so that one day, if I ever have to tell this story of "surviving the pandemic" to my daughter, I have a blueprint that felt successful for me.
What advice would you offer to beauty professionals during this time?
My advice is two-fold. One, I would say breathe! As creative professionals, we feel – we live to serve and be creative with our artistry, gifts and talents, so these times can feel cage-like. I get it but breathe! I encourage being mindful, it's important to appreciate how far you have come. I made it a habit to look back at all of my photos of clients, press, red carpet moments, even pulled up some tv shows to look back at my work with gratitude. Being thankful that I had all of those moments, being grateful that I've accomplished so much. Gratitude changes things and I strongly suggest we start there. The next advice I would offer is, it's imperative to have multiple streams of income. This is the new normal! Much of our work has been reduced to 50% or in some cases more – especially those who worked in the wedding industry as beauty professionals. It's now time to think about how to expand your business and brand to other services or products so that you can be financially stable and if you have the right product(s), make money while you sleep. A few ideas would be offering virtual makeup sessions, creating your own product line – make-up, hair, skincare, lashes, male grooming products etc. With product development, you can either start at the R&D stage or Private label your brand. If you are in the salon space, you can develop kits to help your clients achieve curated professional haircare at home – the same goes for estheticians who can provide at home facial kits for clients. It's also a great time to create content that you can film and have available on your branded website to download – create "how-to" videos or teach something valuable that people want to know from an "expert". Film once and receive income each time someone downloads – but make sure it's quality with good lighting and professional equipment. Another idea would be to be a virtual beauty shopper for women at-home, particularly the elderly population who are most vulnerable who are unable to travel to the stores. You can create your own "Uber-Beauty" service and fulfill that need. Or you could specifically contract your services to area Beauty Supply stores to pick-up and deliver their products locally. It's simply about finding a solution in this vulnerable market and filling that need with your products and services. It can be done, but it will require you to invest in yourself like never before, put pen to paper, take some quiet time to think about, pray about and meditate on what your streams of income in Beauty will be, not just now, but for the foreseeable future.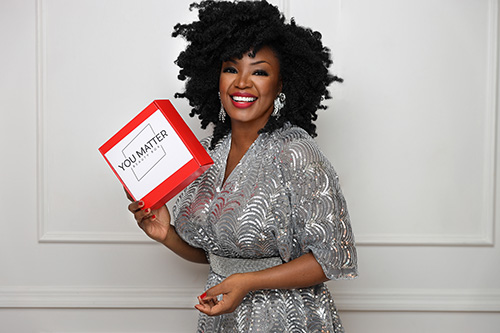 What are you currently working on and what can we expect to see from you in the future?
The future for me is bright and beautiful! I am going to keep thriving through it all as I continue to expand on my Consultancy business. As a Strategic Beauty Brand Consultant my goal is to be a powerhouse of ideas, insight and inspiration with a high level of beauty experiences and a client list of major corporate beauty brands and start‑ups – providing my expertise from concept to launch. Over the past decade, I have not only worked with some of the best beauty brands and products but I have also touched the face of diverse women – every shade and skin tone, I have had the pleasure of working with. I've developed an incredible acumen for the beauty needs of real women. As a beauty consultant, I have an unparalleled perspective with my background in corporate brand marketing and coupled with working on the front-lines of beauty on a daily basis with the beauty industries most coveted consumer – motivated women who shop frequently and trust a beauty professional. In addition, we cannot deny that consumers are demanding accountability and inclusivity from beauty brands, no longer are they taking their word for it, so my collaborations with brands as a consultant, provides me with a seat at the table where I am uniquely positioned to add value, influence and deliver results.
In addition to that, I recently launched a passion project, the "You Matter Beauty Box" – with my decades of access to all things beauty, it is an honor to curate and hand-pick Makeup, Skincare and Wellness essential products, so that you can express to yourself or someone you love that, You Matter! For every box sold, I will donate a box to an organization that empowers women to succeed in work and life.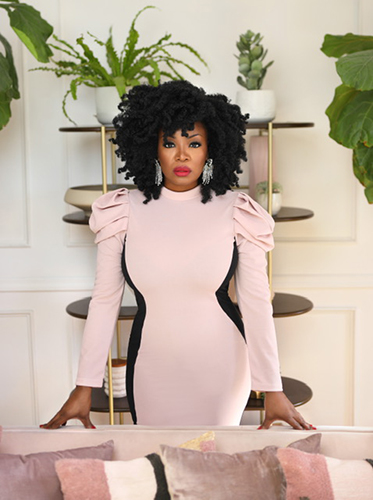 For more on Melissa Hibbert, click here.
Stay connected with Melissa Hibbert by following her on Facebook, Instagram, & Twitter.
All images by Jonathan Adjahoe