Back with a brand new single and we've got all the details. Latin girl group, Bella Dose has clearly proven they're in it for the long run in the music industry. The bilingual group includes Brianna Leah, Jennifer Hernandez, Thais Rodriguez, and Melany Rivera. With each new release, they continue to catch the attention of music lovers across the nation while promoting empowerment through their music. We caught up with them to discuss the idea behind forming Bella Dose, their new single titled, "una niña," and much more!
How did the idea come about to form Bella Dose?
Thais: Vicky Curiel, the CEO of our independent label, thought about the idea to form a fully Latin, bilingual girl group and she decided to drive all across the country to audition girls. She held auditions in Miami, Orlando, New York, and Los Angeles. We all auditioned and were hand selected by her to be a part of the group, which was absolutely perfect because we instantaneously clicked so well and now get to be part of this amazing group.
How would you describe yourself as individual artists in the group? 
Brianna: In this group, I would say I'm very influenced by Y2K fashion with a business casual twist, and a lot of lace corsets, but I also love my jumpsuits. I'm a super chill girl and I love to write music; music is my therapy. Dark tone music with heavy bass lines get me going.
Thais: In the group, I would say I give off a sexy, enticing vibe. I love to look powerful while still showing that I have a sweet side because when I'm off stage, I'm actually a super shy and reserved girl. I love pop, Latin, R&B and even gospel music. When it comes to fashion, i can switch from being posh & girly to being sporty or mixing the two. I'm a very go with the flow type of girl and what I create, whether it's looks or music, really just depends on the vibe I'm in.
Melany: Within the group, I would describe my individual artistry as ethereal soft with an alternative, and indie influence.  I love all things from strawberries to cow-print plus poetry, writing, and drawing that I've loved my whole life. My favorite genres of music being pop, indie, and alternative, but I love listening to everything.
Jenni: Within in the group, I would describe myself as the positive, energetic one that always looks at things on the bright side. My love for dance since the age of 4 has transformed into a love for music all around. I'm heavily influenced by a lot of old-school music from the Beatles, queen & all the way up to buddy holly. I'm also a die-hard fan of R&B music and I love my Dominican bachata & merengues as well. My style ranges from streetwear to sexy classy. I love the tomboy look as well as the bodycon sets. 
What groups would you say inspire you all as artists? 
Brianna: Some groups we love and inspire to be like are spice girls, destiny's child, and pussycat dolls. We love how each member is so different yet as a group, they are so cohesive together.
Give us insight into the single, "una niña" 
Jenni: Not many know this but our single "Una nina" is very dear to our hearts since it tells my story which is about my mother telling me that my father passed away as a young girl. We want this song to be comforting to those who have lost someone important to them. I want people to know that you are not alone and it's okay to feel and share your story. I'm so excited we can finally share it with the world.
What are you all currently working on and what can we expect to see from you all in the future?
Melany: We're currently working on making more music and are always working on content to put out for our fans! We're working on some really exciting things at the moment that we can't really say, but you can definitely expect more music and visuals from us in the future!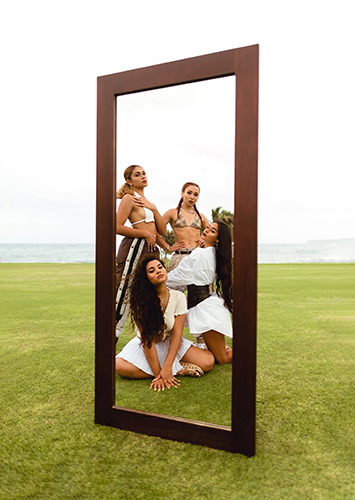 For more on Bella Dose, click here.
Follow them on Instagram & TikTok today!
All images by Adi Muhtarevic