Dana and Charis are two colleagues turned business partners who partnered to open their own beauty supply store in Atlanta, Georgia! It's not often that we find black owned beauty supply stores even though we account for more than half of the customers who patronize these stores. From racist interactions, to opening their own stores these two entrepreneurs are shaking up the beauty industry!
The beauty industry is a billion-dollar industry mainly patronized by African-Americans. Why do you think black people haven't taken more ownership in the industry?
The market is currently saturated and dominated by the people that manufacture the products in Asia, distribute the products, and have gained and retained market share here in the States. When you are in control of product distribution, it's easier to control price and competition.
What inspired you two to start your beauty supply and how difficult was your process
At the time, over 90% of the market was owned and operated by Koreans and less than 3% were owned by African Americans. Yet we make up over 90 % of the people who buy the products in these stores. We wanted to change the narrative.
What's the main message you want to send to other entrepreneurs that may be afraid of taking the entrepreneurship leap?
Money is power, but so is influence. We have the influence and knowledge to control any path of entrepreneurship that we'd like. With the use of social media and other free resources, don't wait. Get started today. You'll miss 100% of the shots you don't take.
Have you dealt with racism since starting your beauty supply being that the majority of beauty supply stores are not owned by African Americans? Any difficulty dealing with vendors?
Yes. We've dealt with racism as a consumer and also when dealing with vendors. We've been given unreasonable prices, ridiculous minimum purchase amounts, and blocked from getting important accounts with vendors. There's no governing institution that's regulating this industry and implementing fair practices. We've learned to just work with what we have and cater to our customers who understand and support the unique value add that we bring to the table.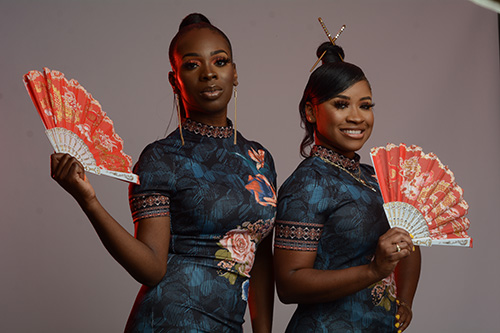 What's been the biggest difference you've noticed since you became the owner and not the consumer in the beauty supply industry?
Not everything is simply about race. Most of the disparities in the market all boil down to greed. There are people that really want to control the black dollar. We have to learn to circulate our money in our own communities. This is how we close the gap.
What's your TOP 3 items that sell in your store?
PPE (such as masks and face shields)
Hair (wigs, bundles, braiding hair)
Clothes/Accessories
What's been the most fulfilling part of your journey?
We would say it's being able to provide the level of customer service in the beauty supply store that our people deserve. We see far too many videos of our people being harassed and treated like animals in beauty supply stores. It feels great to be able to help people while seeing them smile. If you live locally, come by and see us at 1025 Veterans Memorial Hwy SE Mableton, Ga 30126 Suite 670. If not, you're still able to support us by sharing the word or by purchasing at zoetbeautysupply.com.
Is there more space for black women in the beauty supply industry?
Absolutely. Not only is there more space for black women in this industry. It's space for the men as well. In fact, it is our plan to roll out a program in the near future that shows people how to open their own store, step by step.
Follow us on social media to see the announcement when it comes.